"QUANTUM SHOT" #418
link

Great Things Come in Small Packages

Also read Part 1

These miniature cars are small enough to hug, and so easy on gas and parking that hugging them would almost seem natural - and yet, most of them are impossible to find at your local dealer.

We all know, there will come a time when everybody would drive - and prefer to drive! - a downsized economical automobile. But until then, let's have a closer look at some of these cute models... and then jump into a supercharged huge truck to pick up groceries a few blocks away.





The "bubble-cars" were all the rage in the 1950s - even the Communist cover art reflected that:





Small is Timeless

The idea of small mass-produced cars dates back to the 1910s (see for example this 1920s article) -




But few would argue that the "Golden Age" of such cars arrived right after World War II, bringing with it "bubble"-licious designs:

"Cabin Scooters" inpired by the fighter planes

This Messerschmitt, in all its (yellow) glory, is not a plane, but has the same military pedigree: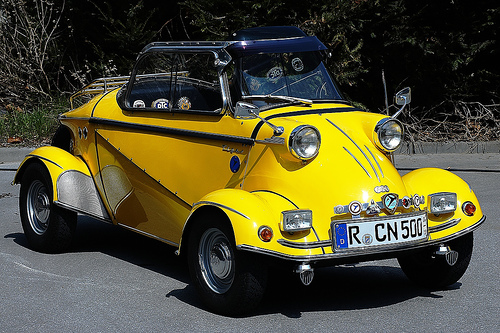 (image credit: Matthias Weinberger)

When shortly after World War II German companies were prohibited from making military planes - they started to make fighter-plane-inspired miniature cars. This weird little Messerschmitt Kabinenroller, aka "Cabin Scooter" (also known as a Flitzer) could only seat one, and to get in and out of it you had to lift up most of the bodywork to one side.



(image credit: Scootering USA)

Jon notes: "In the movie Brazil, the lead character's car is a Messerschmidt bubble car with a stubby V-1 bomb engine on the rear deck. Very silly looking - but somehow when i first saw it I wanted one immediately." Here is Messerschmitt KR200:




Cabin-roller-style racing:





BMW Isetta - the Bubble Bliss

We covered quite a few Isettas in our previous article. Here are some images to refresh your memory:



(image credit: Ice Sixxx)

Microcar Museum has quite a few interesting Isettas, check out this or this examples. But here is a BMW car that's commonly mistaken for Isetta: Model 600 -



(images credit: microcarmuseum)

It was larger than Isetta, with room for four people! These people however wanted a "real car" more often than not, so the days of German micro-car were sadly numbered - and came to an end in the 1960s.

Very fast... very loud... Isetta "Hot Wheels":



(images credit: microcarmuseum)

Also worth mentioning:

A little bit of Japanese cuteness - a smiling Subaru 360 (1970):




This model was first introduced in Japan in 1958, and even "offically" imported to the U.S. in 1968 by Malcolm Bricklin. (almost none were sold in three years, though)

Another smiling creature: "Fram King", 1959 -



(image credit: tucker48fan)

FIAT 600 Multipla (1960) - one of the smallest vans ever. It was also a perfect taxi vehicle.



(images credit: microcarmuseum)

FIAT 600 and FIAT 500 (produced even in Russia, as "Zaporozhetz") - pretty recognizable shape:



(image credit: digilander.libero.it)

As "Zaporozhetz", though, they usually suffered a miserable death:



(photo by Nina and Roman Reznichenko)

Austin A-30, 1964 -




Here is a strange one: Crosley Car, 1948



(image credit: Consumer Reports)

Google-mobil....er, no - Goggomobil from Bavaria (more info)



(image credit: Ritzsite)

More contemporary is the German CityEL mini electric car project, introducing a vehicle capable of transporting one adult and a child around 60-100 kilometers at up to 70 km/h depending on the model:




And ideally, here is the famous futurist designer Syd Mead's vision of micro-cars:



(From Syd Mead's book "Sentinel")


Primitive Shopping Vehicles - better than shopping carts

Some of them can be very small - but perhaps you'd like to have something more substantial than this:




1972 Norsjo Shopper (Sweden) was perfect for the elderly (and the teens!) to drive around with their groceries. You can see how really primitive these were inside... moped-like, no dashboard. Top speed - 60 kph.



(images credit: Microcar Museum)

Here is one account: "The Norsjö Shopper was still quite common here in Sweden when I was growing up, at the end of the eighties. With an engine of less than 50cc, delivering a single horsepower, it was classified as a moped and could be driven without a license by anyone 15 or older. By that time it was mostly used by elderly ladies living in the countryside, though, except for a few that got in the way of the popular pastime of moped-tuning and got turned into three-wheeled deathtraps."


The Ugliest of the Bunch

Probably the ugliest micro-car of all comes from Soviet Russia (a car specially designed for the disabled and the elderly) - called "Invalidka" (almost "wheelchair") from Serpukhovski Moto Zavod:



(art by Yury Dolmatovski)




This car was the easiest to secure (nobody would want to steal it) -





Three-Wheelers! (who needs an extra wheel?)

German World War II truck: Goliath (1930 - 1950)




1948 Davis Divan (more info) - beautiful aerodynamic shape (claimed top speed - 116 miles per hour) -



(image credit: pimpledrides)



(image credit: Jim Inman)

Another aerodynamic, streamlined little marvel: 1951 Hoffman from Munich, Germany (looks like a miniature bus from the back) -



(images credit: microcarmuseum)

Even though curious looking, it was "a lethal cocktail of automotive engineering "don't's"- extreme front track width combined with an ultra-short wheelbase giving major straight line instability, and rear-wheel steering which can easily bring loss of control at any except very slow speeds".

H-M (High Mileage) "Freeway" car from Minnesota, 1979:



(image credit: Tim Lynch)

Pete says: "The HM Freeway was produced in Minnesota in the '70's. The design philosophy was, "The average passenger load in a 'full-sized' car is 1.4 people. Let's build a car that will carry that many" - one adult and two bags of groceries. I test drove one. It was noisy but quick".

The Bond Bug:



(image credit: Tim Lynch)




Blackjack Avion

Only 66 Avions were ever built, using a 1988 Citron 2CV engine and base (manufactured at Helston in Cornwall) -



(image credit: madabout-kitcars)


Smorgasbord of Various Mini-Cars

Reva - electric city car from India:




Toyota Sports 800:




Nissan Snail (Escargot) -




1979 "Loeschi" - Smallest fire engine, based on BMW Isetta



(image credit: ff-schnelsen.de)

Speaking of small fire engines, here is (not the smallest, but very groovy) recent Peugeot H2O concept:



(image credit: Car Design News)


The Smallest Tank (not really meant for groceries)

For one of the smallest tanks, check out French Renault FT17 (from 1918) - first tank with a fully rotating turret. This little armored wonder was definitely smaller than most SUVs on the road today. Strangely, it was used by the Germans during World War II, modified with a stubby 75mm gun.



(image credit: Missing Links)




Another miniature bad-ass vehicle (widely used in Vietnam) was Ford Mutt - basically a quarter ton jeep with rugged overhead valve engine and a rocket launcher on top. The sort of a vehicle that Indiana Jones would love.



(image credit: Mail Model)




Here is a similar idea, employed in the Soviet Army in the 1970s:




Finally, here is a mysterious chrome bubble car - would look great in some futuristic spy movie:




UPDATE: This is "L'Oeuf Electrique" (French for "The Electric Egg"), possibly designed by Paul Arzens.


CONTINUE TO PART 3 OF THIS ARTICLE! ->



READ THE FIRST PART HERE

Permanent Link...
...+StumbleUpon
...+Facebook

Category: Automobile,Vintage
Related Posts:
The World's Strangest Vehicles Series
Ugliest Concept Car
Dark Roasted Blend's Photography Gear Picks:
RECENT ARTICLES:
"Dark Roasted Blend" - All Kinds of Weird and Wonderful Things, Discovered Daily!"
DRB is a top-ranked and respected source for the best in art, travel and fascinating technology, with a highly visual presentation. Our in-depth articles in many categories make DRB a highly visual online magazine, bringing you quality entertainment every time you open your "feed" reader or visit our site -
About DRB
Connect with us and become part of
DRB on Facebook
,
Twitter
,
Pinterest
,
Google Plus
; make sure to subscribe to our
updates
.
Our mobile site:
http://mobile.darkroastedblend.com
. You can also read us on iPad, as part of the
Flipboard
popular free app.
YOUR COMMENTS:
:
READ OTHER RECENT ARTICLES:
CATEGORIES
:
airplanes
|
animals
|
architecture
|
art
|
auto
|
boats
|
books
|
cool ads
|
funny pics
|
famous
|
futurism
|
food
gadgets
|
health
|
history
|
humour
|
japan
|
internet
|
link latte
|
military
|
music
|
nature
|
photo
|
russia
|
steampunk
sci-fi & fantasy
|
signs
|
space
|
sports
|
technology
|
trains
|
travel
|
vintage
|
weird