"QUANTUM SHOT" #414
link - article by Avi Abrams


The Beauty and the Mystery of the Wrecked Ships

This article will highlight the most incredible shipwrecks around the world and maybe prompt a curious expedition or two. Go check them out while they still exist, daily battered by the wind and merciless waves.



(images credit: Garry')

They were proud and beautiful once, confident in the face of anything the sea could throw at them - and now they haunt the coastlines with their sadness and beauty (but of the different kind):



(image credit: Donibane Sanjuan)

------------

A Haunted Aircraft Carrier

Let's start with the biggest.
The majestic USS "Oriskany" - a giant abandoned aircraft carrier - has become a real treasure for diving adventurers and tour operators (more images here).

Brought 22 miles off shore and sunk there in 2006, its gutted remains may have served as a powerful inspiration for some designers in the movie and game industry. It certainly looks like something that could loom out of the time vortex, in the mist somewhere....



(image credit: florida-divepros)

Its sinking was quite a spectacular event: see the fires inside the ship's hold (imagine the inferno inside) -



(image credit: slrsite)

As a literary side note, check out this story by Paul Di Filippo "Shipbreaker" (available for reading online here). It's a fantastic account of salvaging huge abandoned (space)ships.

------------

The last of all gun cruisers

Here is another military ship wreck, built in Russia - Battleship "Murmansk", Sverdlov class:



(images credit: Dive Norway)

"Murmansk (built 1955) - one of the last all gun cruisers. Lost in 1994 while in tow to India, and is now aground on Sørøya, Norway. It still remains intact, complete with all guns, 5 decks above, water 5 below" - so, get on the diving expedition, what are you waiting for?

------------

Most Photographed (and Beautiful) Shipwreck:
The "American Star" off Hesperides

One of the most evocative, and visually exciting - by the virtue of its location just off the sandy coastline, and its glamorous past... Just look at the picture of "SS America" in its heyday in 1943:



a similar ship SS United States in 1952

The history of the "American Star" is nicely documented on this page. After long and lustrious career as a luxury liner, it got wrecked at Fuerteventura in 1994 and since became a total loss. This is how the ship looked right after it snapped in two:



(photo by Raphael Pastor Bedoya)



(images credit: Fogonazos)

Here is a picture set of how the wreck looked in 2000:



(images credit: Hyperfinch)

Sadly, it was finally claimed by the sea in 2007 - the opportunity to take awesome pictures of this fascinating wreck is now gone.



(images credit: Barbara (Iveta))

Another interesting wreck (this time on the Queensland's Sunshine Coast) is Cherry Venture (more info) Perhaps it's better to say "was" as it was also recently removed...



(image credit: Garry')

Get moving now, and explore these rusty behemoths before the nature, or humans, get to them!

------------

Ships in Peril, and Ships Perishing

The following are harrowing, sometimes genuinely frightening photographs of shipwrecks-in-progress, where even the most hardened of ships and crews meet their doom - at the mercy of nature's elements.

"Victor Karyakin" fishing vessel meets some unforgiving rocks at the Rybachi island. 12-strong crew was in deadly peril, as no other ship could come close to the same rocky shore. The crew was saved by Norvegian Coast Guard "Sea King" helicopter: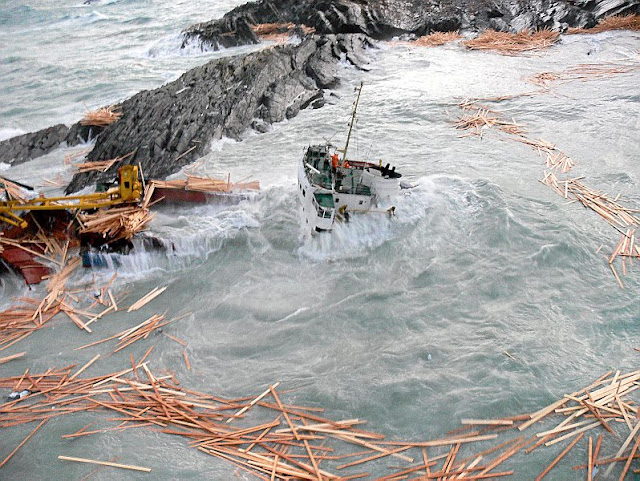 (photos by 330-Skvadronen/Forsvaret)

Nice t-bone collision:




Another t-bone, but on a much smaller scale:




Sinking of the "Twin Star" near Peru in 2006:



(image credit: CMJeff)

"Franz Halls" ran aground on Le Palais beach in Biarritz:



(image credit: bourbon-online)

"Capetan Tzannnis" washed ashore by the storm in La Madrague Beach, Anglet:



(image credit: bourbon-online)

A few unnamed ones:



(images credit: Container Shipping)

------------

Titanic-style sinking in Antarctic waters

Thinking about taking an Arctic or Antarctic cruise? Even in our days of powerful icebreaker ships (see some awesome examples here) the combination of extreme weather and unfortunate circumstances can easily become fatal.

"G.A.P Adventures" was arranging the cruises on board of the 1969-built "Explorer" ship ($9,000 per person), when in 2007 "it struck the ice, took on water (as 154 passengers and crew members scrambled to safety aboard lifeboats and rafts), and then sunk to the bottom" (see video) -



(photos by Chile's Navy)

And yes, just like the "Titanic" it struck an iceberg, which caused a 10 by 4 inch (25 × 10 cm) gash in the hull. (more info). The iceberg went unnoticed because the vessel presumably was going with the unsafe speed...



(Sinking of "Titanic", visualized by Robert Avotin in Soviet TM magazine 1971)

------------

Pasha Bulker - a huge freighter grounded in Australia

A 820-foot-long coal freighter sits aground close to Newcastle, Australia - pushed into the sand bank by the storm swell and extreme winds. (more info)
Some of the photographs look like they'd been photoshopped - so unreal is the combination of a beached ship and suburban golf courses and houses.




Surreal beach scenes:



(originals unknown)

In the same 2007 storm, three other coal ships had sent distress calls and were at the risk of being washed up.

------------

More Container Ships in Peril

It seems to happen quite often: there is a large website Container Shipping which documents such events: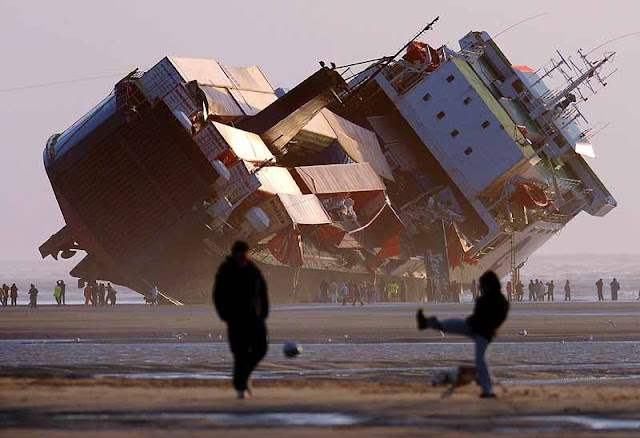 (image credit: Container Shipping)

What happens when containers from the lost ship wash up on the nearby coast? That's easy to predict! (especially under the cover of night... more info)



MSC Napoli grounded near Branscombe beach




Plundering the Loot: This SUV looks pretty useless, but there are some motorbikes in working condition:




Perhaps some problems can be avoided? See for example, this deeply wrong loading of cars:




Aftermath: the buses and the trucks seem to be hanging in the air:



(image credit: gcaptain)

------------

Shipwrecks claimed by the desert

Most of these pictures are from Namibian Skeleton Coast:



(image credit: Michael Poliza)

The shipwrecks of the Aral Sea (which lies between Uzbekistan & Kazakhstan, former Soviet-Union republics) are just as numerous, but less known. The Aral Sea is catastrophically disappearing (shrunk more than 80 percent in its volume) since the 1960s...



(image credit: Elena Senao)

------------

Rest in Pieces

Ship graveyard near Lisbon, beautifully rendered in HDR by Pedro Vidigal - can haunt your imagination for days, if you let it. Probably the best environment for exercises in apocalyptic photography.



(images credit: Pedro Vidigal)

See the whole gorgeous set here. Antonio Vi also took photographs of this mesmerizing place: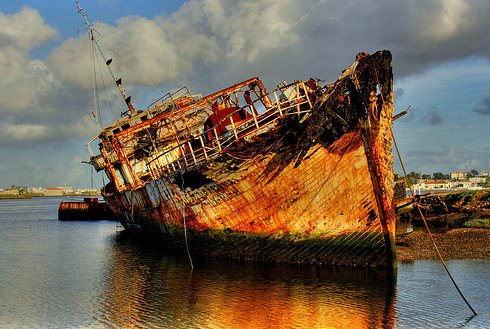 (images credit: Antonio Vi)

Another ship graveyard:




And here's a historic photo of Saddam Hussein's private yacht "Al Mansur" in 2003



(photo by Reuters)

------------

The Sadness & The Beauty

A couple more haunting, almost painting-like photographs from Donibane Sanjuan:



("American Star" liner, Fuerteventura, by Donibane Sanjuan)

All images are used by specific permission of respective owners

Also Read: Ships vs. Big Waves, Heavy Seas, Part 2 and Part 1


Permanent Link...
...+StumbleUpon
...+Facebook

Category: Ships / Boats,Abandoned
RECENT ARTICLES:
"Dark Roasted Blend" - All Kinds of Weird and Wonderful Things, Discovered Daily!"
DRB is a top-ranked and respected source for the best in art, travel and fascinating technology, with a highly visual presentation. Our in-depth articles in many categories make DRB a highly visual online magazine, bringing you quality entertainment every time you open your "feed" reader or visit our site -
About DRB
Connect with us and become part of
DRB on Facebook
,
Twitter
,
Pinterest
,
Google Plus
; make sure to subscribe to our
updates
.
Our mobile site:
http://mobile.darkroastedblend.com
. You can also read us on iPad, as part of the
Flipboard
popular free app.
YOUR COMMENTS:
:
READ OTHER RECENT ARTICLES:



Mind-Blowing Optical Illusions, Part 6

"The soul has illusions as the bird has wings: it is supported by them"



Exceptional British 1950s Scifi Artwork

Quintessential Space Pulp Art by Ron Turner and others



Extreme Parenting & Wild, Wild Kids! Part 2

The Joys and Perils of Having Interesting Kids



Creation and Destruction of Sand Mandalas

Profound Art Ritual Reflecting the Sanctity of Our Lives



Funny Sports Update

Underwater Ice Hockey, Extreme Stunts, etc.(Pics)



The New Motor, or the Steam-Powered Messiah

The strange, true tale (plus some wicked cyberpunk art)



Machines Alive! The Whimsical Art of Boris Artzybasheff

Is it a dream, or a nightmare?



Automated Musical Instruments

Music Robots: No Performer Necessary



American Supersonic Airliners:
Race for a Dream

Supersonic Marvels, Largely Forgotten Today



Pulp Pleasures: Eando Binder

"Where Eternity Ends" and other rare gems



Epic Fantasy: the Start of the Journey

Part 2 of our "Best Classic Fantasy" series



Strange Shadows: Best Classic Fantasy

Fantasy "Glitches in the Matrix", Epic Lands, and more!
CATEGORIES
:
airplanes
|
animals
|
architecture
|
art
|
auto
|
boats
|
books
|
cool ads
|
funny pics
|
famous
|
futurism
|
food
gadgets
|
health
|
history
|
humour
|
japan
|
internet
|
link latte
|
military
|
music
|
nature
|
photo
|
russia
|
steampunk
sci-fi & fantasy
|
signs
|
space
|
sports
|
technology
|
trains
|
travel
|
vintage
|
weird