"QUANTUM SHOT" #336
link


Overwhelmed! - Heavy Seas, Part 3

Also Read Part 1 and Part 2

Short of facing actual tsunami or the infamous "rogue wave" (see "Poseidon" to catch up on what rogue waves look like), ships are built to withstand a barrage of elements, but only to a certain point. And exactly where this breaking point lies, no sane seaman ever wants to discover on his own. The following is a collection of heavy storm pictures, testing and trying the nerves of sailors and the building quality of ships.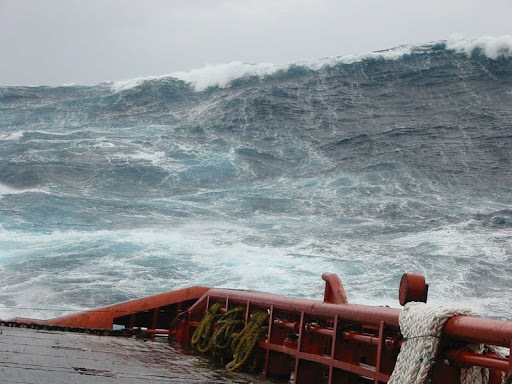 (original unknown)

Coast Guard Rollercoasters

Gary Robertshaw took incredible photographs depicting a U.S. Coast Guard 47-foot Motor Life Boat fighting for her life against a set of two, or possibly three giant waves in Morro Bay, California (photos used by permission). The storm produced waves 15-20 foot high... here is what Gary has to say:

"I did see these approaching in the distance, however I had a considerably higher vantage point than they did. By the time they could spot these waves from the boat, I seriously doubt they had many choices as to what action to take. The first wave of the set passed by them without incident, but the second, much larger one followed very quickly. The fact that no one was hurt or killed, and that the boat made it through and was immediately operational really attests to the competence of the crew and the equipment."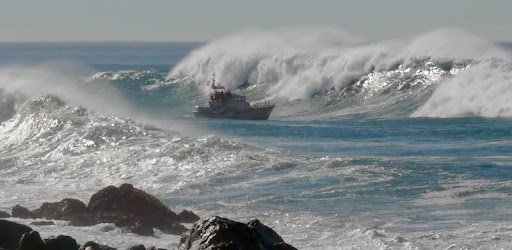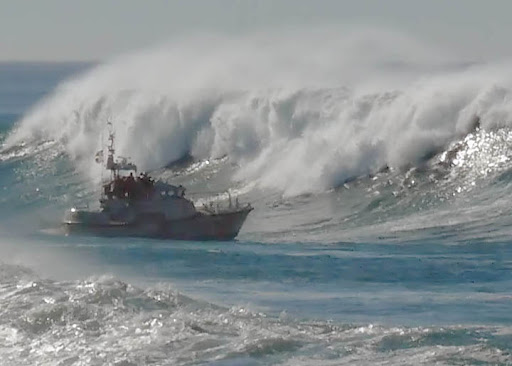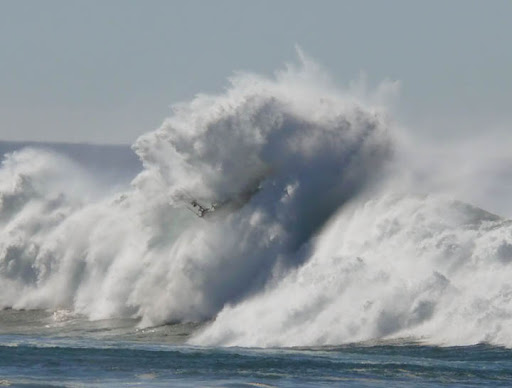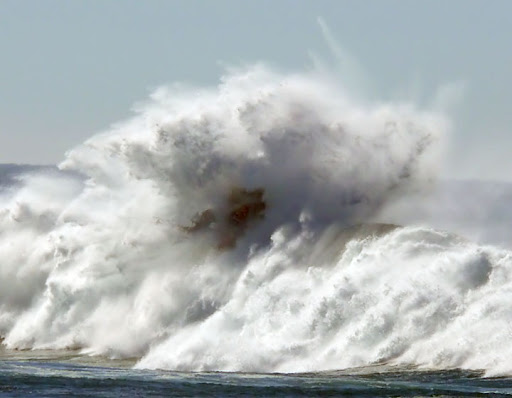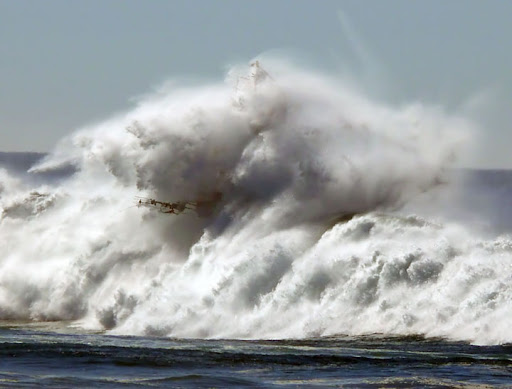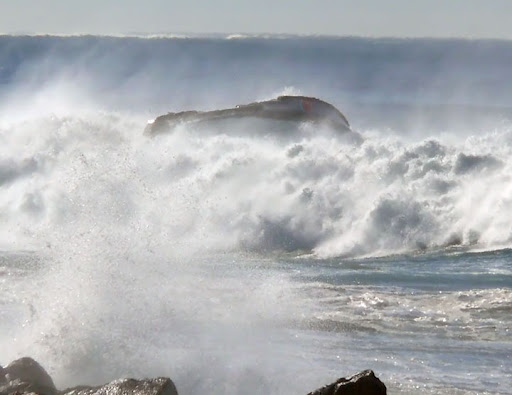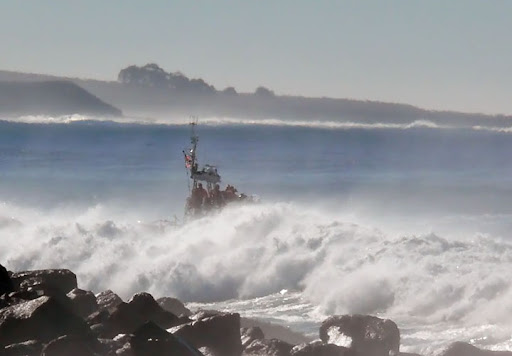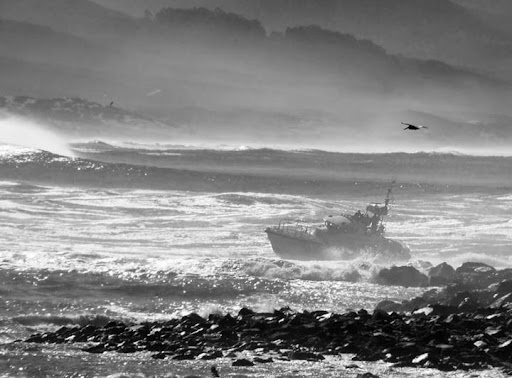 (all images copyright: Gary Robertshaw, used by permission)

Apparently this kind of a "vertical ride" is not something unusual for Coast Guard lifeboats, as their crew routinely face similar situations as part of their heavy surf practice: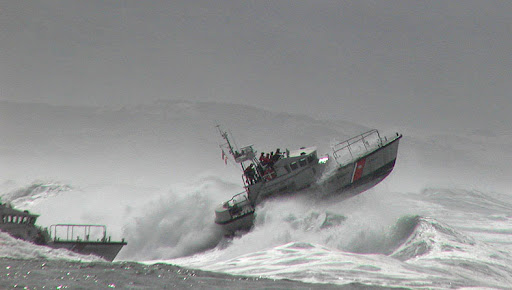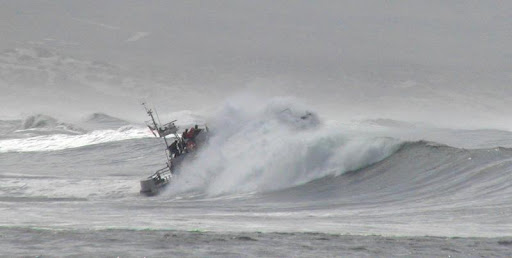 "Looking for subs" -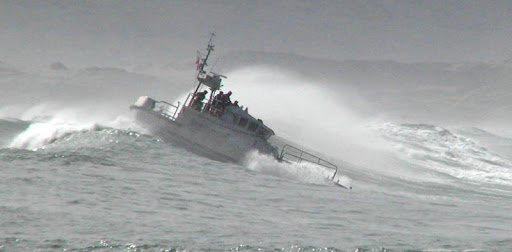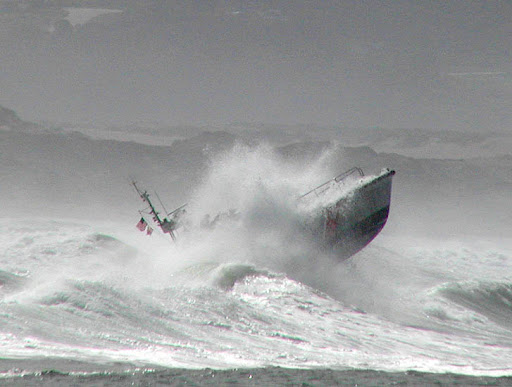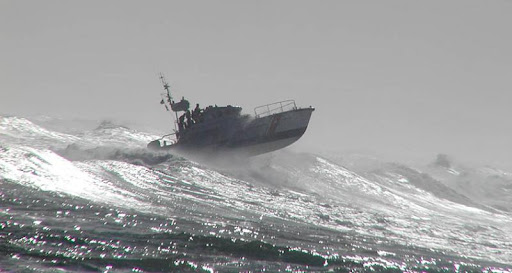 (all images copyright: Gary Robertshaw, used by permission)

These photos were taken in Morro Bay, California, but the Coast Guard in UK has to deal with the similar conditions off St. Ann's Head in Wales, and Canadian Coast Guard in Nova Scotia battle similar swells, too.


Some Harrowing Videos

Check out the rough going in these short clips. Nobody with camera stayed on the job for too long... It's a huge struggle just to remain upright:

Somewhere in Atlantic:





On the North Sea:





New Zealand ferry departing from port in a huge swell:




Hopefully you put your coffee cup away for a moment, as the nausea sweeps over your abused visual senses... OK, the moment's passed, we are back to normal text now.

Open the gates! The Sea wants to come in -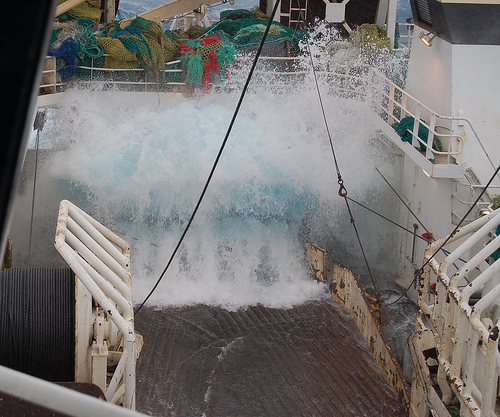 (image credit: Gert Nordoy)

stuff brewing over the board...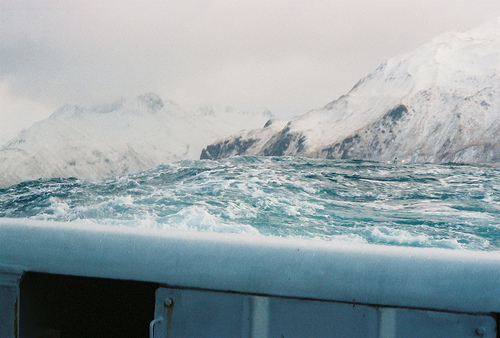 (image credit: sancholamancha)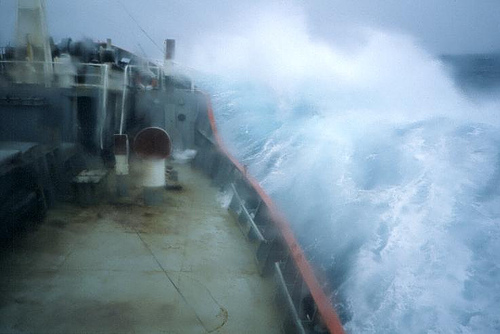 (image credit: nadworks)

Some ships fare worse than others:
This is "Cougar Ace", and here is the great story how a team of "sea cowboys" took a challenge to straighten it up.




Here is a spectacular communist artwork, showing the struggling ship: looks like the artist knew first-hand the danger of the high seas...



(cover for TM, Russia 1954)


Tsunami's Power

Nobody would take a photograph of the event shown in this painting, simply because nobody would survive this giant wave's onslaught. The ship carried on its crest is simply airborne:



(art by R. Avotin, TM 1970, Russia)

Perhaps it is the similar tsunami wave, that deposited the ship in the next picture - in the middle of the Russian forest!




Imagine, going on a hike and seeing the prow of a huge rusty ship barging through a dark thicket. You can cross yourself and give it a wide berth. Or climb over to explore it and put a claim on the shipwreck.

READ THE PREVIOUS PART HERE

Also Read Part 1 and Part 2



+StumbleUpon



Permanent Link...
Category: Nature,Ships / Boats
Dark Roasted Blend's Photography Gear Picks:
RECENT ARTICLES:
"Dark Roasted Blend" - All Kinds of Weird and Wonderful Things, Discovered Daily!"
DRB is a top-ranked and respected source for the best in art, travel and fascinating technology, with a highly visual presentation. Our in-depth articles in many categories make DRB a highly visual online magazine, bringing you quality entertainment every time you open your "feed" reader or visit our site -
About DRB
Connect with us and become part of
DRB on Facebook
,
Twitter
,
Pinterest
,
Google Plus
; make sure to subscribe to our
updates
.
Our mobile site:
http://mobile.darkroastedblend.com
. You can also read us on iPad, as part of the
Flipboard
popular free app.
YOUR COMMENTS:
:
READ OTHER RECENT ARTICLES:



Creation and Destruction of Sand Mandalas

Profound Art Ritual Reflecting the Sanctity of Our Lives



Funny Sports Update

Underwater Ice Hockey, Extreme Stunts, etc.(Pics)



The New Motor, or the Steam-Powered Messiah

The strange, true tale (plus some wicked cyberpunk art)



Machines Alive! The Whimsical Art of Boris Artzybasheff

Is it a dream, or a nightmare?



Automated Musical Instruments

Music Robots: No Performer Necessary



American Supersonic Airliners:
Race for a Dream

Supersonic Marvels, Largely Forgotten Today



Pulp Pleasures: Eando Binder

"Where Eternity Ends" and other rare gems



Epic Fantasy: the Start of the Journey

Part 2 of our "Best Classic Fantasy" series



Strange Shadows: Best Classic Fantasy

Fantasy "Glitches in the Matrix", Epic Lands, and more!


DRB Feel-Good
Happy Holidays from DRB!

2014 Feel-Good Issue, Part 2


DRB Feel-Good
Christmas Feel-Good Special

Happy Holidays and Great New 2014 Year from DRB!



Epic Space Fiction by Alastair Reynolds

"Nostalgia for Infinity", indeed



Cinerama: "The Next Big Thing That Was"

Curved screens, gigantic projectors & "out-of-this-world" picture


DRB Series
Magnificent Fractals (DRB Series)

Probably the Most Spectacular Collection of Fractals on the Web



Fractals For Food

If You Eat This, Will It Make You Better At Math?



Three-Dimensional Mechanical Fractals

Don't stare at them for too long, or your brain will capsize!



Pre-Fractal Art

Stunning Examples of Fractal Art in History



A Codebreaker's Dream: The Bombe!

"The Bombe" vs. "The Enigma" code battle



Extremely Weird Bus Stops & Shelters

Wildly bizarre bus stop "creations"



Incredible Balancing Acts & Tightrope Walking

Up on the Roof: Not for the Faint of Heart



The Creepiest Mannequins

Serious Halloween Scares and Frights



Wildly Funny Frogs

Frogs in their "moments of weakness"



World's Strangest Vehicles, Part 5

The Truly Bizarre Car Zoo!



Deadliest Creatures (that are Easiest to Miss)

Real terror lurks in quiet darkness



"Music For... What?" Weird Album Covers

Music for Vacuuming, and much much more!



World's Strangest Vehicles, Part 4

Sheer Auto Adrenaline!
CATEGORIES
:
airplanes
|
animals
|
architecture
|
art
|
auto
|
boats
|
books
|
cool ads
|
funny pics
|
famous
|
futurism
|
food
gadgets
|
health
|
history
|
humour
|
japan
|
internet
|
link latte
|
military
|
music
|
nature
|
photo
|
russia
|
steampunk
sci-fi & fantasy
|
signs
|
space
|
sports
|
technology
|
trains
|
travel
|
vintage
|
weird