"QUANTUM SHOT" #155





"Breast-clouds"? Mammatus, of Mammary Clouds!

Mammatus Clouds, or "breast-clouds", are fascinating formations in the sky, made mostly from the cumulus cloud base. Although they are not a sign that a tornado is about to form, they often accompany tornado-producing storms, or even may be direct byproduct of tornado activity - an aftermath of severe thunderstorms.

Thanks to the exclusive permission of Jorn Olsen, here are some weird mammatus shots:



(all images credit: Jorn Olsen, used by permission)

Lenticulars...

See more of the lenticular clouds here



Images source: Valuca


Stormy Skies Update:

More unreal cloud turmoil from the folks at "Extreme Instability":



Photo by Riccardo Mannella



(image credit: Patricia Radnor)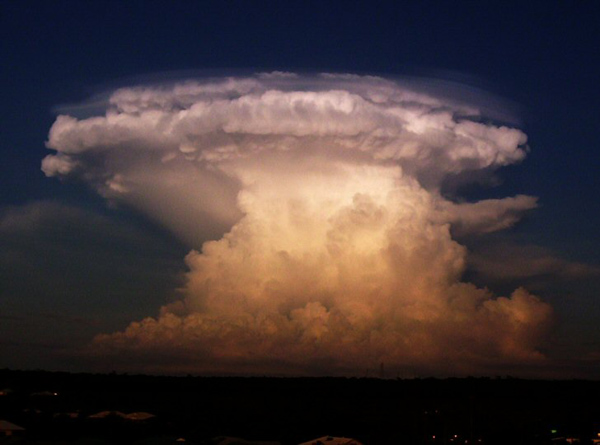 (image credit: Jason Smith, Cloud Appreciation Society)



(image credit: Olivier Garde. Pierre Farissier. Franck Bompaire.)



Photo by Don Sanderson, Iowa USA



Photo by KSNTV




Hurricane Kirrill in Holland: speed of wind - 140 km/h



As a counterpoint to the celestial unrest, here is a beautiful picture of the tropical wave:



Photo by Andrew Castellano

Image sources: Extreme instability, Cloud Appreciation Society, Valuca

Permanent Link...
Category: Nature,Weird
Related Posts:
Atmosphere Goes nuts
Lenticular Clouds Gallery
RECENT ARTICLES:
"Dark Roasted Blend" - All Kinds of Weird and Wonderful Things, Discovered Daily!"
DRB is a top-ranked and respected source for the best in art, travel and fascinating technology, with a highly visual presentation. Our in-depth articles in many categories make DRB a highly visual online magazine, bringing you quality entertainment every time you open your "feed" reader or visit our site -
About DRB
Connect with us and become part of
DRB on Facebook
,
Twitter
,
Pinterest
,
Instagram
,
Google Plus
; make sure to subscribe to our
updates
.
YOUR COMMENTS:
:
READ OTHER RECENT ARTICLES:
CATEGORIES
:
Feel-Good!
|
airplanes
|
animals
|
architecture
|
art
|
auto
|
boats
|
books
|
cool ads
|
funny pics
|
famous
|
futurism
|
food
gadgets
|
health
|
history
|
humour
|
japan
|
internet
|
link latte
|
military
|
music
|
nature
|
photo
|
russia
|
steampunk
sci-fi & fantasy
|
signs
|
space
|
sports
|
technology
|
trains
|
travel
|
vintage
|
weird
|
abandoned