"QUANTUM SHOT" #155





"Breast-clouds"? Mammatus, of Mammary Clouds!

Mammatus Clouds, or "breast-clouds", are fascinating formations in the sky, made mostly from the cumulus cloud base. Although they are not a sign that a tornado is about to form, they often accompany tornado-producing storms, or even may be direct byproduct of tornado activity - an aftermath of severe thunderstorms.

Thanks to the exclusive permission of Jorn Olsen, here are some weird mammatus shots:



(all images credit: Jorn Olsen, used by permission)

Lenticulars...

See more of the lenticular clouds here



Images source: Valuca


Stormy Skies Update:

More unreal cloud turmoil from the folks at "Extreme Instability":



Photo by Riccardo Mannella



(image credit: Patricia Radnor)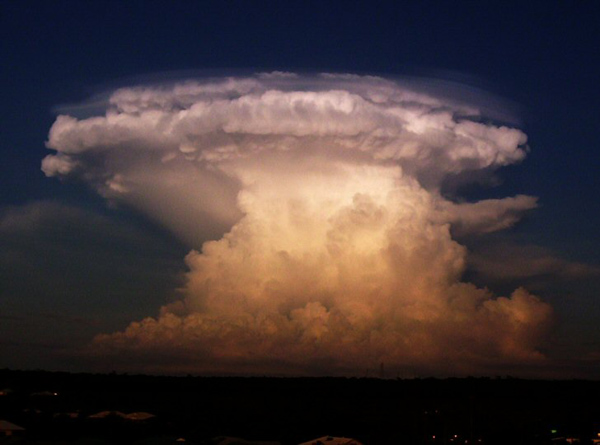 (image credit: Jason Smith, Cloud Appreciation Society)



(image credit: Olivier Garde. Pierre Farissier. Franck Bompaire.)



Photo by Don Sanderson, Iowa USA



Photo by KSNTV




Hurricane Kirrill in Holland: speed of wind - 140 km/h



As a counterpoint to the celestial unrest, here is a beautiful picture of the tropical wave:



Photo by Andrew Castellano

Image sources: Extreme instability, Cloud Appreciation Society, Valuca

Permanent Link...
Category: Nature,Weird
Related Posts:
Atmosphere Goes nuts
Lenticular Clouds Gallery
RECENT ARTICLES:
"Dark Roasted Blend" - All Kinds of Weird and Wonderful Things, Discovered Daily!"
DRB is a top-ranked and respected source for the best in art, travel and fascinating technology, with a highly visual presentation. Our in-depth articles in many categories make DRB a highly visual online magazine, bringing you quality entertainment every time you open your "feed" reader or visit our site -
About DRB
Connect with us and become part of
DRB on Facebook
,
Twitter
,
Pinterest
,
Google Plus
; make sure to subscribe to our
updates
.
Our mobile site:
http://mobile.darkroastedblend.com
. You can also read us on iPad, as part of the
Flipboard
popular free app.
YOUR COMMENTS:
:
READ OTHER RECENT ARTICLES:



Mind-Blowing Optical Illusions, Part 6

"The soul has illusions as the bird has wings: it is supported by them"



Exceptional British 1950s Scifi Artwork

Quintessential Space Pulp Art by Ron Turner and others



Extreme Parenting & Wild, Wild Kids! Part 2

The Joys and Perils of Having Interesting Kids



Creation and Destruction of Sand Mandalas

Profound Art Ritual Reflecting the Sanctity of Our Lives



Funny Sports Update

Underwater Ice Hockey, Extreme Stunts, etc.(Pics)



The New Motor, or the Steam-Powered Messiah

The strange, true tale (plus some wicked cyberpunk art)



Machines Alive! The Whimsical Art of Boris Artzybasheff

Is it a dream, or a nightmare?



Automated Musical Instruments

Music Robots: No Performer Necessary



American Supersonic Airliners:
Race for a Dream

Supersonic Marvels, Largely Forgotten Today



Pulp Pleasures: Eando Binder

"Where Eternity Ends" and other rare gems



Epic Fantasy: the Start of the Journey

Part 2 of our "Best Classic Fantasy" series



Strange Shadows: Best Classic Fantasy

Fantasy "Glitches in the Matrix", Epic Lands, and more!
CATEGORIES
:
airplanes
|
animals
|
architecture
|
art
|
auto
|
boats
|
books
|
cool ads
|
funny pics
|
famous
|
futurism
|
food
gadgets
|
health
|
history
|
humour
|
japan
|
internet
|
link latte
|
military
|
music
|
nature
|
photo
|
russia
|
steampunk
sci-fi & fantasy
|
signs
|
space
|
sports
|
technology
|
trains
|
travel
|
vintage
|
weird