"QUANTUM SHOT" #508
Link - by A. Abrams

Geeks Rule! Absolute Geeks Rule Absolutely.

Geek, as defined by Merriam-Webster's dictionary: "a carnival performer often billed as a wild man whose act usually includes biting the head off a live chicken or snake." So, after you know what's in a name, here are some arbitrarily chosen 7 deadly sins of nerds, geeks and aspiring "mad scientists". You may hear about other "sins", too, from your girlfriend, or family.

1. Losing your head, or rather replacing it with something more... usable:



(image via)

2. Thinking that the answer to the Universe is anything but 42. Also, inventing (and living inside) a world with far more interesting laws, problems and answers:



(image via)

3. Actually wanting the Earth to get swallowed by a neat little black hole (in the wake of LHC testing). Or at least craving to witness this event, if only for a microsecond.




4. Sex? What sex? "As you approach UofC (University of Chicago), the amount of sex approaches zero"



(image credit: Sandor Weisz)

It's hard to date somebody who only wants privacy:



(image via makezine.com)

5. Obsessing over someone else's fantasy... "The Difficult Aspects of Assassination in the Crossover "Star Wars - Hello Kitty" Universe."

Though "obsessing" is so vital to being a "nerd", that it can not be counted as sin. OK, here is worse, then: submitting a new LOLcat to "icanhascheezburger", but forgetting to feed your own pet.



(image credit: Cuson)

6. Collecting the darnedest things... abacuses? or abacii?



(original unknown)

....vintage military equipment from heavy bombers (Navigation and Bombing Systems, see here)



(images via Tatjana Van Vark)

7. The Crisis of Self:




If you work like a hamster, feel like a hamster and exercise like a hamster... then you are (very possibly) a hamster: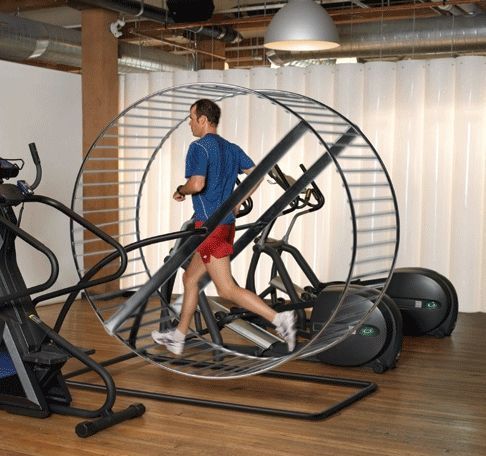 (image via)

But of course, ultimately you know who you are:



(original unknown)

------------

When Geeks Go Crazy

When a wonderful smart person becomes too obsessed and too involved with one little segment of skill or knowledge, they pass into a geek territory - and if they don't know when to stop, then they quietly (and usually harmlessly) go nuts. They implode, becoming a geek "neutron star" with entirely different set of rules inside. So, here are some of the signs to see, if your friendly cubicle geek is close to tipping over...

- starts rearranging his working space to resemble Photoshop palettes, and then proceeds to zigzag around, creating a digital masterpiece.



(image via)

- starts to catalog "smileys", breast smileys, inventing new ones, and seeing them wherever he goes:



(images credit: ino-ol60, klenchik, David, see more faces here)

This one is impressive though... when you have nothing better to do, just walk around your car with a flashlight:



(image credit: Steph Goralnick)

- starts to crave various keyboards, and has a few interchangeable ones (has an army of hi-tech mice in his drawer, too).

Caps Lock Trainer:



(image via Gawker)

and the Anti-Gamer setup:




There is a reason to having extra keyboards: some may melt after a particularly hellish round of play -




- has hallucinations when staring at his desk:




or when making copies:




Conspiracies and weird AIs start popping on his computer screen:




- changes all framed art in his house into a handy reminder of a wireless password (for himself and his rare guests). All the "uninitiated" would just consider it to be some contemporary art.



(image credit: thinkmo)

- almost pathological refusal to upgrade:




- it's getting harder to extricate him from computer, in fact, nearly impossible:



(image credit: sbrimbillina)

- pops the bubbles every day. You know what I'm talking about:




- Not quite there yet.



(original unknown)

------------

Some presents geeks might appreciate

Here are some items to outfit his/her cave. Start with a door bell:



(concept by Li Jianye)

Collectible vintage setup:




Breakfast would require a toaster and a set of cutlery:
(buy it here)



(image credit: likecool.com)



(image credit: likecool.com)

Some stickers to decorate the laptop:
...make sure to include the narwhal sticker, and Yakuza one (if you can get it)



(image credit: Kevin Cheng)

make a car statement:




make a phone statement:




A Cake! Made from Pizza Pockets:




The easiest way to receive payments from PayPal:




The Ultimate...




Espresso Concentrate? -




The last image terrifies me too much. I hope it would never come to this. Honestly.

Also Read:
Office Geekgasm via USB
It's a Geek Thing!
How to Become a (Real) Cyborg

Permanent Link...
...+StumbleUpon
...+Facebook
Category: Gadgets,Funny Pics
RECENT ARTICLES:
"Dark Roasted Blend" - All Kinds of Weird and Wonderful Things, Discovered Daily!"
DRB is a top-ranked and respected source for the best in art, travel and fascinating technology, with a highly visual presentation. Our in-depth articles in many categories make DRB a highly visual online magazine, bringing you quality entertainment every time you open your "feed" reader or visit our site -
About DRB
Connect with us and become part of
DRB on Facebook
,
Twitter
,
Pinterest
,
Instagram
,
Google Plus
; make sure to subscribe to our
updates
.
YOUR COMMENTS:
:
READ OTHER RECENT ARTICLES:
CATEGORIES
:
Feel-Good!
|
airplanes
|
animals
|
architecture
|
art
|
auto
|
boats
|
books
|
cool ads
|
funny pics
|
famous
|
futurism
|
food
gadgets
|
health
|
history
|
humour
|
japan
|
internet
|
link latte
|
military
|
music
|
nature
|
photo
|
russia
|
steampunk
sci-fi & fantasy
|
signs
|
space
|
sports
|
technology
|
trains
|
travel
|
vintage
|
weird
|
abandoned