"QUANTUM SHOT" #501
link


Cubicle Ambiance Enhanced and Boss Penetration Reduced

We've seen stationery with bite and other office gizmos designed to make your life bearable among the corporate sharks and "Bring Your Fish Friend" Bruce support groups of this world.

Axiom 1: "If your computer rocks, then your USB drive will rock also!" -



(image credit: Vladimir Sergeev)

If you are a computer hater, you can nail your USB flash drive into your laptop and be done with it:



(image via)

We all know that USB drives are becoming weirder and weirder, and soon will hit some kind of evolution dead end, where "normal" will once again be considered utterly cool:



(images via)

But this "thumb" drive is probably the coolest:



(image via, and how to make it)

Outside of flash drives... you think the ultimate office USB device is the stock standard coffee cup warmer? Au contraire, mon frere. First off, you can get units that will both heat and cool your beverage, but why stop there? Here is a USB-powered mini-grill that you can buy (on the left) - but why buy, when you can simply connect 6 PCI USB cards with 30 USB cables to a hacked USB cup warmer and you'll get your own USB grill? (on the right)



(image left via, right - via)

Perhaps more practical is the way to heat or cool your fingers while you type (from Thanko, Japan):



Heat-or-Cool Keyboard from Thanko

OK... but we know that you always wanted to keep your eyes warm... you were sitting there thinking "Gosh, my eyes are cold, why don't I warm them? I NEED to warm them" -



(image via)


Faux Feng Shui, and Other Geeky Delights

All that, however, is but the tiniest tippy top of the strange wonderfulness of office USB gadgetry. Whether you labor for filthy lucre or wonder off to the web to search for online accredited degrees (which is a time better spent than staring at the endless flow of funny pictures), you might as well build comfortable environment around yourself and add some ambiance to your cubicle.

First, ensure your safety with the authentic police flashing siren on your desktop.... "Reports?.. What Reports? STEP AWAY FROM THE DESK!!!" (... put your hands against cubicle wall, etc.) -



(image via)

Something more simple, as hitting a "Panic Button" will also do the trick:



(image via)

When this commotion is over, relax with the Flower Pod Speaker. Channel your tunes through a pot filled with a speaker and fake sphagnum moss (with that neon plastic orchid thing sticking out) and guess what atrocious sound quality it might produce...



(image credit: Thanko)

It will look especially lovely sitting next to your USB Aroma Generator - a sort of "a nose with feet" creating odoriferous ambiance to shoo the boss away from your desk?



(Thanko aroma generator Audiocubes and USB aroma radio LED lamp, by )

Still not feeling very comfortable? -




How about a distraction? Start launching rockets at your co-workers from your very own tiny USB rocket launcher:



(image via)

How about USB Massage Ball? Not so sure about this one. However the USB finger massage (on the right, available here) looks promising:



(images credit: everythingusb and Geek Alerts)

With music, faux feng shui and air freshening covered, move on to the USB Air-Conditioned Shirt from Kuchofuku -



(image via)

or the USB Butt Cooler to get on top of climate control. No translation out of Japanese for the Butt Cooler specs, but it appears to be a chair pad outfitted with a fan that channels cool air up through your shorts. Woo hoo!



(image credit: Thanko)

Then there are the "USB Mobile Ventilators", that want to rip into your neck and tear it to shreds:



(image credit: Thomas W.)

How can you not know when lunch time or happy hour arrives? But in case you do forget, Usb.brando.com makes a USB Blender Alarm Clock. (Okay, it doesn't really make margaritas for you. It just bounces a bunch of little balls around to make you think it's mixing stuff, but hey, it's gonna look great on your desk and you can set the alarm to go off promptly at five.)



(image credit: Usb.brando.com)

Speaking of Happy Hours... This is not USB-powered, this is full desktop-powered beer-filled piece of awesomeness that no office should be without:




Not a beer fan, but a wine connoisseur instead? Check this out, then:



(image credit: bewineconnected)

These are the Ethernet wedding rings, but I am sure you can get ones made out of USB:



(image via)

Once the wedding is out of the way, a true geek should use this device: USB Home Pregnancy Test -



(image via)

USB Hub Octopus would make your office look pretty cool and artsy, but stay away from its creeping tentacles... "It's teething" -



(images by Lacie and Patch Adams)

At least your cat would not touch USB octopus, and not ruin your drive:



(image credit: Andreas Haase)

Speaking of USB hubs, here is a cool-looking chrome motorbike engine hub (more info and video) -



(image via)

...and this experimental-looking thing is 31 USB ports put together as one mega hub. See how you like that -



(image via)

Or copy 60 USB flash drives at once... for some crazy reason (more info)



(image via)

A more constructive gadget (really the only one we're giving the constructive nod to at the moment), is the Visomate USB Vision and Posture Monitor, a sensor that sits on top of your monitor and beeps and flashes at you if you're sitting too close to the computer. Blue light means posture is good to go, red means you're too close.



(image credit: Usb.brando.com)

You can actually make a case for usefulness on this one, along with the USB Heated Gloves from perpetualkid.com. (Heat is a good therapy for carpal tunnel syndrome.)



(image via)

But the ultimate USB office gadget? Hands down, the USB Disco Ball (from Drink Stuff) and a pole dancer on the side. Let it be known the party is in your cubicle. Bring your own beverage warmer and no pouring the punch in the Flower Pod.



(image via)

Meanwhile in the office bathroom - this thing has everything BUT the USB port (thank goodness!..) -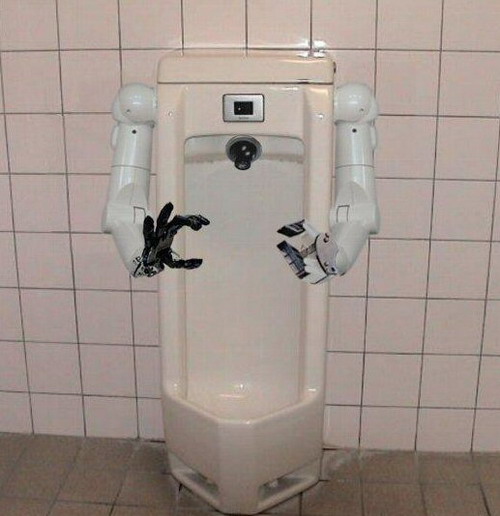 Here is an idea: somebody has to make a USB gadget out of this (though it would not work with the computer mice instead of real ones) -



(image via)

But regardless of all these enhancements, once your work day done, don't hesitate to get out:


Link

Read Previous Part: "Best of Office Comedy" ->

Also Read: Stationery with Bite
Unexpected Creativity Found in Unusual Places

Permanent Link...
...+StumbleUpon
...+Facebook

Category: Gadgets,Computers
RECENT ARTICLES:
"Dark Roasted Blend" - All Kinds of Weird and Wonderful Things, Discovered Daily!"
DRB is a top-ranked and respected source for the best in art, travel and fascinating technology, with a highly visual presentation. Our in-depth articles in many categories make DRB a highly visual online magazine, bringing you quality entertainment every time you open your "feed" reader or visit our site -
About DRB
Connect with us and become part of
DRB on Facebook
,
Twitter
,
Pinterest
,
Google Plus
; make sure to subscribe to our
updates
.
Our mobile site:
http://mobile.darkroastedblend.com
. You can also read us on iPad, as part of the
Flipboard
popular free app.
YOUR COMMENTS:
:
READ OTHER RECENT ARTICLES:



Extreme Parenting & Wild, Wild Kids! Part 2

The Joys and Perils of Having Interesting Kids



Creation and Destruction of Sand Mandalas

Profound Art Ritual Reflecting the Sanctity of Our Lives



Funny Sports Update

Underwater Ice Hockey, Extreme Stunts, etc.(Pics)



The New Motor, or the Steam-Powered Messiah

The strange, true tale (plus some wicked cyberpunk art)



Machines Alive! The Whimsical Art of Boris Artzybasheff

Is it a dream, or a nightmare?



Automated Musical Instruments

Music Robots: No Performer Necessary



American Supersonic Airliners:
Race for a Dream

Supersonic Marvels, Largely Forgotten Today



Pulp Pleasures: Eando Binder

"Where Eternity Ends" and other rare gems



Epic Fantasy: the Start of the Journey

Part 2 of our "Best Classic Fantasy" series



Strange Shadows: Best Classic Fantasy

Fantasy "Glitches in the Matrix", Epic Lands, and more!


DRB Feel-Good
Happy Holidays from DRB!

2014 Feel-Good Issue, Part 2


DRB Feel-Good
Christmas Feel-Good Special

Happy Holidays and Great New 2014 Year from DRB!



Epic Space Fiction by Alastair Reynolds

"Nostalgia for Infinity", indeed



Cinerama: "The Next Big Thing That Was"

Curved screens, gigantic projectors & "out-of-this-world" picture


DRB Series
Magnificent Fractals (DRB Series)

Probably the Most Spectacular Collection of Fractals on the Web



Fractals For Food

If You Eat This, Will It Make You Better At Math?



Three-Dimensional Mechanical Fractals

Don't stare at them for too long, or your brain will capsize!



Pre-Fractal Art

Stunning Examples of Fractal Art in History



A Codebreaker's Dream: The Bombe!

"The Bombe" vs. "The Enigma" code battle



Extremely Weird Bus Stops & Shelters

Wildly bizarre bus stop "creations"



Incredible Balancing Acts & Tightrope Walking

Up on the Roof: Not for the Faint of Heart



The Creepiest Mannequins

Serious Halloween Scares and Frights



Wildly Funny Frogs

Frogs in their "moments of weakness"



World's Strangest Vehicles, Part 5

The Truly Bizarre Car Zoo!



Deadliest Creatures (that are Easiest to Miss)

Real terror lurks in quiet darkness



"Music For... What?" Weird Album Covers

Music for Vacuuming, and much much more!



World's Strangest Vehicles, Part 4

Sheer Auto Adrenaline!
CATEGORIES
:
airplanes
|
animals
|
architecture
|
art
|
auto
|
boats
|
books
|
cool ads
|
funny pics
|
famous
|
futurism
|
food
gadgets
|
health
|
history
|
humour
|
japan
|
internet
|
link latte
|
military
|
music
|
nature
|
photo
|
russia
|
steampunk
sci-fi & fantasy
|
signs
|
space
|
sports
|
technology
|
trains
|
travel
|
vintage
|
weird