"QUANTUM SHOT" #434
link

When you expect it the least, the art comes around and whacks you on the head

Unexpectedly confronted with creativity -
1. in security devices:

Fences as art (not seen in prisons yet, but it's only a matter of time) -




Fancy "heart-break" chains and barbed wire:




Smiling Bear Lock:




and cutesy "big brother loves you" surveillance cameras:




---------

Unexpected encounter with creativity -
2. in a garden:

Uniquely Shaped Trees

These fantastically bent tree trunk are grown at Nob Hill Foods, Gilroy, California - a veritable "Tree Circus". Axel Erlandson is the arbo-sculptor - truly an occupation for a patient man. Tree "sculptures" require constant pruning, bending and grafting, keeping to the plan for many years. See more incredible examples on this page.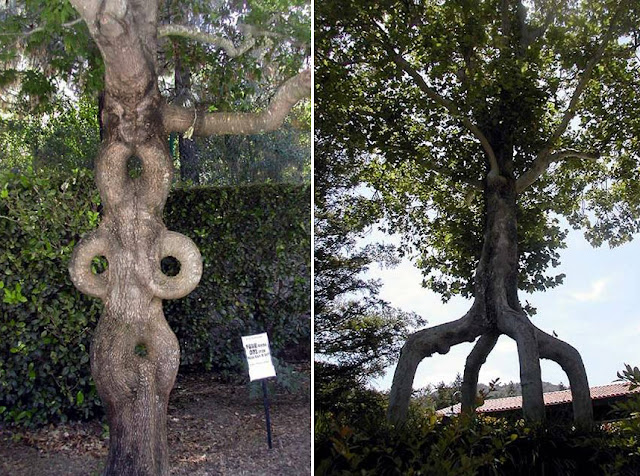 Some of the shaped trees featured here are creations of Peter's Pooktre Garden. Check out their site for more images.

Of course, wherever necessary we don't hesitate to shape trees in our own radical way:




---------

Unexpectedly confronted with creativity -
3. in a restaurant:

Designer Food

Here is what one Asian site uncovered in one of the local restaurants. Some of the most creative food "masterpieces" could be seen in our Strange Food Special article.

However, these surreal and avantgarde food sculptures are in a league of their own. Imagine having a full course dinner trying to explore, divide into bite sizes (and ultimately bring into mouth) these Dali-esque forms... Fun time guaranteed.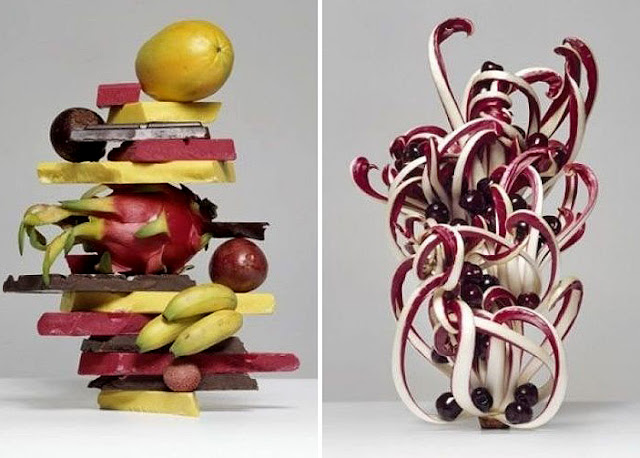 See also pretty good food sculpture compilation on this page. It includes the strangest (and pretty short-lived) constructions made from butter and cheese.

Certainly, nothing precludes you from playing from your mundane food items at breakfast - like this:



(art by Elise Marie)

So go for it!

---------

Unexpectedly confronted with creativity -
4. in a textbook:

Chinese Characters Become Human Figures

We spoke about Japanese Creative Bar Codes, and this design exercise seems to be no less - and even more! - challenging: creating human figures out of the complex Chinese characters. To do so in usual letters would not be so difficult, but to arrange sophisticated pattern of hieroglyphs is a completely different challenge.




Seeing these pictograms convinces me that almost any combination of symbols can be creatively transformed and twisted around to achieve a wholly new meaning (keeping the old meaning intact).

---------

Unexpected creativity -
5. in military weapons:

Paper Machine Guns




But then again, there are also guns made from wood:




All this ersatz weaponry might have another application... After all, would you trust your blond girlfriend to handle the actual weapon? Just hand her the wooden replica.

Here is another good military weapon - frighteningly efficient, too:





Japanese Jet Fighters - Big-Eyed Surprise!

This is not a Photoshop job, these jets are from Ace Combat 6. And yet... military in Japan just might do something like this, having read one manga too many on their way to work, and getting slightly confused about reality: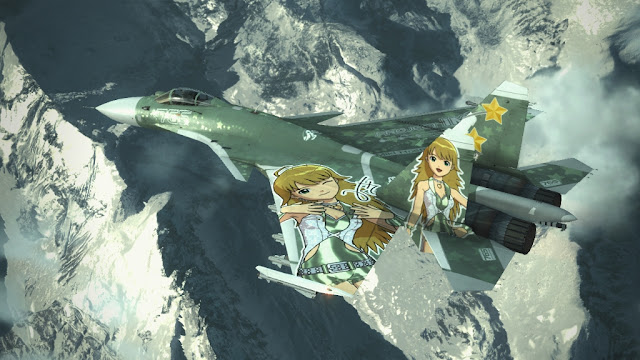 There is something about the huge eyes and batting eyelashes of cute manga girls that just might shock the enemy into a sensory overload and total love-struck submission.

Also Read: Cool Art from Everyday Objects

Permanent Link...
...+StumbleUpon
...+Facebook
Category: Art,Weird
Dark Roasted Blend's Photography Gear Picks:
RECENT ARTICLES:
"Dark Roasted Blend" - All Kinds of Weird and Wonderful Things, Discovered Daily!"
DRB is a top-ranked and respected source for the best in art, travel and fascinating technology, with a highly eclectic presentation. Our in-depth articles in many categories make DRB a valued online magazine, bringing you quality info and entertainment every time you visit the site -
About DRB
Connect with us and become part of
DRB on Facebook
and
Twitter
.
YOUR COMMENTS:
:
READ OTHER RECENT ARTICLES:
CATEGORIES
:
Feel-Good!
|
airplanes
|
animals
|
architecture
|
art
|
auto
|
boats
|
books
|
cool ads
|
famous
|
futurism
|
food
gadgets
|
health
|
japan
|
internet
|
link latte
|
military
|
music
|
nature
|
photo
|
russia
|
steampunk
sci-fi & fantasy
|
signs
|
space
|
technology
|
trains
|
travel
|
vintage
|
weird
|
abandoned