"QUANTUM SHOT" #131




1. Dream house with wings

Seen in one of the Russian journals is this series of slightly surreal photos... See what you can make of it:




UPDATE:

Christopher Lee said...
"The guy that owns it is a retired airline pilot. He bought that plane used, put it in that forested area and it's his house. He lives somewhere in Oregon."

and finally we have the answer:
PAgent said:
This is his website: www.airplanehome.com

This Boeing 727 is a work-in-progress home conversion, built by Bruce Campbell from Hillsboro, Oregon. He maintains that anybody can do it, given desire, luck (acquiring decommissioned plane) and determination. As he points out, this house gives
"A feeling of strength, security, capability and ergonomics that eclipses any other, almost as if you were in a home designed 50 years in the future. Imagine removing all the clutter, such as the seats, the overhead compartments... What's left is an open, ultra high tech home". Besides, he says, it's a great toy.

On his site there is a million of pictures of the work-in-progress, both exterior and interior of jet-house, and FAQ, in which he elaborates on the cost of the project (it's possible to do it for under $100K) and a cool possibility to build a house out of wide-body 747 jet (you would need a bigger yard for that)


2. Dream Plane-Boat




The "Cosmic Muffin" is the most unusual plane-boat, made out of the historic and rare aircraft - "Boeing 307 Stratoliner" (1937)

Boeing 307 Stratoliner was originally owned by the aviation pioneer Howard Hughes. He acquired the plane in 1939 as part of his purchase of TWA. Many additional pictures of the original plane can be found here.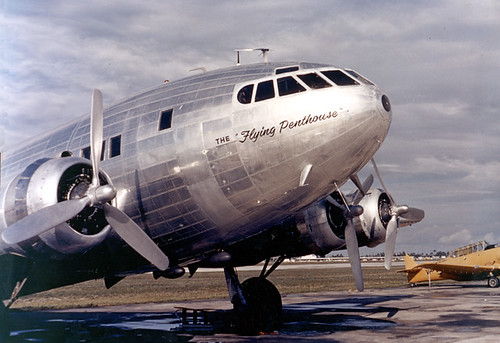 The other Boeing 307, Pan Am Clipper "Flying Cloud", was restored for the National Air and Space Museum of the Smithsonian Institution:




In 1969 the plane was converted into a boat "The Londonaire", and was discovered by Jimmy Buffett, who actually wrote his first novel around it in 1997.




Finally David R. Drimmer and his company PlaneBoats has extensively remodeled and rebuilt it. They named it "the Cosmic Muffin" - a dream-boat from Jimmy Buffett's novel.

Today "Cosmic Muffin" is stationed in Fort Lauderdale and open to the public for scheduled visits.





Honorable Mentions

This site seems to mean business, but the non-professional look of the site and obviously photoshopped picture make one doubt their credibility:




This villa in South Africa really is not quite the real plane, though it gets credit for trying...




UPDATE

This is an airplane conversion serving as a museum and a house in the Russian city of Perm:





A small roadside restaurant in Romania made from a DC-3: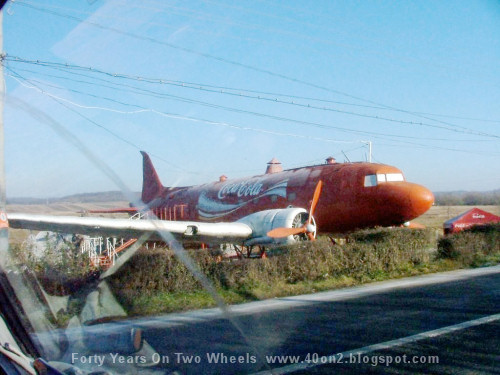 (image credit: 40on2)


I'd say, with all these conversion ideas floating in the air, you'd better hurry and bid on this plane (shown below), which languishes somewhere off the coast, waiting to be turned into an ultra-modern yacht.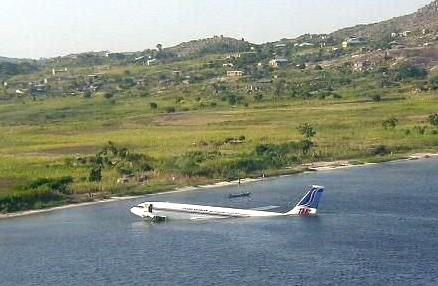 CONTINUE TO "BOEING 747 RESTAURANT" ->
Category: Airplanes,Architecture, Weird
RECENT ARTICLES:
"Dark Roasted Blend" - All Kinds of Weird and Wonderful Things, Discovered Daily!"
DRB is a top-ranked and respected source for the best in art, travel and fascinating technology, with a highly eclectic presentation. Our in-depth articles in many categories make DRB a valued online magazine, bringing you quality info and entertainment every time you visit the site -
About DRB
Connect with us and become part of
DRB on Facebook
and
Twitter
.
YOUR COMMENTS:
:
READ OTHER RECENT ARTICLES:
CATEGORIES
:
Feel-Good!
|
airplanes
|
animals
|
architecture
|
art
|
auto
|
boats
|
books
|
cool ads
|
famous
|
futurism
|
food
gadgets
|
health
|
japan
|
internet
|
link latte
|
military
|
music
|
nature
|
photo
|
russia
|
steampunk
sci-fi & fantasy
|
signs
|
space
|
technology
|
trains
|
travel
|
vintage
|
weird
|
abandoned