"QUANTUM SHOT" #110




First American Streamlined Cars & Vans

American "Airomobile" vs. Volkswagen

It all started with Airomobile's first streamlined patents, 1934:




"The Airomobile" was a prototype designed by Paul M. Lewis in 1934 (it was built in 1937). It stimulated great interest and was clearly ahead of its time. The 3-wheeled configuration provided streamlining and economy: "They're easier to streamline," Paul Lewis said, "Fewer wheels mean less expense, greater simplicity."




"Volkswagen and Airomobile were both created about the same time, both strange to look at, their engineering completely unorthodox, their purpose: cheap transportation for the masses."




"But then something happened - social history took over. World War II cast VW up and the Airomobile down. If the two cars had switched countries, their success and failure might have been just the other way around." (Source article)




This is the emblem of "Lewis American Airways, Inc." issued in 1935 and signed by the Company's President Paul M. Lewis (designer of "Airomobile").




Further reading: 1, 2

Other cool concepts from the same period:

"McQuay-Norris" - only 6 were made in the Thirties.




A teardrop-shaped car, designed in 1934 Norman Bel Geddes: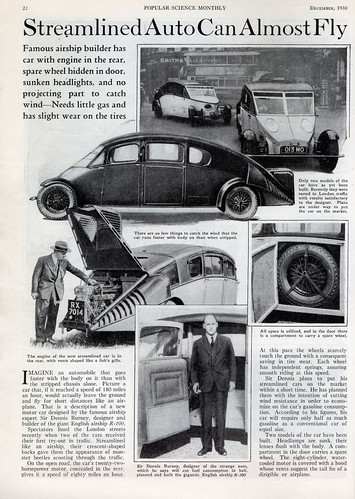 "DYMAXION" - The Original American Van

Dymaxion Car was a teardrop-shaped, 3-wheeled, aluminum bodied auto, designed by Buckminster Fuller in 1933. It was very much like a big van: it seated the driver and 10 passengers, but weighed less than 1000 lbs., went 120 miles/hr on a 90 horsepower engine, and got between 30-50 miles to the gallon of gas. "Fuller referred to it as "Omni-Medium Transport" since it was ultimately intended to go by land, water, or sky. Only three were ever built."




Source and further reading: Washed Ashore


FASCINATION - An amazingly practical "Space Car"

This was Paul M. Lewis second car creation: "Highway Aircraft Corporation" (Sidney, Nebraska) unveiled "Tomorrow's Car Today": the Fascination., which nearly revolutionized car design at the time. This sleek, jet-tube-fendered three-wheeler even today looks very futuristic.




Here is how this article describes it:
"First, let's look under the hood (presuming it has one, somewhere). While the
Fascination's standard engine is an aluminum, fuel-injected four-cylinder, a new type of energy source is touted as the vehicle's soon-to-come power drive: the Nobel Gas Plasma Engine.
"This engine is a closed two-cycle reciprocating engine that has no intake, uses no air, emitting no exhaust at all! The fuel is self-contained and hermetically sealed in the cylinders which are initially charged at the time of manufacturing, carrying their own power supply that will last approximately 60 to 75 thousand miles with no fall of efficiency."

An environmentally safe engine that doesn't need refueling for 60,000 miles - why haven't we heard of this miracle power source? (GM or Ford obviously must have sent out their minions to squelch such a potentially damaging competitor.)"




"And although you may think that a three-wheeled craft may be more prone to rollover (the main reason why three-wheeled ATVs were banned), the brochure lays this assumption to rest:
"We can approach crossroads at 40 mph and without taking our foot off the throttle, turn the corner at full speed. The car does not roll."

Source and further reading: PopCult Mag


CONTINUE TO PAGE 2 OF THIS ARTICLE

Category: Automobile,Vintage
RECENT ARTICLES:
"Dark Roasted Blend" - All Kinds of Weird and Wonderful Things, Discovered Daily!"
DRB is a top-ranked and respected source for the best in art, travel and fascinating technology, with a highly eclectic presentation. Our in-depth articles in many categories make DRB a valued online magazine, bringing you quality info and entertainment every time you visit the site -
About DRB
Connect with us and become part of
DRB on Facebook
and
Twitter
.
YOUR COMMENTS:
:
READ OTHER RECENT ARTICLES:
CATEGORIES
:
Feel-Good!
|
airplanes
|
animals
|
architecture
|
art
|
auto
|
boats
|
books
|
cool ads
|
famous
|
futurism
|
food
gadgets
|
health
|
japan
|
internet
|
link latte
|
military
|
music
|
nature
|
photo
|
russia
|
steampunk
sci-fi & fantasy
|
signs
|
space
|
technology
|
trains
|
travel
|
vintage
|
weird
|
abandoned