The New Motor, or the Steam-Powered Messiah
"QUANTUM SHOT" #373(rev)
Link - article by M. Christian



Few things are as strange as the tale of the The New Motor:
A locomotive "god" from the Victorian times, that was supposed to be "The Physical Saviour" of the race.

Illustrated by wicked cyberpunk artists Vladimir Tsesler & Sergei Voichenko from Belarus, and Andrey Severinko from Kiev, Ukraine: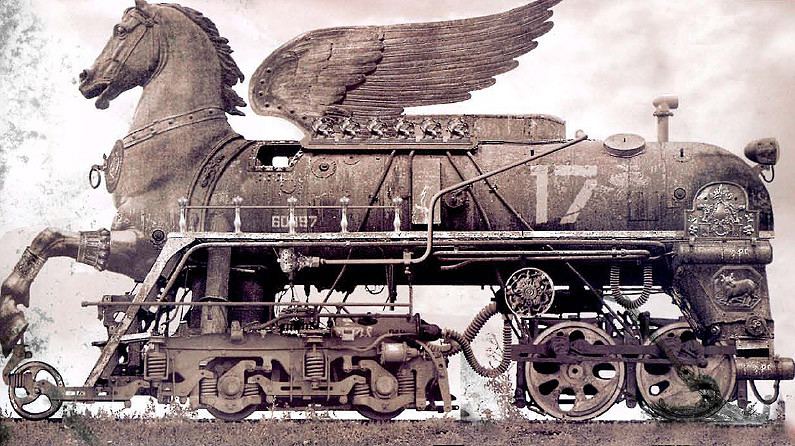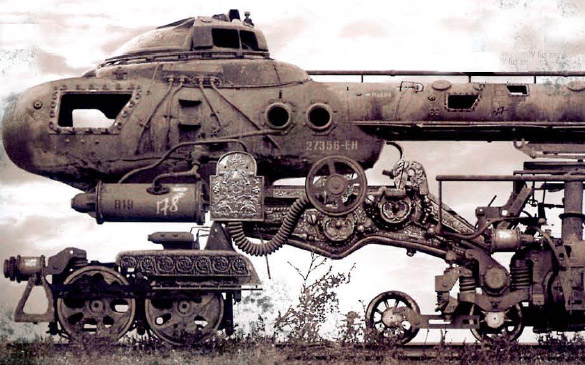 (art by Vladimir Tsesler & Sergei Voichenko, Belorus)


1854, America, the Northeast. The time, particularly, is important. Think about it: 1854.
- Years before even the civil war, a time of technological innovation.
- No electric lights.
- The safety match was even a year away.
- No elevators.
- The hypodermic syringe and spinal anesthesia was either just developed (the former) or just a little ways away (the latter). So don't even THINK of getting sick.
- Think coal, wool coats, the Crimean War, legal slavery, and Sir Richard Burton in Mecca and Medina.

Also John Murray Spear.





Go ahead, look him up. If you're lucky, you might find him as a footnote, a side-thought in the spiritualist movement of the time. You know: ghosts, table-turning, trances, automatic writing, levitations ... in other words, spirits. Spear was part of that world, a medium-temperature medium.

Then sometime during that year of 1854 Spear was elevated from mediocrity to the domain of the truly, magnificently ... unusual.


Contacted by a bunch of spirits, with an "apparent mechanical turn of mind"

See in 1854 Spear was contacted by a bunch of spirits, with an "apparent mechanical turn of mind" (to quote A.J. Davis) that included the ghost of Benjamin Franklin: the Association of Electricizers, who commanded him to go forth unto this world and build The New Motor



(left image via Fortean Times; right image: art by Andrey Severinko, Kiev, Ukraine)


"The Physical Savior of the race," was how Spear described the Motor. As to its mysterious workings he said it was to be powered by "power from the magnetic store of nature, and therefore to be as independent of artificial sources of energy as was the human body."

What the hell the New Motor looked like anyone's guess. A clockwork Jesus? A steam-powered messiah? A rubber-band savior? A locomotive god? The fact that we haven't the foggiest idea of what his "The Physical Savior of the race" looked like doesn't diminish the fact that Spear and his spiritual mechanical gizmo really existed -- at least according to the eminent Lewis Spence in his An Encyclopedia of Occultism.



(art by Andrey Severinko, Kiev, Ukraine)


Birth Pangs as a "Jump Start" to a cult of followers

Slowly, Spear collected quite a little cult of followers … who did just that: Trail behind him and the New Motor, which they worshipped as a god, on tours throughout the Northeast. Eventually, this little band ended up in the lovely little town of Lynn, Massachusetts. There a certain lady received a vision of the New Motor and, while in its presence, suffered "birth pangs" for over two hours.

After this certain lady went through her "pangs" it was said that "it was averred that pulsations were apparent in the Motor". After learning of this wonderful bit of unusual (okay, weird) history, the term "jump start" has not meant the same to me...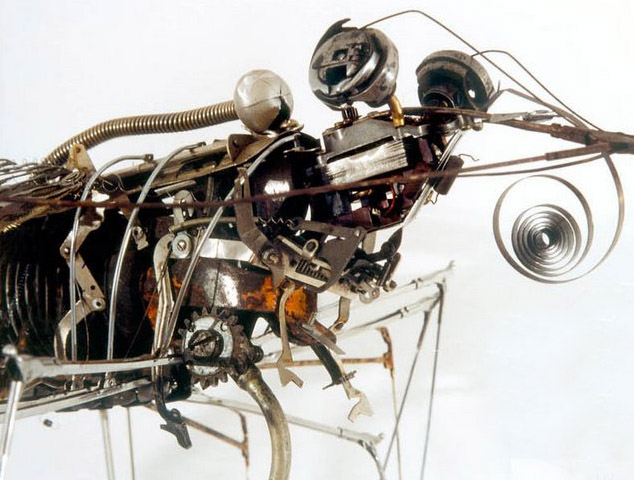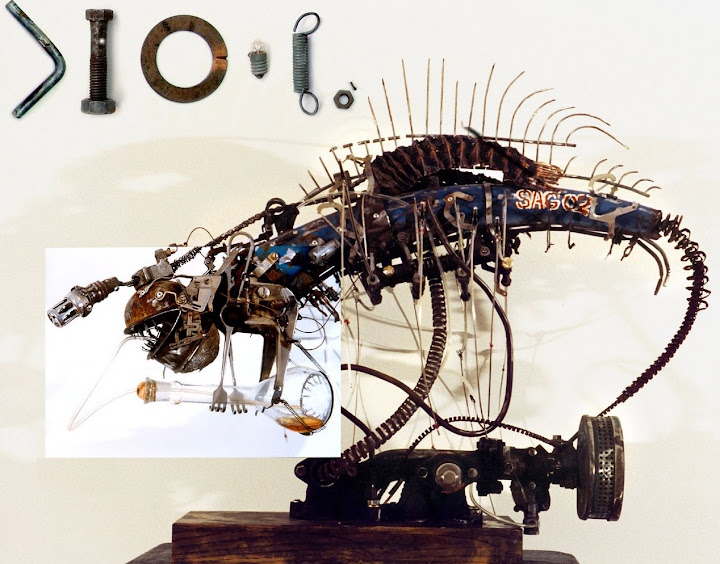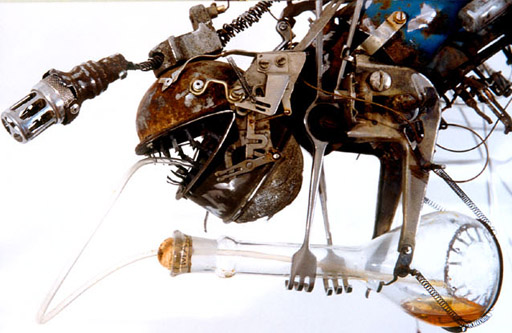 (art by Andrey Severinko, Kiev, Ukraine)


Outraged citizenry smashed the Motor to bits

I really wish this story had a better ending: like maybe Spear vanishing one day with the Motor, or that it ascended into some kind engineering nirvana, or was lost only to be discovered to our fascination and delight in some farmhouse in Connecticut. But, sadly, real life is too often stuffed with clichés: I can only hope that the "outraged" citizenry of Randolph, New York, who smashed the Motor to bits, had been carrying torches.

Still, who knows? Maybe someone someday will discovered a twisted bit of spring and cylinder, a crumpled mixture of glass and copper, a wind-up collection of gears and pendulums in a old barn, at the bottom of a filled well, on a dusty shelf somewhere and, to his surprise and shock, he will notice certain ... movements ....

No, that's not quite right. Not movements, rather: "pulsations" ... And so maybe The New Motor of John Murray Spear will tick and tock, and live again.



(image credit: Alejandro Polanco)


Sources and further reading: The Further Adventures of Ben Franklin's Ghost, The God Machine
Article by author by M. Christian and Avi Abrams, Dark Roasted Blend


CONTINUE TO OTHER STEAMPUNK-THEMED ARTICLES ->



RECENT ARTICLES:
"Dark Roasted Blend" - All Kinds of Weird and Wonderful Things, Discovered Daily!"
DRB is a top-ranked and respected source for the best in art, travel and fascinating technology, with a highly visual presentation. Our in-depth articles in many categories make DRB a highly visual online magazine, bringing you quality entertainment every time you open your "feed" reader or visit our site -
About DRB
Connect with us and become part of
DRB on Facebook
,
Twitter
,
Pinterest
,
Google Plus
; make sure to subscribe to our
updates
.
Our mobile site:
http://mobile.darkroastedblend.com
. You can also read us on iPad, as part of the
Flipboard
popular free app.
YOUR COMMENTS:
:
READ OTHER RECENT ARTICLES:



Creation and Destruction of Sand Mandalas

Profound Art Ritual Reflecting the Sanctity of Our Lives



Funny Sports Update

Underwater Ice Hockey, Extreme Stunts, etc.(Pics)



The New Motor, or the Steam-Powered Messiah

The strange, true tale (plus some wicked cyberpunk art)



Machines Alive! The Whimsical Art of Boris Artzybasheff

Is it a dream, or a nightmare?



Automated Musical Instruments

Music Robots: No Performer Necessary



American Supersonic Airliners:
Race for a Dream

Supersonic Marvels, Largely Forgotten Today



Pulp Pleasures: Eando Binder

"Where Eternity Ends" and other rare gems



Epic Fantasy: the Start of the Journey

Part 2 of our "Best Classic Fantasy" series



Strange Shadows: Best Classic Fantasy

Fantasy "Glitches in the Matrix", Epic Lands, and more!


DRB Feel-Good
Happy Holidays from DRB!

2014 Feel-Good Issue, Part 2


DRB Feel-Good
Christmas Feel-Good Special

Happy Holidays and Great New 2014 Year from DRB!



Epic Space Fiction by Alastair Reynolds

"Nostalgia for Infinity", indeed



Cinerama: "The Next Big Thing That Was"

Curved screens, gigantic projectors & "out-of-this-world" picture


DRB Series
Magnificent Fractals (DRB Series)

Probably the Most Spectacular Collection of Fractals on the Web



Fractals For Food

If You Eat This, Will It Make You Better At Math?



Three-Dimensional Mechanical Fractals

Don't stare at them for too long, or your brain will capsize!



Pre-Fractal Art

Stunning Examples of Fractal Art in History



A Codebreaker's Dream: The Bombe!

"The Bombe" vs. "The Enigma" code battle



Extremely Weird Bus Stops & Shelters

Wildly bizarre bus stop "creations"



Incredible Balancing Acts & Tightrope Walking

Up on the Roof: Not for the Faint of Heart



The Creepiest Mannequins

Serious Halloween Scares and Frights



Wildly Funny Frogs

Frogs in their "moments of weakness"



World's Strangest Vehicles, Part 5

The Truly Bizarre Car Zoo!



Deadliest Creatures (that are Easiest to Miss)

Real terror lurks in quiet darkness



"Music For... What?" Weird Album Covers

Music for Vacuuming, and much much more!



World's Strangest Vehicles, Part 4

Sheer Auto Adrenaline!
CATEGORIES
:
airplanes
|
animals
|
architecture
|
art
|
auto
|
boats
|
books
|
cool ads
|
funny pics
|
famous
|
futurism
|
food
gadgets
|
health
|
history
|
humour
|
japan
|
internet
|
link latte
|
military
|
music
|
nature
|
photo
|
russia
|
steampunk
sci-fi & fantasy
|
signs
|
space
|
sports
|
technology
|
trains
|
travel
|
vintage
|
weird