"QUANTUM SHOT" #48(rev)
Link - by Avi Abrams


Marvel Age: The City of Superheroes

Skyscrapers looked more imposing, somehow, in the black-and-white photographs from a bygone era. Maybe it's the absence of the reflective glass facades with their false sky intervals and over-abundance of bland stone walls... Or maybe it's the (barely visible) spiderwebs spread between the towers by the energetic Peter Parker? Perhaps it's glamorous ladies entering a glitzy club, or the aromas emanating from a genuine Jewish Deli?.. Either way, New York of 1920s-1960s period is a very special place indeed: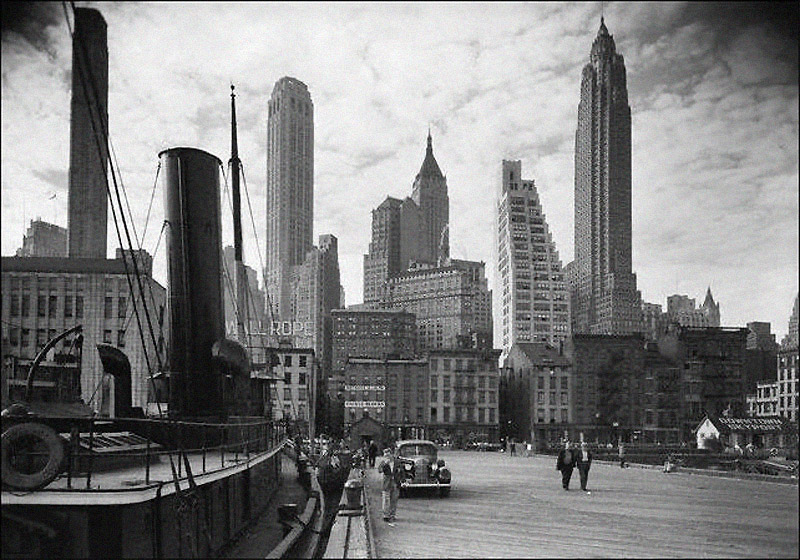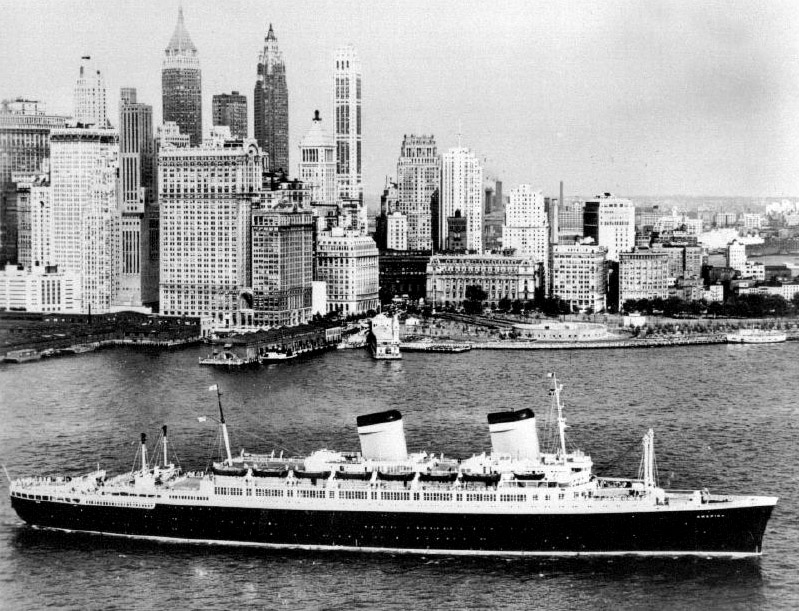 (photos by Andreas Feininger and others, via)

If you want to see how it all started, click to enlarge this N.Y. skyline from 1908 on Shorpy site:



(image via Shorpy)



(1932 skyline, click to enlarge on Shorpy)



(1931 Gotham City skyline, click to enlarge on Shorpy, photo by Samuel Gottscho)

Thanks to the wonderful Lileks site, many old postcards have been preserved and proudly displayed with fascinating history attached. One thing to notice, is that the wonderful structures of that era seem to benefit from the open and uncluttered urban landscape of the time (less build-up, more parking lots, more empty space), easily commanding the attention they justly deserve.


The Lincoln Building
500 - Fifth Avenue
Rockefeller Center

(images credit: vintagephoto)



(image via, click to enlarge)



(for larger versions visit Shorpy - click here and here)

Good old traffic on Fifth Avenue, 1913 (fragment):



(image via, click to enlarge)



(images credit: vintagephoto)


The Building that stood before the World Trade Center:

Hudson Terminal Building covered two full square blocks and was every bit as massive as the World Trade Center towers built on the same space later. It was truly one of the largest office building in the world... Looks very imposing, almost on the verge of being oppressive:




Here it is again, with the surroundings:



(image via, click to enlarge - also see this)

100-year old skyscrapers: "still standing, and taller than anything in most towns":



Addams Express Building, 1914

This medium-sized (!) hotel "Edison" would've been perfect setting for Spiderman's climbing exercises:



(images courtesy: Lileks.com)

Now add some color!

Found through Skyscraper City display of the vintage color photographs of American cities, the exceptional Charles W. Cushman Collection shows New York in 1941 and 1960 - and it looks great, even with its gaudy "pulp-ish" color scheme.

It is also fascinating to compare the skylines of yesteryear with modern "commercial jungle" landscape:



(all photos via Charles W. Cushman Collection)

New York's Magic Today

Bright & often glamorous:



(images credit: Nicola Praderio)



(originals unknown)

ALSO READ: "VINTAGE CHICAGO"! ->


RECENT ARTICLES:
"Dark Roasted Blend" - All Kinds of Weird and Wonderful Things, Discovered Daily!"
DRB is a top-ranked and respected source for the best in art, travel and fascinating technology, with a highly visual presentation. Our in-depth articles in many categories make DRB a highly visual online magazine, bringing you quality entertainment every time you open your "feed" reader or visit our site -
About DRB
Connect with us and become part of
DRB on Facebook
,
Twitter
,
Pinterest
,
Google Plus
; make sure to subscribe to our
updates
.
Our mobile site:
http://mobile.darkroastedblend.com
. You can also read us on iPad, as part of the
Flipboard
popular free app.
YOUR COMMENTS:
:
READ OTHER RECENT ARTICLES:



Creation and Destruction of Sand Mandalas

Profound Art Ritual Reflecting the Sanctity of Our Lives



Funny Sports Update

Underwater Ice Hockey, Extreme Stunts, etc.(Pics)



The New Motor, or the Steam-Powered Messiah

The strange, true tale (plus some wicked cyberpunk art)



Machines Alive! The Whimsical Art of Boris Artzybasheff

Is it a dream, or a nightmare?



Automated Musical Instruments

Music Robots: No Performer Necessary



American Supersonic Airliners:
Race for a Dream

Supersonic Marvels, Largely Forgotten Today



Pulp Pleasures: Eando Binder

"Where Eternity Ends" and other rare gems



Epic Fantasy: the Start of the Journey

Part 2 of our "Best Classic Fantasy" series



Strange Shadows: Best Classic Fantasy

Fantasy "Glitches in the Matrix", Epic Lands, and more!


DRB Feel-Good
Happy Holidays from DRB!

2014 Feel-Good Issue, Part 2


DRB Feel-Good
Christmas Feel-Good Special

Happy Holidays and Great New 2014 Year from DRB!



Epic Space Fiction by Alastair Reynolds

"Nostalgia for Infinity", indeed



Cinerama: "The Next Big Thing That Was"

Curved screens, gigantic projectors & "out-of-this-world" picture


DRB Series
Magnificent Fractals (DRB Series)

Probably the Most Spectacular Collection of Fractals on the Web



Fractals For Food

If You Eat This, Will It Make You Better At Math?



Three-Dimensional Mechanical Fractals

Don't stare at them for too long, or your brain will capsize!



Pre-Fractal Art

Stunning Examples of Fractal Art in History



A Codebreaker's Dream: The Bombe!

"The Bombe" vs. "The Enigma" code battle



Extremely Weird Bus Stops & Shelters

Wildly bizarre bus stop "creations"



Incredible Balancing Acts & Tightrope Walking

Up on the Roof: Not for the Faint of Heart



The Creepiest Mannequins

Serious Halloween Scares and Frights



Wildly Funny Frogs

Frogs in their "moments of weakness"



World's Strangest Vehicles, Part 5

The Truly Bizarre Car Zoo!



Deadliest Creatures (that are Easiest to Miss)

Real terror lurks in quiet darkness



"Music For... What?" Weird Album Covers

Music for Vacuuming, and much much more!



World's Strangest Vehicles, Part 4

Sheer Auto Adrenaline!
CATEGORIES
:
airplanes
|
animals
|
architecture
|
art
|
auto
|
boats
|
books
|
cool ads
|
funny pics
|
famous
|
futurism
|
food
gadgets
|
health
|
history
|
humour
|
japan
|
internet
|
link latte
|
military
|
music
|
nature
|
photo
|
russia
|
steampunk
sci-fi & fantasy
|
signs
|
space
|
sports
|
technology
|
trains
|
travel
|
vintage
|
weird