"QUANTUM SHOT" #643
Link - article by 'betweenthelines'



Books, Bookstores and Libraries That Are Out to Get You

Do you know that there is a certain sub-genre (sub-sub-genre?) of murder mysteries concerned with the world of authors, manuscripts, rare and deadly books - with the emphasis on deadly books?. Typically, they feature an indefatigable hero leaping around libraries in a race against time, unearthing cyphers, ancient manuscripts and clues hidden in old books.

Thrillers like this belong to a popular sub-genre called bibliomysteries, and as the name suggests, they all concern some sort of bookish skull-duggery. Book lovers love them but if you're tempted to read one here are a few words of warning. Books can be fatal, as this eager reader is about to discover:



The Book With The Iron Clasps (left), The Book of Death on the right


This deadly tome is called 'The Book with The Iron Clasps' and its story lies in the novel of the same name. Written by Angus B. Reach in 1848, it's the first-ever detective novel (!) and it's illustrated by George Cruikshank. It may well be a cracking read but don't try to open it – the Borgias have poisoned the pages. It's just the first of many books best kept under lock and key...





The bad news is that some books have plain it got it in for you and in fact there are thousands of dangerous books lurking on the shelves. Spotting them should be no trouble - there's no need to crack a code with a title like "The Book of Death"...

Unfortunately as with all the best thrillers there's a twist to the tale – readers are not the only ones at risk. Budding authors are told to 'write about what you know' but few of them realize just how dangerous writing can be. Bibliomysteries have a habit of biting the hand that writes them:





Sometimes these hapless hacks are cut off mid-sentence long before getting the work to the publisher in the first place. Manuscripts that threaten to expose the truth about the perils of the page are ruthlessly brought to a full stop:





By now even the bravest bibliophile will be glancing at their bookcase wondering if their next read might be their last. Look out for those shelves, by the way – more than one bibliomystery starts with a body under a pile of books. (Did they fall or were they pushed?) I'd choose a short book next if I were you and even then you might not get to the last chapter to find out whodunnit:





Is nowhere safe? Surely the library can provide some sanctuary? Hah! That, gentle reader, is just what they want you to think! Libraries are full of books which makes them the deadliest places of all:





As for bookshops, well, there's nowhere better to spend a quiet five minutes but from now on it might be better to just cross over to the other side of the street. Used bookstores are dying by the dozen but this is ridiculous:





Things are obviously worse than anyone suspected. Let's play safe and just accept that books are best avoided:





Is nobody safe? It might be better to ask an expert. What about that most – ahem - noble, upright, sainted individual, the book collector?





Oh well. Maybe it's better to just wait for the film to come out. And look on the bright side - you probably won't be able to get your hands on any of these bibliomysteries in the first place. Look what happened to the guy I got them from:





I write about old books for the UK's leading book collecting magazine, Book and Magazine Collector, under the byline 'betweenthelines'. I've collected bibliomysteries for the last ten years. Apart from the first the ones above date from 1904 to 1959 and are a mixture of American and British titles and editions. Collecting mystery stories by theme is fun and relatively inexpensive and I'll write more about this soon. In the meantime you can read about plenty of other interesting old books on my website, www.anewlookatoldbooks.com. Please join me each Sunday evening for the book of the week.

Be careful while outside some sinister bookshops, too... Even if you escape the clutches of "fatal" books, you can still fall victim to a store's drain pipe: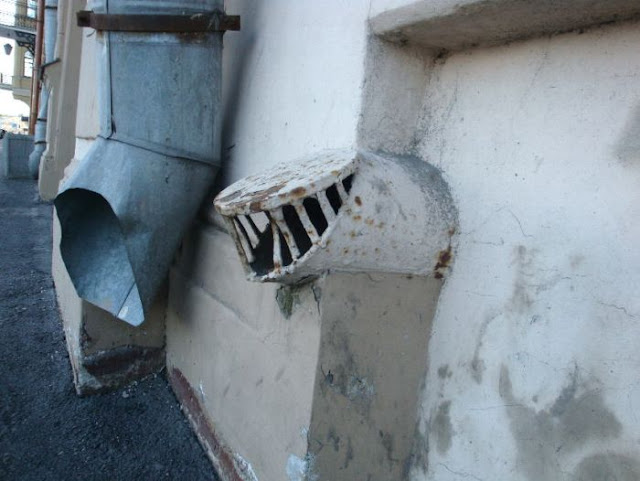 (original unknown)


CONTINUE TO "EX-LIBRIS ART"! ->

READ MORE FROM OUR "WEIRD BOOKS" CATEGORY ->



RECENT ARTICLES:
"Dark Roasted Blend" - All Kinds of Weird and Wonderful Things, Discovered Daily!"
DRB is a top-ranked and respected source for the best in art, travel and fascinating technology, with a highly visual presentation. Our in-depth articles in many categories make DRB a highly visual online magazine, bringing you quality entertainment every time you open your "feed" reader or visit our site -
About DRB
Connect with us and become part of
DRB on Facebook
,
Twitter
,
Pinterest
,
Google Plus
; make sure to subscribe to our
updates
.
Our mobile site:
http://mobile.darkroastedblend.com
. You can also read us on iPad, as part of the
Flipboard
popular free app.
YOUR COMMENTS:
:
READ OTHER RECENT ARTICLES:



Creation and Destruction of Sand Mandalas

Profound Art Ritual Reflecting the Sanctity of Our Lives



Funny Sports Update

Underwater Ice Hockey, Extreme Stunts, etc.(Pics)



The New Motor, or the Steam-Powered Messiah

The strange, true tale (plus some wicked cyberpunk art)



Machines Alive! The Whimsical Art of Boris Artzybasheff

Is it a dream, or a nightmare?



Automated Musical Instruments

Music Robots: No Performer Necessary



American Supersonic Airliners:
Race for a Dream

Supersonic Marvels, Largely Forgotten Today



Pulp Pleasures: Eando Binder

"Where Eternity Ends" and other rare gems



Epic Fantasy: the Start of the Journey

Part 2 of our "Best Classic Fantasy" series



Strange Shadows: Best Classic Fantasy

Fantasy "Glitches in the Matrix", Epic Lands, and more!


DRB Feel-Good
Happy Holidays from DRB!

2014 Feel-Good Issue, Part 2


DRB Feel-Good
Christmas Feel-Good Special

Happy Holidays and Great New 2014 Year from DRB!



Epic Space Fiction by Alastair Reynolds

"Nostalgia for Infinity", indeed



Cinerama: "The Next Big Thing That Was"

Curved screens, gigantic projectors & "out-of-this-world" picture


DRB Series
Magnificent Fractals (DRB Series)

Probably the Most Spectacular Collection of Fractals on the Web



Fractals For Food

If You Eat This, Will It Make You Better At Math?



Three-Dimensional Mechanical Fractals

Don't stare at them for too long, or your brain will capsize!



Pre-Fractal Art

Stunning Examples of Fractal Art in History



A Codebreaker's Dream: The Bombe!

"The Bombe" vs. "The Enigma" code battle



Extremely Weird Bus Stops & Shelters

Wildly bizarre bus stop "creations"



Incredible Balancing Acts & Tightrope Walking

Up on the Roof: Not for the Faint of Heart



The Creepiest Mannequins

Serious Halloween Scares and Frights



Wildly Funny Frogs

Frogs in their "moments of weakness"



World's Strangest Vehicles, Part 5

The Truly Bizarre Car Zoo!



Deadliest Creatures (that are Easiest to Miss)

Real terror lurks in quiet darkness



"Music For... What?" Weird Album Covers

Music for Vacuuming, and much much more!



World's Strangest Vehicles, Part 4

Sheer Auto Adrenaline!
CATEGORIES
:
airplanes
|
animals
|
architecture
|
art
|
auto
|
boats
|
books
|
cool ads
|
funny pics
|
famous
|
futurism
|
food
gadgets
|
health
|
history
|
humour
|
japan
|
internet
|
link latte
|
military
|
music
|
nature
|
photo
|
russia
|
steampunk
sci-fi & fantasy
|
signs
|
space
|
sports
|
technology
|
trains
|
travel
|
vintage
|
weird