"QUANTUM SHOT" #450
link

These Marketers Would Use ANYTHING!

You never know when some viral urban campaign would come around the corner and whack you with some bizarre message.

More interesting ones may even capture your thoughts long after the first visual shock subsides. More often than not, it's just a smart product placement / promotion, but in some cases - truly subversive and genuine urban art.

Streets in Portugal seem to be the most often visited by creative mayhem:
(once you approach these stabbed victims, they will hand you a promo flyer...)




Using shocking faux-death scenes is getting to be quite popular:




Go on, make your usual grocery trip. You may encounter some sights you did not bargain for -

On the street: Begging Sculptures. "My Cathedral Needs Your Help" -




Turning the whole street into a blue river:




Inside the elevator:




On a street corner:




At the supermarket:




Check out this tongue-in-cheek packaging:




In the washroom: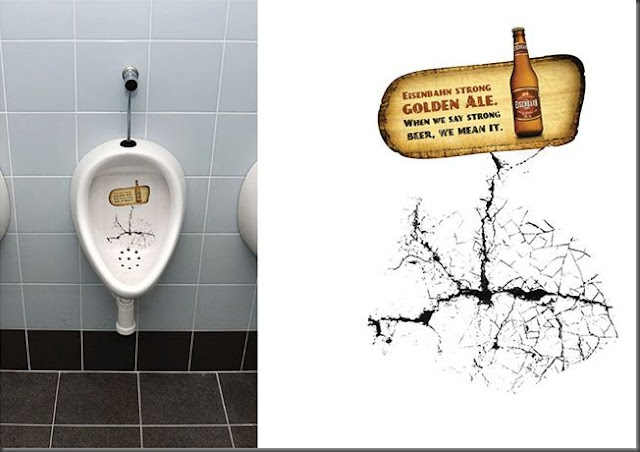 In the swimming pool:




At the train station:




In the tunnels:




At the bus stop:




In your local park - protesting hippies stuck forever, due to a certain lock: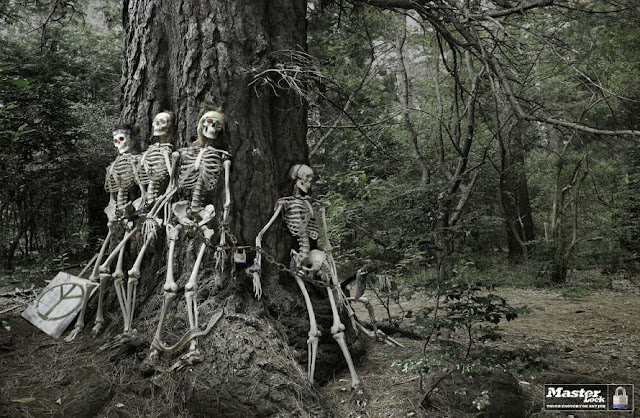 In your kitchen (ingenious ice tray) -




At some Asian restaurant ("Can't hate everything"):




At your local pub - Balancing three pints of Guinness as part of a marketing trick:




Famous Banksy can use literally any part of street landscape to make his point:




Can't get enough of this marketing campaign... really makes you stop in your tracks and re-consider what you're place in life is, what your job situation is like, and how you're infinitely better off than these poor unfortunate souls (even if your boss is a psychopath).

Here is one location that we did not feature before: an soft ice cream machine -




Similar approach: totally freaky vending machine... Get Your Own Goat!!




And a priceless idea - An Anger-Release Vending Machine:




Cool use of a spare wheel: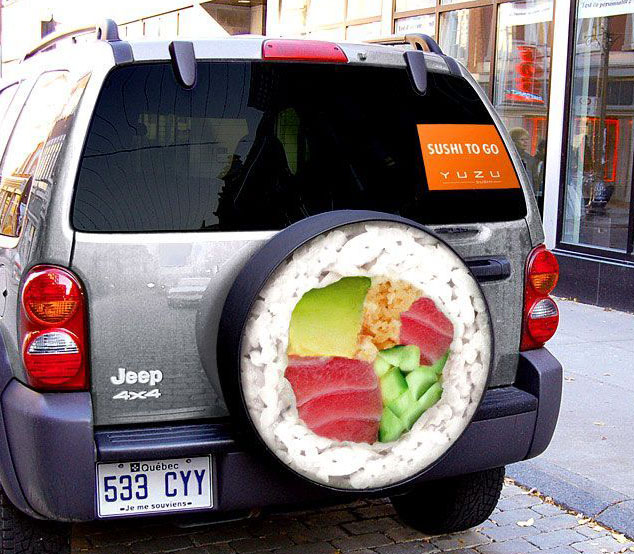 Great play on your traffic woes:




Old and boring billboards can be greatly enhanced, when designers start using other elements of urban environment :

Using raised bridges:




Using weird building profile:




Using the power of wind: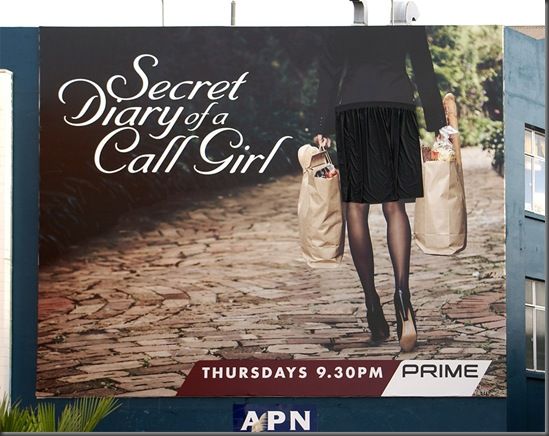 Using old building's corner:




A case of billboard ad gone hilariously wrong, obviously in haste of preparation for Olympics -
(somebody used Goggle translation engine, not checking for the language nuances - "World" and "Peace" are the same words in Russian)




More of the same:




Finally, radically different kind of banner - a subliminal one:




All these ad masterpieces are infinitely removed from the kind we saw in the 70s and 80s:
(although these too have some charm, of a different kind)




Even more charming... 1940s recycling ad -




Material is prepared using these sources: Malevi4, Frederik Samuel, Scary ideas

READ THE REST OF "COOL ADS" SERIES

Permanent Link...
...+StumbleUpon
...+Facebook

Category: Cool Ads
Dark Roasted Blend's Photography Gear Picks:
RECENT ARTICLES:
"Dark Roasted Blend" - All Kinds of Weird and Wonderful Things, Discovered Daily!"
DRB is a top-ranked and respected source for the best in art, travel and fascinating technology, with a highly visual presentation. Our in-depth articles in many categories make DRB a highly visual online magazine, bringing you quality entertainment every time you open your "feed" reader or visit our site -
About DRB
Connect with us and become part of
DRB on Facebook
,
Twitter
,
Pinterest
,
Google Plus
; make sure to subscribe to our
updates
.
Our mobile site:
http://mobile.darkroastedblend.com
. You can also read us on iPad, as part of the
Flipboard
popular free app.
YOUR COMMENTS:
:
READ OTHER RECENT ARTICLES:



Creation and Destruction of Sand Mandalas

Profound Art Ritual Reflecting the Sanctity of Our Lives



Funny Sports Update

Underwater Ice Hockey, Extreme Stunts, etc.(Pics)



The New Motor, or the Steam-Powered Messiah

The strange, true tale (plus some wicked cyberpunk art)



Machines Alive! The Whimsical Art of Boris Artzybasheff

Is it a dream, or a nightmare?



Automated Musical Instruments

Music Robots: No Performer Necessary



American Supersonic Airliners:
Race for a Dream

Supersonic Marvels, Largely Forgotten Today



Pulp Pleasures: Eando Binder

"Where Eternity Ends" and other rare gems



Epic Fantasy: the Start of the Journey

Part 2 of our "Best Classic Fantasy" series



Strange Shadows: Best Classic Fantasy

Fantasy "Glitches in the Matrix", Epic Lands, and more!


DRB Feel-Good
Happy Holidays from DRB!

2014 Feel-Good Issue, Part 2


DRB Feel-Good
Christmas Feel-Good Special

Happy Holidays and Great New 2014 Year from DRB!



Epic Space Fiction by Alastair Reynolds

"Nostalgia for Infinity", indeed



Cinerama: "The Next Big Thing That Was"

Curved screens, gigantic projectors & "out-of-this-world" picture


DRB Series
Magnificent Fractals (DRB Series)

Probably the Most Spectacular Collection of Fractals on the Web



Fractals For Food

If You Eat This, Will It Make You Better At Math?



Three-Dimensional Mechanical Fractals

Don't stare at them for too long, or your brain will capsize!



Pre-Fractal Art

Stunning Examples of Fractal Art in History



A Codebreaker's Dream: The Bombe!

"The Bombe" vs. "The Enigma" code battle



Extremely Weird Bus Stops & Shelters

Wildly bizarre bus stop "creations"



Incredible Balancing Acts & Tightrope Walking

Up on the Roof: Not for the Faint of Heart



The Creepiest Mannequins

Serious Halloween Scares and Frights



Wildly Funny Frogs

Frogs in their "moments of weakness"



World's Strangest Vehicles, Part 5

The Truly Bizarre Car Zoo!



Deadliest Creatures (that are Easiest to Miss)

Real terror lurks in quiet darkness



"Music For... What?" Weird Album Covers

Music for Vacuuming, and much much more!



World's Strangest Vehicles, Part 4

Sheer Auto Adrenaline!
CATEGORIES
:
airplanes
|
animals
|
architecture
|
art
|
auto
|
boats
|
books
|
cool ads
|
funny pics
|
famous
|
futurism
|
food
gadgets
|
health
|
history
|
humour
|
japan
|
internet
|
link latte
|
military
|
music
|
nature
|
photo
|
russia
|
steampunk
sci-fi & fantasy
|
signs
|
space
|
sports
|
technology
|
trains
|
travel
|
vintage
|
weird