"QUANTUM SHOT" #452
link

Perhaps even haunted. They certainly look the part

Not many people think of a sleepy Russian countryside as a place for gothic-styled castles, but here they are - proud, beautiful, one-of-a-kind architectural gems, unjustly forgotten and sadly abandoned....




Apparently some Russian architects of the 19th century visited Europe often enough to be influenced by medieval castles and French-style palaces. Among them was architect P. S. Boitzov, who built a number of fancy castle-like mansions in Moscow area:





1.Muromtzevo Masion, between Murom and Vladimir

One Boitzov's wealthy client, V. Khrapovitzky, decided to erect a real thing instead of poor imitations. For him it was a matter of winning a bet and keeping his honor - so Boitzov had to come up with the authentic French-style palace with huge sculpted gardens and a extensive system of lakes and fountains:




Today it's an extensive maze of imposing buildings and overgrown gardens, a sad but strangely compelling place: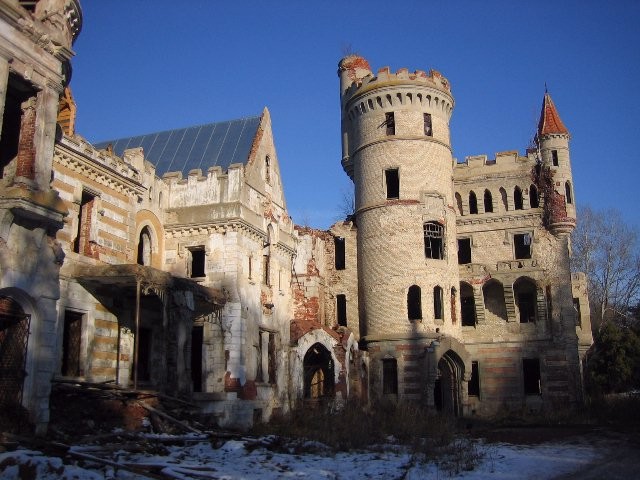 Khrapovitsky emigrated to France with the first sign of Bolshevik trouble, and his palatial grounds were left to decay ever since.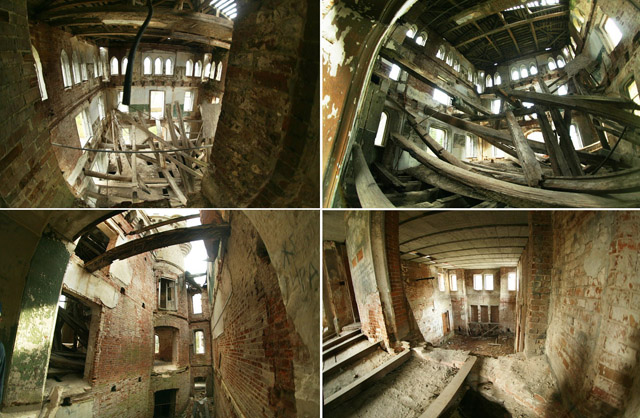 The story gets even more haunting, when a letter from Khrapovitsky wife was found recently, addressed to "the good old peasants" of Muromtzevo in 1928 with the plea to send some money: apparently Khrapovitsky died in utter poverty and their only possession was this land in Russia... The response of "liberated" peasants was simple: a four-letter word suggestion.



(images credit: Natalia Bondareva)


2. Beautiful Uspenskoe Mansion, Moscow area, near Zvenigorod.

One of the last owners of this castle was Sergei Morozov, who allowed many prominent Russian painters (including Levitan) to live in this house. It actually boggles the mind (keeping in mind the rich cultural history of the place, and it's sheer architectural beauty) that all this time it was left in ruins...



(photos by Elena & Dmitry Terkel)


3. English-style Vasilievskoe, also near Zvenigorod.

Architectural style: Victorian Neo-Gothic
Famous people who lived here: Political writer Herzen, "father of Russian socialism"
Appropriate mood: gothic horror novels.



(photos by Elena & Dmitry Terkel)


4. Eltzin's Retreat Area - Barvikha, near Odintzovo.

Another imposing Boitzov's creation is this neo-gothic castle-like mansion, close to the famous house of Boris Eltzin. Lenin liked to spend time here, too... I don't blame him. Former castle Mayendorf is sublimely unique and will hold its own among the best of European mansions.




Here is Eltzin's dacha nearby:




This proximity turned out to be most beneficial for the mansion's future - it's being restored (to the tune of 250 million dollars) into Podushkino Castle. Here is a glimpse of how it looks today:



(images credit: mosres)

Such a happy ending is not common, by any means. Some mansions were restructured to house scientific research facilities, and even hospitals, but most are still abandoned and in pitiful condition today.

All these mansions were designed by vastly underrated and essentially forgotten architect P. S. Boitzov. Here is illuminated fountain he designed on the Lubyanka Square (yes, the same square that KGB used later), decorated for coronation of Russian Tzar Nikolai II:




Article written using materials from proselki.ru, Lentka and Aleksei Gorev.

READ THE PREVIOUS PART
Miniature Crimean Castle

READ THE REST OF "ABANDONED" SERIES

Permanent Link...
...+StumbleUpon
...+Facebook

Category: Architecture,Abandoned
Dark Roasted Blend's Photography Gear Picks:
RECENT ARTICLES:
"Dark Roasted Blend" - All Kinds of Weird and Wonderful Things, Discovered Daily!"
DRB is a top-ranked and respected source for the best in art, travel and fascinating technology, with a highly visual presentation. Our in-depth articles in many categories make DRB a highly visual online magazine, bringing you quality entertainment every time you open your "feed" reader or visit our site -
About DRB
Connect with us and become part of
DRB on Facebook
,
Twitter
,
Pinterest
,
Google Plus
; make sure to subscribe to our
updates
.
Our mobile site:
http://mobile.darkroastedblend.com
. You can also read us on iPad, as part of the
Flipboard
popular free app.
YOUR COMMENTS:
:
READ OTHER RECENT ARTICLES:



Mind-Blowing Optical Illusions, Part 6

"The soul has illusions as the bird has wings: it is supported by them"



Exceptional British 1950s Scifi Artwork

Quintessential Space Pulp Art by Ron Turner and others



Extreme Parenting & Wild, Wild Kids! Part 2

The Joys and Perils of Having Interesting Kids



Creation and Destruction of Sand Mandalas

Profound Art Ritual Reflecting the Sanctity of Our Lives



Funny Sports Update

Underwater Ice Hockey, Extreme Stunts, etc.(Pics)



The New Motor, or the Steam-Powered Messiah

The strange, true tale (plus some wicked cyberpunk art)



Machines Alive! The Whimsical Art of Boris Artzybasheff

Is it a dream, or a nightmare?



Automated Musical Instruments

Music Robots: No Performer Necessary



American Supersonic Airliners:
Race for a Dream

Supersonic Marvels, Largely Forgotten Today



Pulp Pleasures: Eando Binder

"Where Eternity Ends" and other rare gems



Epic Fantasy: the Start of the Journey

Part 2 of our "Best Classic Fantasy" series



Strange Shadows: Best Classic Fantasy

Fantasy "Glitches in the Matrix", Epic Lands, and more!
CATEGORIES
:
airplanes
|
animals
|
architecture
|
art
|
auto
|
boats
|
books
|
cool ads
|
funny pics
|
famous
|
futurism
|
food
gadgets
|
health
|
history
|
humour
|
japan
|
internet
|
link latte
|
military
|
music
|
nature
|
photo
|
russia
|
steampunk
sci-fi & fantasy
|
signs
|
space
|
sports
|
technology
|
trains
|
travel
|
vintage
|
weird