"QUANTUM SHOT" #346
Link - article by Avi Abrams



Your Essential Steampunk Stable & Garage

French city of Nantes recently became host to extremely strange and fascinating sculptural display: "Les Machines de l'Ile Nantes", designed by François Delarozière and Pierre Orefice.

Claude Joannis has a few photographs that'll give you some idea about how extraordinary cool this exhibition is (the first on my list of museums to visit, if possible!)
(all images by permission of respective owners, click to enlarge)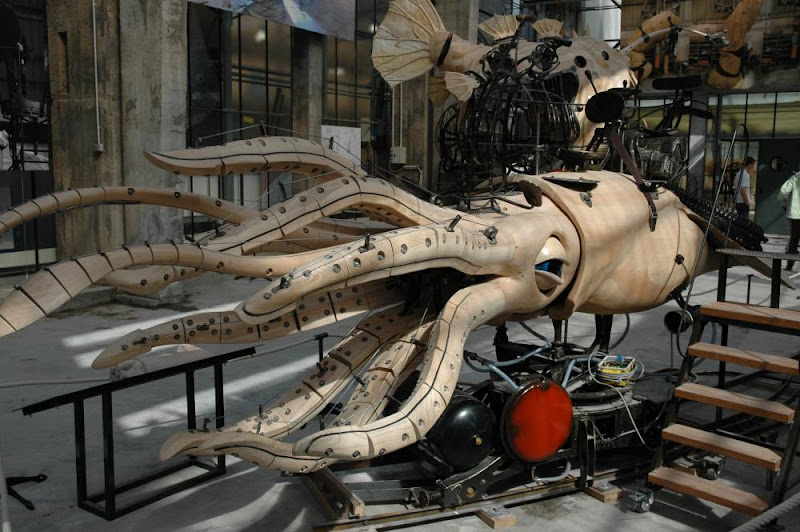 (images credit: Claude Joannis)

The Mechanical Manta-Ray, The Squid, the Deep Sea Monster, all seem to come to life straight from Jules Verne' science adventure books: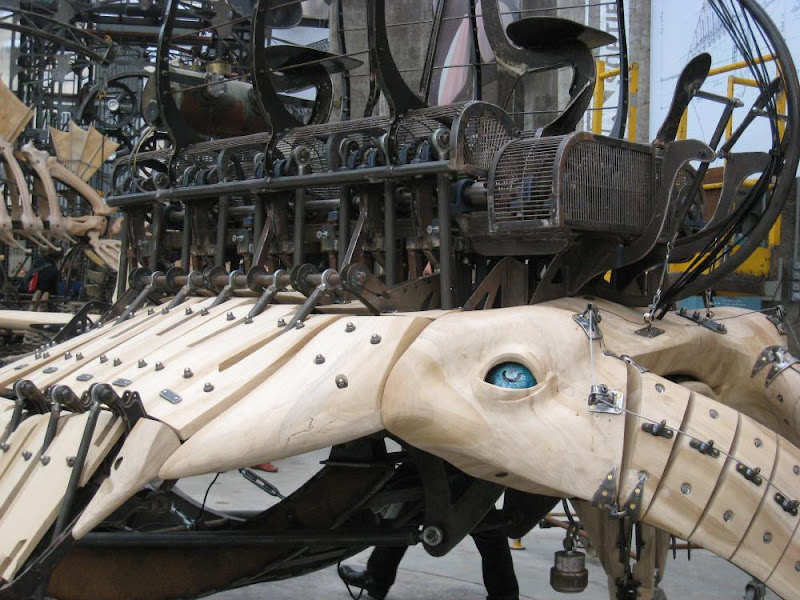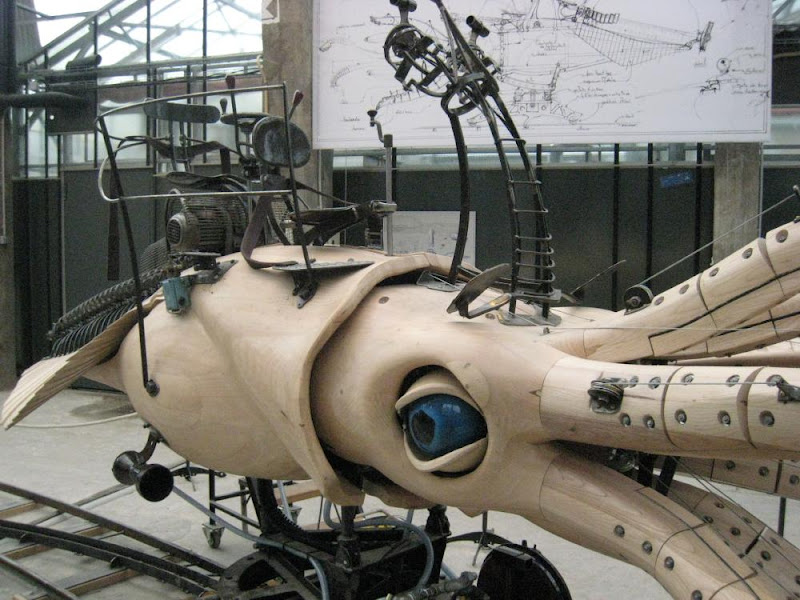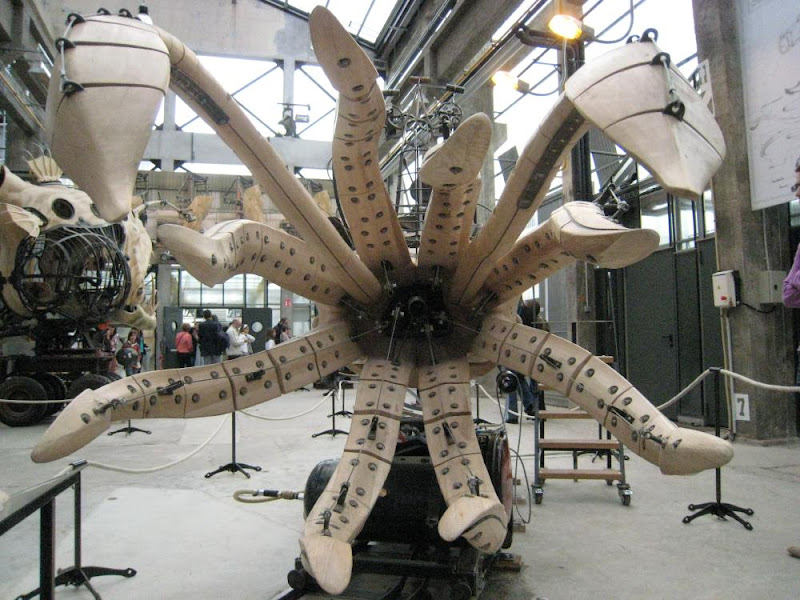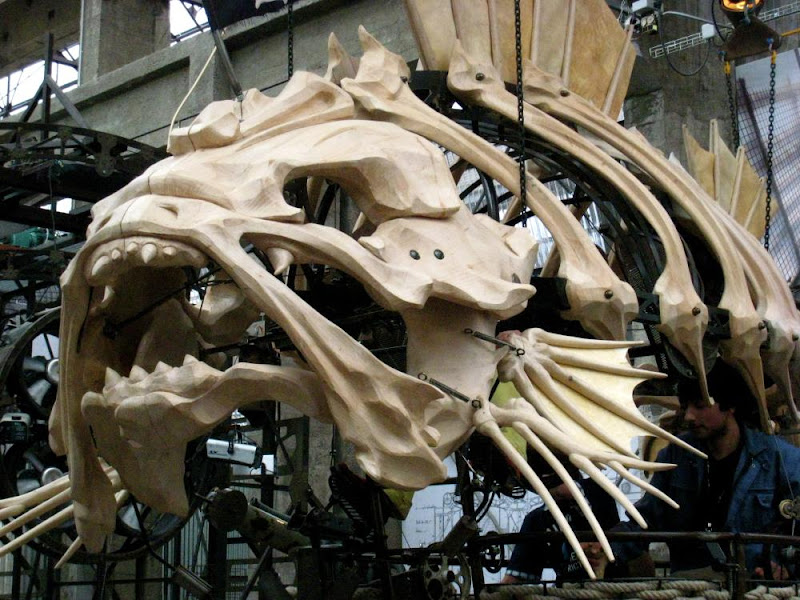 Note the girl inside the maw of this monster - every "animal machine" is also a moving vehicle:




Constructed on the site of the former city dockyards, these steel and wood animal machines consist of the innumerable moving parts, hydraulics, gear wheels - all skillfully combined to make up various obscure sea creatures, a huge elephant, birds and prehistoric monsters... here is a mysterious crane nest:




The Squid seems genuinely surprised to end up on display in the 21st century:



(images credit: Claude Joannis)


Le Grand Elephant

Most impressive creation on display is the 11-meter high "mechanical" elephant, which weighs more than 40 tons: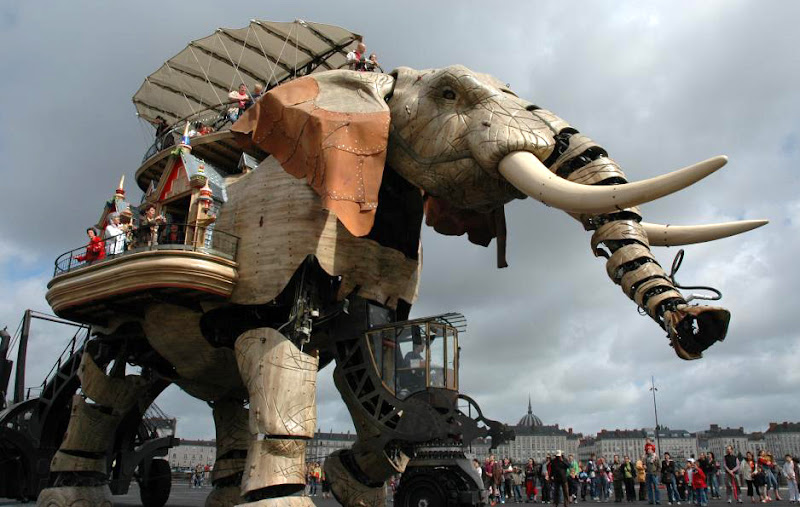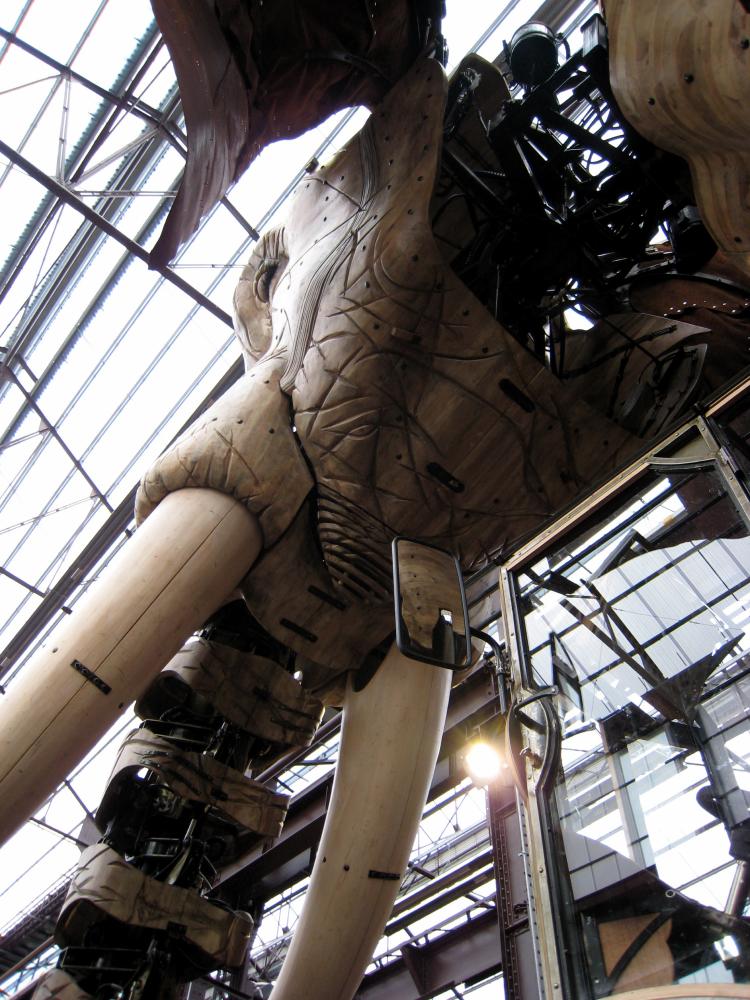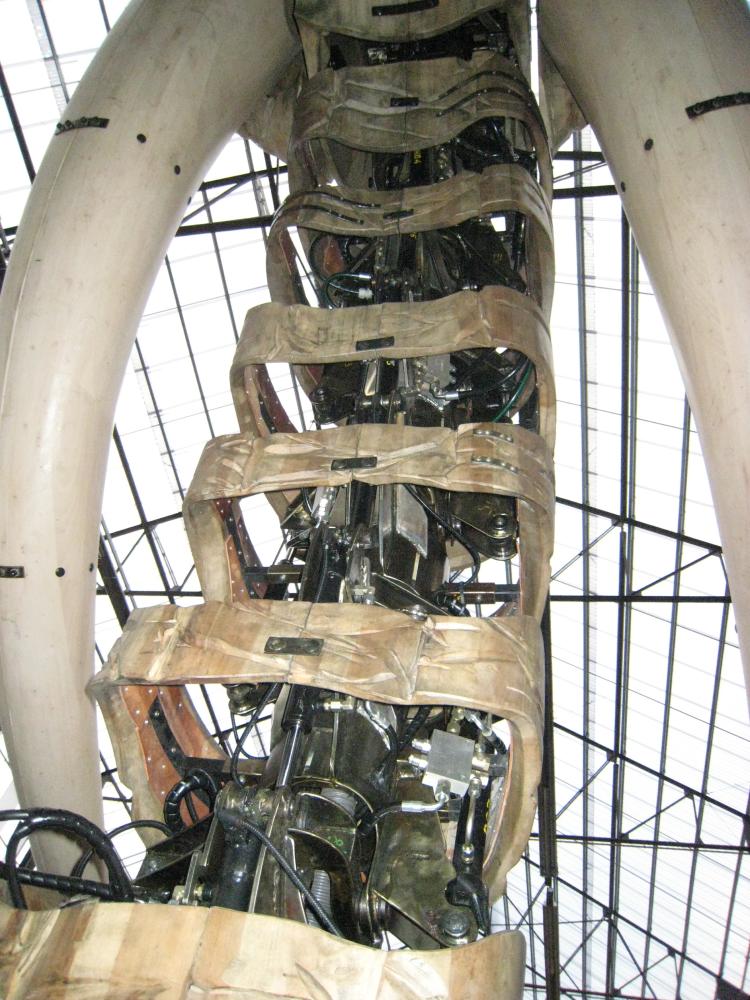 (images credit: Claude Joannis)


(image credit: Stefan)


The Night in the Museum

The genuine look and feel of the creepy museum installation truly comes to life when the dark descends:



(images credit: Claude Joannis)


Sultan's of India Remarkable Journey

Some of the artists responsible for this display are also creators of the similarly bizarre theatrical show "The Sultan's Elephant", which took place in London in 2005 and then traveled across the country.

First the mysterious time capsule/spaceship arrives:



(images credit: Nikki Tysoe)


The Giant Sultan's Elephant appears, spraying the screaming crowds with water:



(images credit: Nikki Tysoe)

Also part of the show, the adjacent cars were routinely SEWN together with a giant needle (!):



(images credit: Nikki Tysoe)


Mechanical Elephants FTW

There was a series of concepts in Modern Mechanics magazine with the similarly weird "walking" modes of transportation - for fun, and for the military:

in 1933 the horse of steel runs across fields: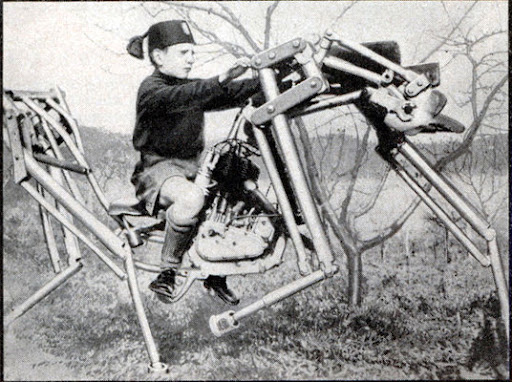 and later in 1962: Army crossing the mountain terrain on mechanical elephants:



(images credit: Modern Mechanix, more info)

Something about giant walking machines... Even the Emperor supplied his Stormtroopers with AT-ATs. Such machines are definitely in our future. It's only a matter of time, till we'll be mounting a mechanical steed to go riding into the sunset to pick up groceries.


CONTINUE TO "AMAZING AUTOMATONS & VICTORIAN ROBOTS" ->

READ THE REST OF OUR "STEAMPUNK SERIES"! ->



RECENT ARTICLES:
"Dark Roasted Blend" - All Kinds of Weird and Wonderful Things, Discovered Daily!"
DRB is a top-ranked and respected source for the best in art, travel and fascinating technology, with a highly visual presentation. Our in-depth articles in many categories make DRB a highly visual online magazine, bringing you quality entertainment every time you open your "feed" reader or visit our site -
About DRB
Connect with us and become part of
DRB on Facebook
,
Twitter
,
Pinterest
,
Google Plus
; make sure to subscribe to our
updates
.
Our mobile site:
http://mobile.darkroastedblend.com
. You can also read us on iPad, as part of the
Flipboard
popular free app.
YOUR COMMENTS:
:
READ OTHER RECENT ARTICLES:



Creation and Destruction of Sand Mandalas

Profound Art Ritual Reflecting the Sanctity of Our Lives



Funny Sports Update

Underwater Ice Hockey, Extreme Stunts, etc.(Pics)



The New Motor, or the Steam-Powered Messiah

The strange, true tale (plus some wicked cyberpunk art)



Machines Alive! The Whimsical Art of Boris Artzybasheff

Is it a dream, or a nightmare?



Automated Musical Instruments

Music Robots: No Performer Necessary



American Supersonic Airliners:
Race for a Dream

Supersonic Marvels, Largely Forgotten Today



Pulp Pleasures: Eando Binder

"Where Eternity Ends" and other rare gems



Epic Fantasy: the Start of the Journey

Part 2 of our "Best Classic Fantasy" series



Strange Shadows: Best Classic Fantasy

Fantasy "Glitches in the Matrix", Epic Lands, and more!


DRB Feel-Good
Happy Holidays from DRB!

2014 Feel-Good Issue, Part 2


DRB Feel-Good
Christmas Feel-Good Special

Happy Holidays and Great New 2014 Year from DRB!



Epic Space Fiction by Alastair Reynolds

"Nostalgia for Infinity", indeed



Cinerama: "The Next Big Thing That Was"

Curved screens, gigantic projectors & "out-of-this-world" picture


DRB Series
Magnificent Fractals (DRB Series)

Probably the Most Spectacular Collection of Fractals on the Web



Fractals For Food

If You Eat This, Will It Make You Better At Math?



Three-Dimensional Mechanical Fractals

Don't stare at them for too long, or your brain will capsize!



Pre-Fractal Art

Stunning Examples of Fractal Art in History



A Codebreaker's Dream: The Bombe!

"The Bombe" vs. "The Enigma" code battle



Extremely Weird Bus Stops & Shelters

Wildly bizarre bus stop "creations"



Incredible Balancing Acts & Tightrope Walking

Up on the Roof: Not for the Faint of Heart



The Creepiest Mannequins

Serious Halloween Scares and Frights



Wildly Funny Frogs

Frogs in their "moments of weakness"



World's Strangest Vehicles, Part 5

The Truly Bizarre Car Zoo!



Deadliest Creatures (that are Easiest to Miss)

Real terror lurks in quiet darkness



"Music For... What?" Weird Album Covers

Music for Vacuuming, and much much more!



World's Strangest Vehicles, Part 4

Sheer Auto Adrenaline!
CATEGORIES
:
airplanes
|
animals
|
architecture
|
art
|
auto
|
boats
|
books
|
cool ads
|
funny pics
|
famous
|
futurism
|
food
gadgets
|
health
|
history
|
humour
|
japan
|
internet
|
link latte
|
military
|
music
|
nature
|
photo
|
russia
|
steampunk
sci-fi & fantasy
|
signs
|
space
|
sports
|
technology
|
trains
|
travel
|
vintage
|
weird