"QUANTUM SHOT" #118




Construction of the Millau Bridge in France

"The Millau bridge over the River Tarn in the Massif Central mountains is more than 300m (984ft) high - taller even than the Eiffel Tower. With its concrete and steel pillars soaring high above the morning fog in the Tarn Valley, the construction makes a spectacular sight." (source)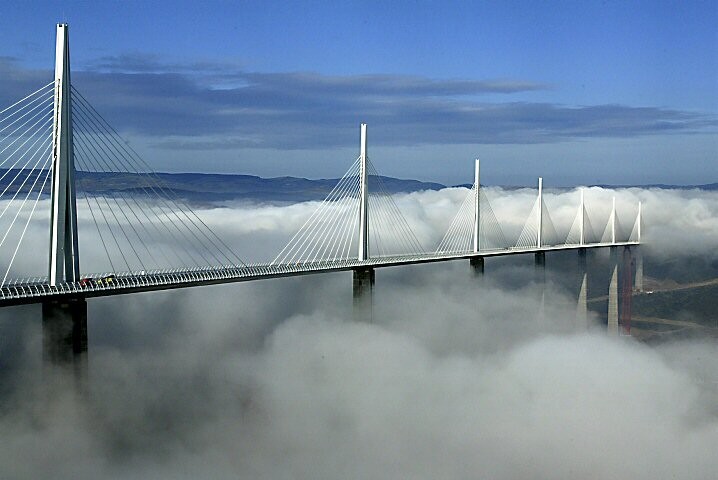 (original unknown)

Construction began in October 2001 and was intended to take three years, but dragged even longer because of weather conditions. The bridge was built by Eiffage, the same company that built the Eiffel Tower.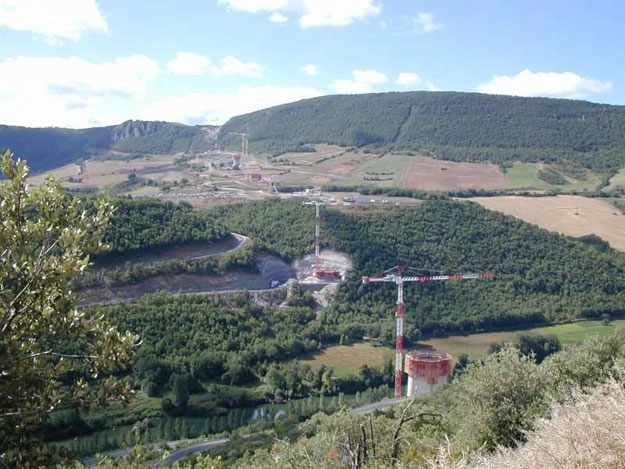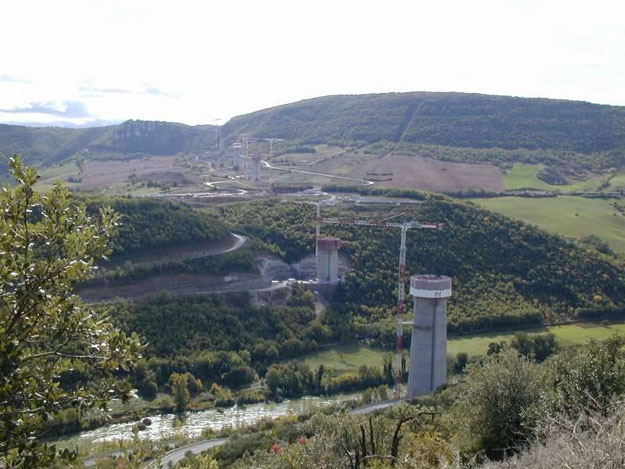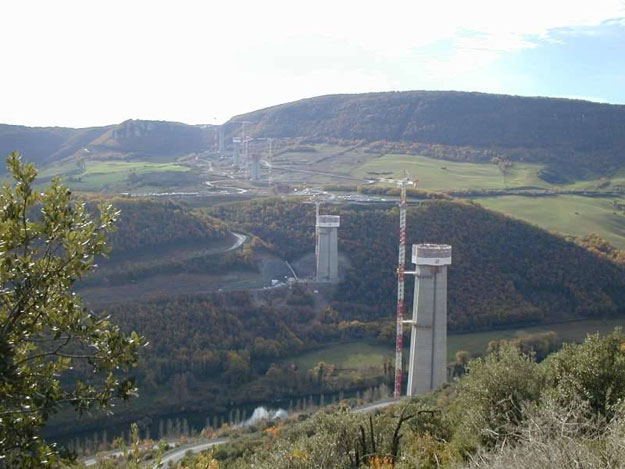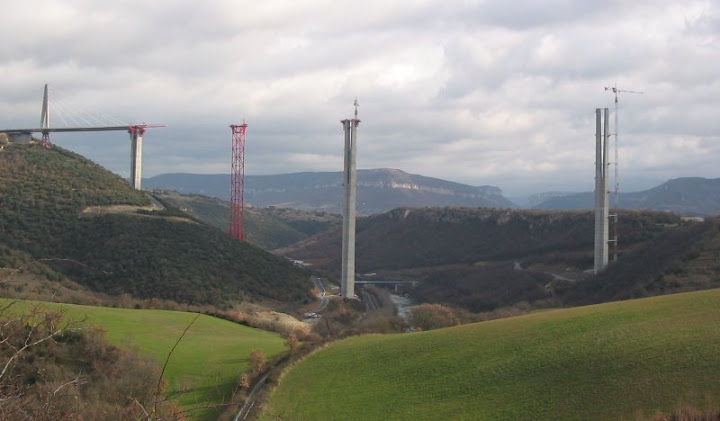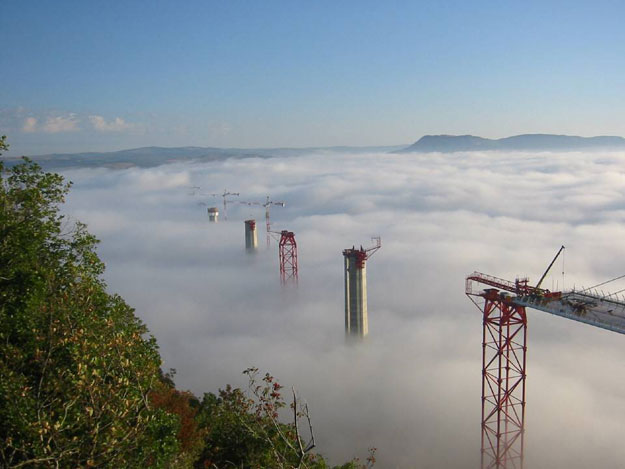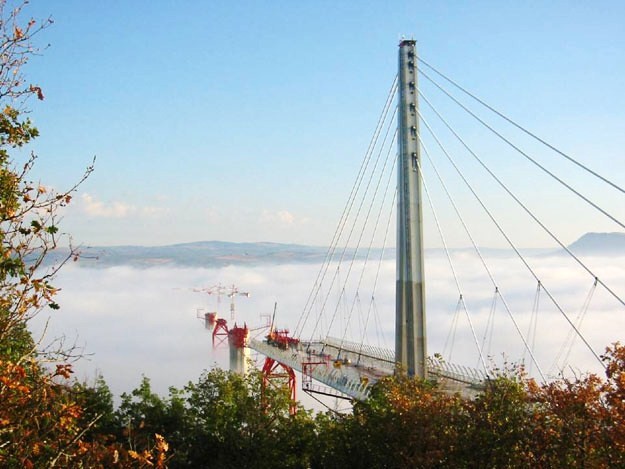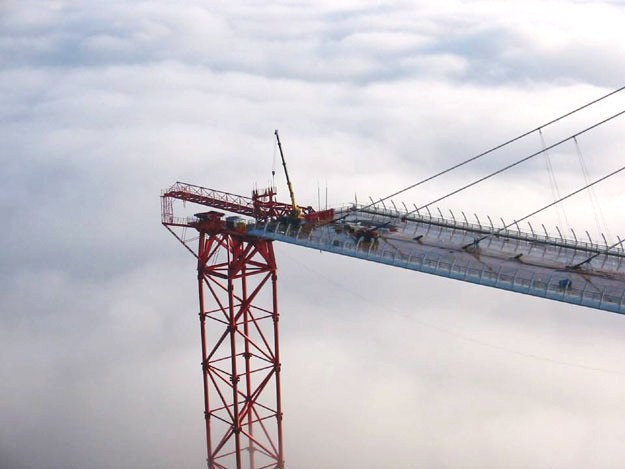 Towers rise from the clouds: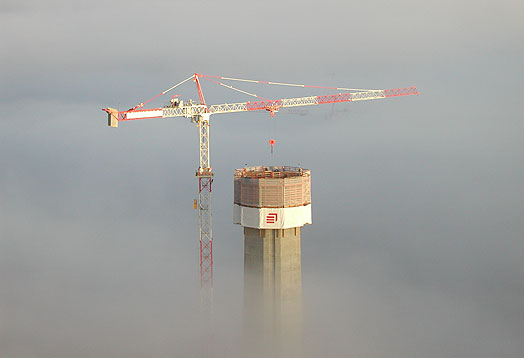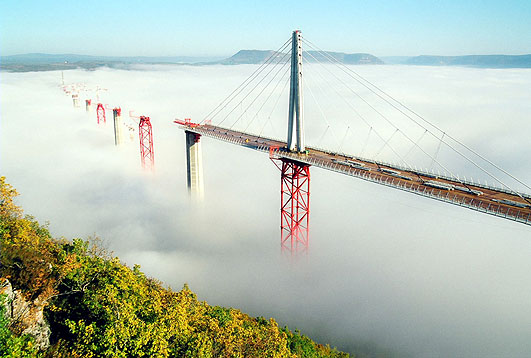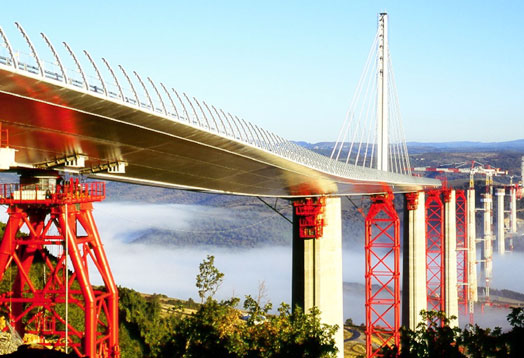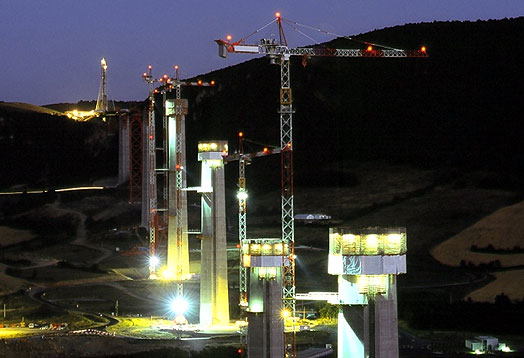 A complicated system of hydraulic rams was used to slide the vast bridge deck into place. It was provided by Enerpac Hydraulic Systems - the company which also "lifted" Golden Gate Bridge off its foundation for better cushioning against earthquakes. Here is a diagram of pushing the bridge's deck: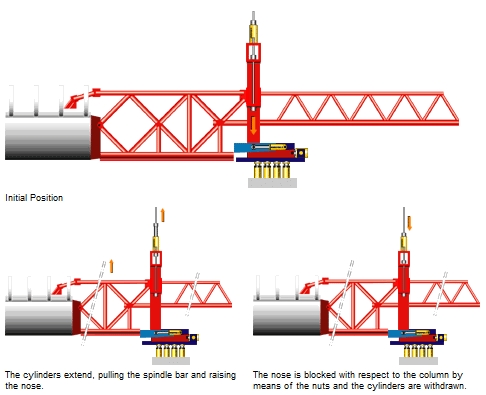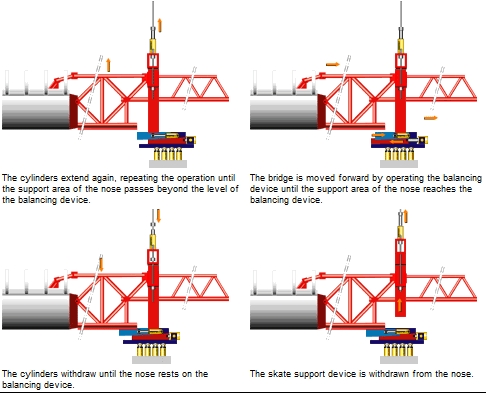 "The deck was pushed in two sections from both sides of the valley. Each push cycle lasted 4 minutes and moved the deck section 600mm a time."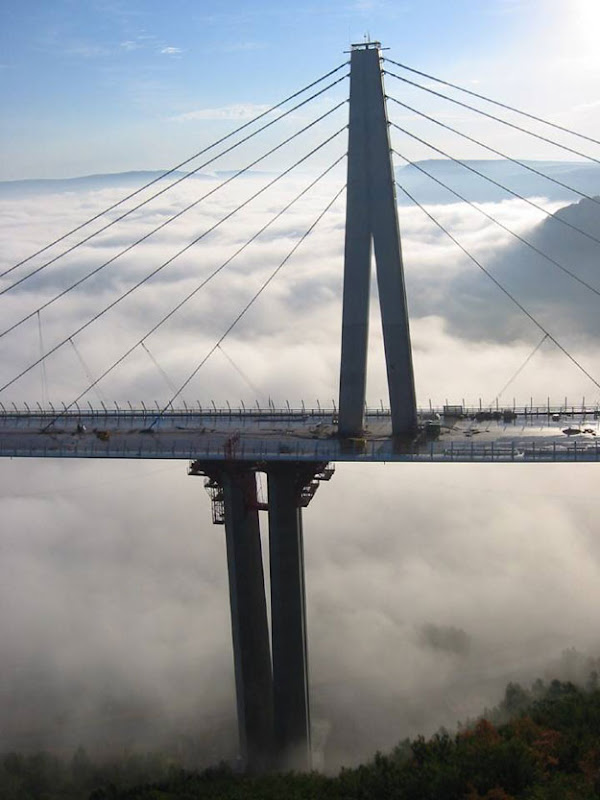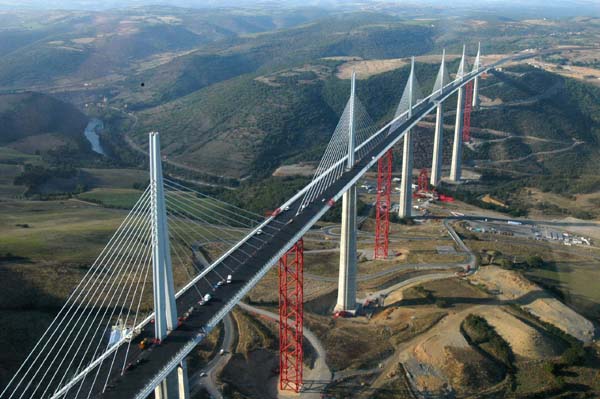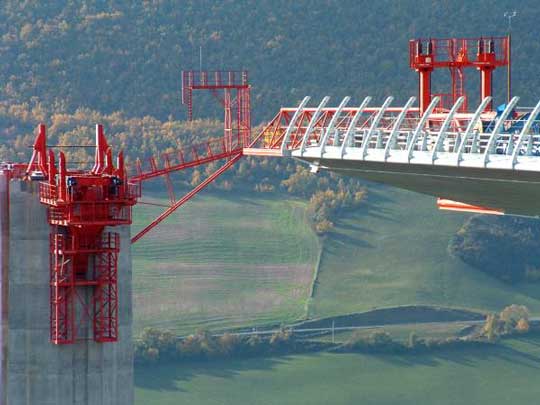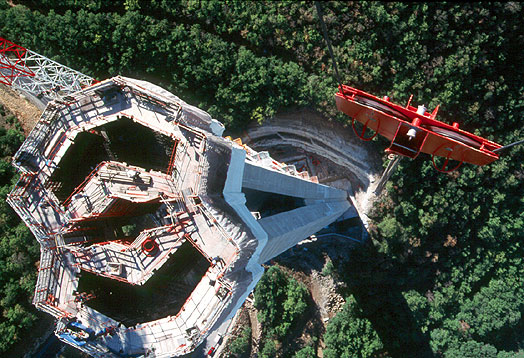 Enduring materials and unique cable design: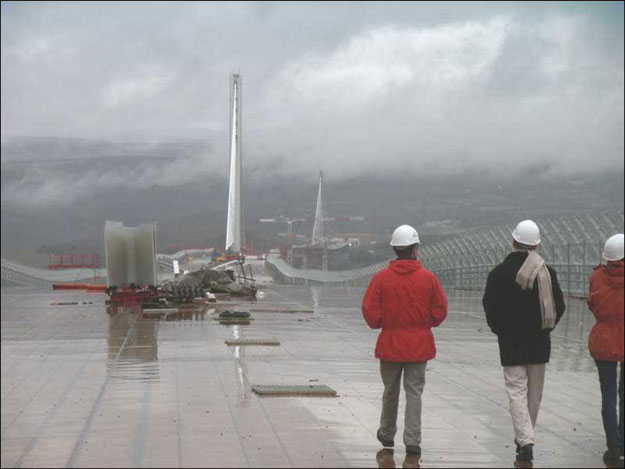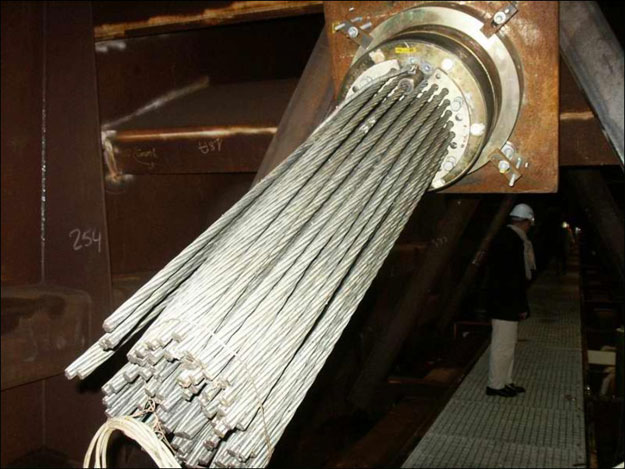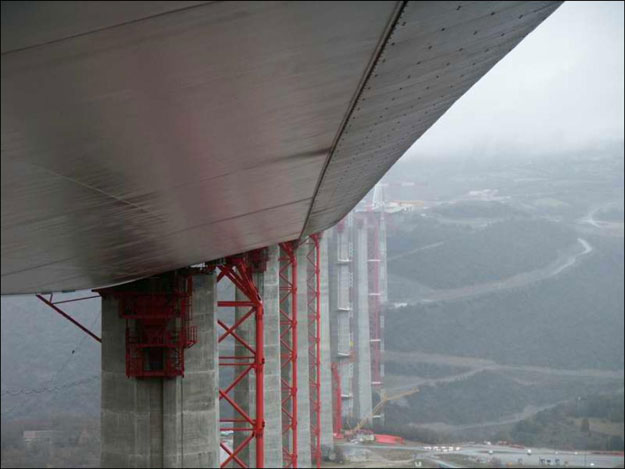 From both sides of the valley the metal sections of the bridge are assembled, lifted slightly and then in an elaborate manoeuvre pushed into place on each of the seven supporting pillars. The architect, Norman Foster, said the bridge was designed to have the "delicacy of a butterfly"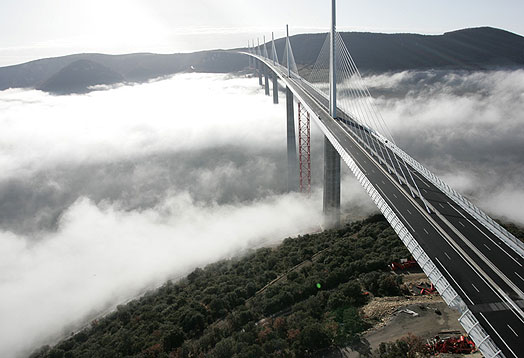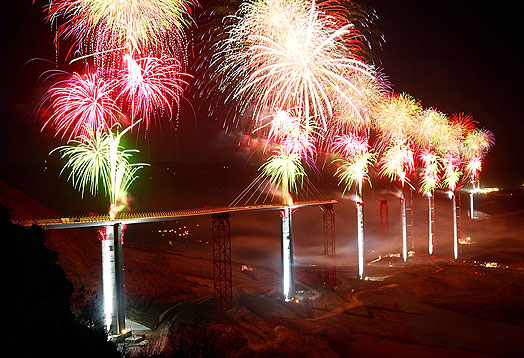 Sources and further reading: Wiki, BBC, 3, 4

Also Read:
World's Most Interesting Bridges, Part 1"
World's Most Interesting Bridges, Part 2

Permanent Link...
Category: Technology,Architecture
RECENT ARTICLES:
"Dark Roasted Blend" - All Kinds of Weird and Wonderful Things, Discovered Daily!"
DRB is a top-ranked and respected source for the best in art, travel and fascinating technology, with a highly visual presentation. Our in-depth articles in many categories make DRB a highly visual online magazine, bringing you quality entertainment every time you open your "feed" reader or visit our site -
About DRB
Connect with us and become part of
DRB on Facebook
,
Twitter
,
Pinterest
,
Google Plus
; make sure to subscribe to our
updates
.
Our mobile site:
http://mobile.darkroastedblend.com
. You can also read us on iPad, as part of the
Flipboard
popular free app.
YOUR COMMENTS:
:
READ OTHER RECENT ARTICLES:



Mind-Blowing Optical Illusions, Part 6

"The soul has illusions as the bird has wings: it is supported by them"



Exceptional British 1950s Scifi Artwork

Quintessential Space Pulp Art by Ron Turner and others



Extreme Parenting & Wild, Wild Kids! Part 2

The Joys and Perils of Having Interesting Kids



Creation and Destruction of Sand Mandalas

Profound Art Ritual Reflecting the Sanctity of Our Lives



Funny Sports Update

Underwater Ice Hockey, Extreme Stunts, etc.(Pics)



The New Motor, or the Steam-Powered Messiah

The strange, true tale (plus some wicked cyberpunk art)



Machines Alive! The Whimsical Art of Boris Artzybasheff

Is it a dream, or a nightmare?



Automated Musical Instruments

Music Robots: No Performer Necessary



American Supersonic Airliners:
Race for a Dream

Supersonic Marvels, Largely Forgotten Today



Pulp Pleasures: Eando Binder

"Where Eternity Ends" and other rare gems



Epic Fantasy: the Start of the Journey

Part 2 of our "Best Classic Fantasy" series



Strange Shadows: Best Classic Fantasy

Fantasy "Glitches in the Matrix", Epic Lands, and more!
CATEGORIES
:
airplanes
|
animals
|
architecture
|
art
|
auto
|
boats
|
books
|
cool ads
|
funny pics
|
famous
|
futurism
|
food
gadgets
|
health
|
history
|
humour
|
japan
|
internet
|
link latte
|
military
|
music
|
nature
|
photo
|
russia
|
steampunk
sci-fi & fantasy
|
signs
|
space
|
sports
|
technology
|
trains
|
travel
|
vintage
|
weird