"QUANTUM SHOT" #60
Link - by Avi Abrams

1. The "Freedom Ship"
- a futuristic dream that just might come true

I remember seeing similar illustrations in some vintage popular science magazine, depicting a floating city concept in a truly mind-boggling way. Little did I think that I might live to see similar projects given serious consideration, and some virtually on the brink of being built.

According to the official site the projected "Freedom Ship" may look something like this: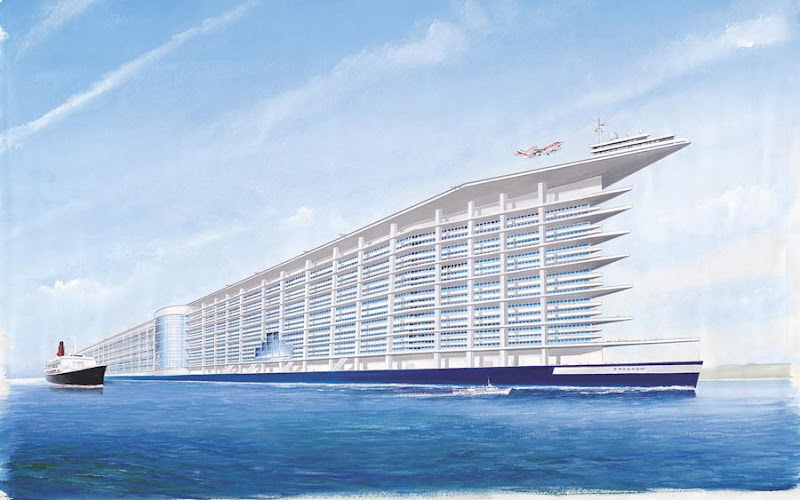 (images credit: Freedom Ship)

Imagine a mile-long stretch of 25-story-tall buildings stacked close to each other; now imagine that floating on the water.

"The Freedom Ship has little in common with a conventional ship; it is actually nothing more than a big barge...But what if this tremendous barge was assigned a voyage that required slowly cruising around the world, hugging the shoreline, and completing one revolution every 3 years?" There is even talk about making this city an independent country.




Incidentally, the "Freedom Ship" could also end up to be the largest man-made structure on Earth, which puts it in the same category as the Tower of Babel. It would be extremely vulnerable to some spectacular downfall, even if it were by some miracle actually built (the last update on their site is from February 2005, when everything still revolved around financing) For now we can just dream on, wistfully looking at the pictures:




Notice the similarity of the above concept with the 1928 model of an airport on top of a giant building! Los Angeles architects expected private planes to replace automobiles in a near future; hence this 300m-long roof-top airstrip:



(image via)

Also, check out these futuristic "Airport Docks for New York" dreamed up by architect Harry B. Brainerd:



(image credit: Modern Mechanix)

Misperception: "Freedom Ship" aircraft flight deck can accept 747 aircraft.
Facts: The largest aircraft this flight deck can accept are turboprop aircraft in the 38 to 40-passenger range. (Oh well, there goes the "wow" factor...)
More on this titanic undertaking here and
here, where you can also trace the evolution of its design.


2. More Cruise Ship Concepts:
some of them will dwarf any other ship in existence

- Kvaerner Masa-Yards' Super-Large Cruise Ship (on the left) and The Nova, a Panamax-Max ship displacing more than 100,000 GT (on the right):




Read more about the trend of increasing cruise ship sizes here

- This article speaks about "Project Genesis" - Royal Caribbean's largest-ever cruise ship with capacity of 5,400 passengers: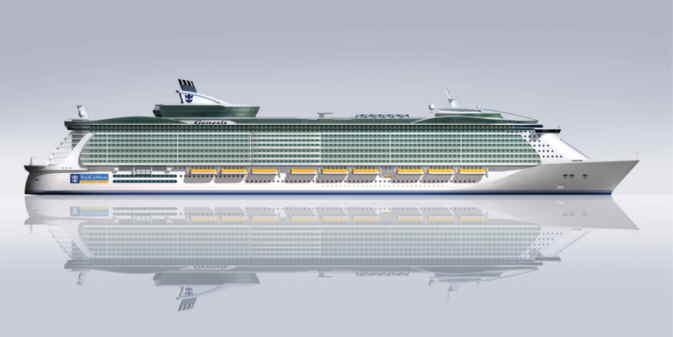 To give you an idea of modern cruise ships' scale, here's a comparison with the Statue of Liberty:




The new liner (due sometime in 2009), code-named "Project Genesis", will dwarf the "Freedom of the Seas", measuring 220,000 tons (about 100,000 tons based on displacement — a Nimitz-class aircraft carrier comes in at about 97,000 tons)


3. The Biggest Ships Ever Constructed - Supertankers Extraordinaire!

The biggest ships ever constructed were four supertankers built in France at the end of the seventies, having a 555.000 DWT and a 414 meters length. They launched from the shipyard Chantiers de l'Atlantique at Saint Nazaire. The only larger ship was the super sized "Knock Nevis"; ex "Jahre Viking", ex "Seawise Giant", ex "Porthos", in 1981 (see entry in Part 2). However, the Batillus class had the greater gross tonnage per ship, and it could be argued that they were, in fact, larger than the Knock Nevis.

* Batillus, built in 1976, scrapped in 1985.
* Bellamya, built in 1976, scrapped in 1986.
* Pierre Guillaumat, built in 1977, scrapped in 1983.
* Prairial, built in 1979,
(also as "Hellas Fos" and "Sea Giant") scrapped in 2003

So here is "Pierre Guillaumat" - the Biggest Ship Ever Constructed:



(Source: Photo collections Didier Pinçon and Ed Keefe)

By the way, this is why it's not a good idea to build bigger ships, if you want them to be able to cross canals: ("Scraaaape!")



(original unknown)

CONTINUE TO PAGE TWO! ->

Read Page 2 of The Biggest Ships in the World: "Supertankers and Container Ships"

READ THE WHOLE SERIES HERE ->


RECENT ARTICLES:
"Dark Roasted Blend" - All Kinds of Weird and Wonderful Things, Discovered Daily!"
DRB is a top-ranked and respected source for the best in art, travel and fascinating technology, with a highly visual presentation. Our in-depth articles in many categories make DRB a highly visual online magazine, bringing you quality entertainment every time you open your "feed" reader or visit our site -
About DRB
Connect with us and become part of
DRB on Facebook
,
Twitter
,
Pinterest
,
Google Plus
; make sure to subscribe to our
updates
.
Our mobile site:
http://mobile.darkroastedblend.com
. You can also read us on iPad, as part of the
Flipboard
popular free app.
YOUR COMMENTS:
:
READ OTHER RECENT ARTICLES:



Creation and Destruction of Sand Mandalas

Profound Art Ritual Reflecting the Sanctity of Our Lives



Funny Sports Update

Underwater Ice Hockey, Extreme Stunts, etc.(Pics)



The New Motor, or the Steam-Powered Messiah

The strange, true tale (plus some wicked cyberpunk art)



Machines Alive! The Whimsical Art of Boris Artzybasheff

Is it a dream, or a nightmare?



Automated Musical Instruments

Music Robots: No Performer Necessary



American Supersonic Airliners:
Race for a Dream

Supersonic Marvels, Largely Forgotten Today



Pulp Pleasures: Eando Binder

"Where Eternity Ends" and other rare gems



Epic Fantasy: the Start of the Journey

Part 2 of our "Best Classic Fantasy" series



Strange Shadows: Best Classic Fantasy

Fantasy "Glitches in the Matrix", Epic Lands, and more!


DRB Feel-Good
Happy Holidays from DRB!

2014 Feel-Good Issue, Part 2


DRB Feel-Good
Christmas Feel-Good Special

Happy Holidays and Great New 2014 Year from DRB!



Epic Space Fiction by Alastair Reynolds

"Nostalgia for Infinity", indeed



Cinerama: "The Next Big Thing That Was"

Curved screens, gigantic projectors & "out-of-this-world" picture


DRB Series
Magnificent Fractals (DRB Series)

Probably the Most Spectacular Collection of Fractals on the Web



Fractals For Food

If You Eat This, Will It Make You Better At Math?



Three-Dimensional Mechanical Fractals

Don't stare at them for too long, or your brain will capsize!



Pre-Fractal Art

Stunning Examples of Fractal Art in History



A Codebreaker's Dream: The Bombe!

"The Bombe" vs. "The Enigma" code battle



Extremely Weird Bus Stops & Shelters

Wildly bizarre bus stop "creations"



Incredible Balancing Acts & Tightrope Walking

Up on the Roof: Not for the Faint of Heart



The Creepiest Mannequins

Serious Halloween Scares and Frights



Wildly Funny Frogs

Frogs in their "moments of weakness"



World's Strangest Vehicles, Part 5

The Truly Bizarre Car Zoo!



Deadliest Creatures (that are Easiest to Miss)

Real terror lurks in quiet darkness



"Music For... What?" Weird Album Covers

Music for Vacuuming, and much much more!



World's Strangest Vehicles, Part 4

Sheer Auto Adrenaline!
CATEGORIES
:
airplanes
|
animals
|
architecture
|
art
|
auto
|
boats
|
books
|
cool ads
|
funny pics
|
famous
|
futurism
|
food
gadgets
|
health
|
history
|
humour
|
japan
|
internet
|
link latte
|
military
|
music
|
nature
|
photo
|
russia
|
steampunk
sci-fi & fantasy
|
signs
|
space
|
sports
|
technology
|
trains
|
travel
|
vintage
|
weird