Nightmare Playgrounds, Part 2
"QUANTUM SHOT" #415(rev)
Link - article by Avi Abrams



Manic-depressive creativity, family-friendly style

The smorgasbord of weird playground structures, started in our Part 1, continues here. Granted, some lovely sculptures shown here may positively impress a child with their unapologetic and all-constraints-be-damned weirdness - but most of these "nightmare palygrounds" are so tasteless and ugly that they're bordering on insanity.

A multitude of these bizarre apparitions still exists in the former Communist countries - proving two things: that perhaps adults like them, and that kids would play in just about any environment. A few examples illustrate the elements of Slavic fairy tales, others make do with miserable (decapitated, or worse) animals and evil-looking, nightmarish characters.



(photo by Olga Shvetz)


Dr. Aibolit (his name loosely translates as "Dr. Ouch!") shows his ugly face inside Moscow Children Hospital:



(image credit: cherski)


Somebody wrote "cadaver-eating orcs" over this endearing Teletubby character (in Moscow) -





Some heinous crime scene, seen in a village close to Odessa:





Impaled Baba Yaga, who seems to strangely enjoy the experience:





... and a red-skinned Kaschei Bessmertny (loosely translated as "The Immortal Bone-man") afraid for his treasure: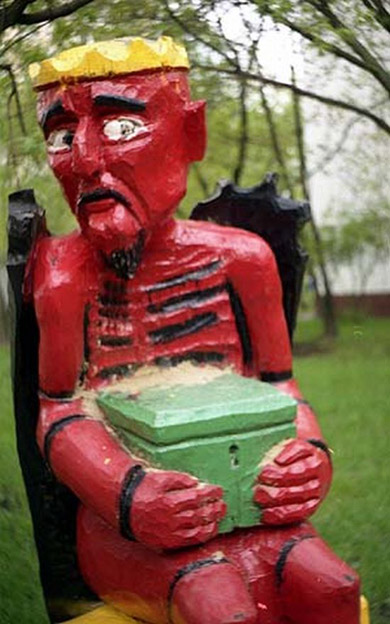 Decapitated monkeys (their bodies are attached to another attraction) -





... and a poor puppy, nailed to a tree (Rostov-na-Donu):





Faring even worse, this Little Red Riding Hood is ruthlessly bound (though not gagged) to a tree in the same palyground in Rostov-na-Donu -





One half of hippopotamus:





Cow / baths hybrids, spotted in Eilat, Israel:





These Lovecraft-ian snails invade a playground near St. Petersburg:





In light of all the cruelty and abominations shown above, the "mosquito slide", found in Germany, looks positively normal:



(image credit: Valentin Laube)


So... what do you do when the only available material is some pieces of plumbing and pipes lying around? Use them to make a modernist slide (with birds standing guard all around it):



(photos by Detsky Dvor)


The playground shown above is actually quite cool, kudos to the inventive artists. Just as the trapped mouse below is also pretty neat (again Eilat, Israel) -





We'll pause here for a moment, while you draw breath to plunge deeper into a maniacal urban art territory:

Again, the locations of these playgrounds are mostly in Russia and Ukraine:
- St. Petersburg
- Komsomolsk-na-Amure
- Astana, Kazakhstan
- Khmelnitzky, Ukraine
- Lvov, Ukraine


LOTS of imagination required

This is a ship, got it? -



(photo by Katryuk Dvoeglazova)


That thing does NOT rotate:





Get a (never-ending) exercise:





Giant vegetable thing (St. Petersburg) -





Mysterious little monsters in Stary Oskol, Belgorod region:



(photos by NordProd)





At least this little guy on the left is recognizable as "Cheburashka":





This must be a hedgehog:





This lovely lady even got some make-up:



(photo by Aleksis1978)


If it's monsters you seek, then monsters we got!

Here is a stunningly bizarre group of sculptures (supposedly for kids) in the middle of Starokonstantinov. I like this one... can even see myself playing here:



(photos by Archiverba)

See more pictures of this "zoo" here


Let's raise the "freaky factor" up a notch again... (I wonder if any impressionable parent would "blow a fuse" at this point) -





Certainly a "perfect" sculpture to beautify any kid's playground? -



(Kid's playground in Rostov-na-Donu)


And we finish with a stunning rendition of a character that might haunt you for days (just keep looking at it, for better effect) -




Sources: Detsky Dvor, English Russia, Exler

Article by Avi Abrams, Dark Roasted Blend.


CONTINUE TO PART 3! ->


READ PART 1 HERE ->

Read the rest of "Architectural Horrors" series! ->



RECENT ARTICLES:
"Dark Roasted Blend" - All Kinds of Weird and Wonderful Things, Discovered Daily!"
DRB is a top-ranked and respected source for the best in art, travel and fascinating technology, with a highly eclectic presentation. Our in-depth articles in many categories make DRB a valued online magazine, bringing you quality info and entertainment every time you visit the site -
About DRB
Connect with us and become part of
DRB on Facebook
and
Twitter
.
YOUR COMMENTS:
:
READ OTHER RECENT ARTICLES:
CATEGORIES
:
Feel-Good!
|
airplanes
|
animals
|
architecture
|
art
|
auto
|
boats
|
books
|
cool ads
|
famous
|
futurism
|
food
gadgets
|
health
|
japan
|
internet
|
link latte
|
military
|
music
|
nature
|
photo
|
russia
|
steampunk
sci-fi & fantasy
|
signs
|
space
|
technology
|
trains
|
travel
|
vintage
|
weird
|
abandoned