"QUANTUM SHOT" #681
Link - by Avi Abrams



Extreme, Beautiful Ads as a Work of Art (with some lovely kitsch thrown in)

Sometimes a visit to a museum, or a gallery, can become too tedious, ho-hum, boring... and then, on your way back, you'll see something surprising, memorable on a street billboard, or as part of a weird urban marketing campaign... Suddenly you realize that the good old conventional art was upstaged by, hm... advertisements!

Every year only some advertising campaigns are rising to the level of being called art, and others simply aim to shock and make us take notice. In our popular Cool Ads series we collect just such instances of exceptional marketing: art, kitsch, shock and all.

Spectacular wide-format thrills, monsters and disasters

Echoes of Inception? -



(first two ads: trying to find a particular building in a big city. Bottom: ad for Mitsubishi Pajero)

This series seems a bit too optimistic:



(images via)

A super-suction range and hood:




Garbage Pen Fighters: "All We Throw Away Turns Against us" -



(image via)

Another way for garbage to fight back:




Windex: a clean glass effect -




Epic pile-ups: Landrover Phone, "Incredibly Tough" -



(image via)

---

Household Surrealism & Unexpected Weirdness

Overweight washing machine? Sure, "think about what it consumes..." -



(image via)

Disturbingly fat fridge - is it eating your food?




Happy Fried Chickens:



(image via)

Drinking straws creativity: from small to big ones -




"Say Cheeese!" ad for SONY Cybershot (left) and Sydney International Food Festival campaign (right):



(images via)

Eat a bar code, darling:




See more creative uses of bar code here.

Some great ads for the Gold's Gym:




Improved Chewing Skills! - fragment of a campaign for the Mintz gum



(images via)

Walt Disney Princess Crystal Slipper campaign:




"Otherwise it would be too easy to install" (ad for the portable gas bottle) -




Surrealism in and around bathroom:




---

Automotive Goodies

This truck has to use some gel in order to get out:



(image via)

A Smart car can fit about anywhere:



(image via)

This car shows everything up front, turning itself inside out:




---

Urban Ads Mayhem: Viral Street Campaigns

Even walking the streets isn't safe any more (Landmine Stickers Alert!):



(images via)

Billboards get extreme:




Umm... no.




Impressive.



(the one above is for Anando Milk, more info)



The gruesome one above is the ad for the Gas Safety Service in Russia.




Right image: the Chanel store in Ginza, Tokyo -



(right image via)

Some grassroots billboard improvement:




Using bridges for ads:




A nasty crack in the building, fixed by the Glue:




Cool billboard coordination between advertisers:




We only hope that the Australian Childhood Foundation did not put a live kid inside this ad:




Escalator Bonus for Homer Simpson:



(image via)

Creative bus stop ad placement:




Action against Global Warming: "The Melting Man" and the little Icemen:



(images via)

Another great Global Warming campaign, using your local swimming pool:




Got a bunch of fresh snow all over the city? Use it for ads! -



(image via)

Some weird street viral campaign in South Korea:




The Trees Have Eyes - made by the UK street artist FilthyLuker:



(image via)

Urban transit all fixed up:




Some great anti-DUI campaigns:



(image via)

---

Shock Therapy!

"The Other Side of America!" But of course, this is only logical -




"Who do you take care of?"




Disturbing bath ritual:




"Hi! I'm Bruce!" - Part of the series "Skeletons in the Closet" by Klaus Pichler



(image credit: Klaus Pichler)

You don't keep a huge snake in the kitchen? No? Why not?..



(image via)

Big BIG Burgers!




---

Assorted Advertisement Riches

This is genius: perfect placement!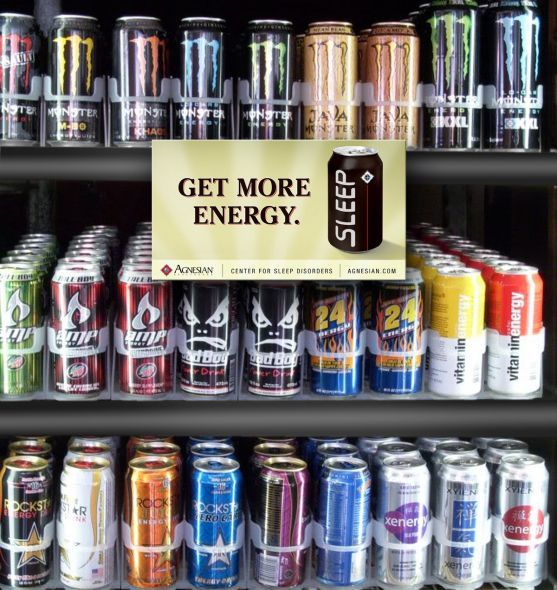 Great "bumper-sticker" idea:




Very creative business cards:




---

Ad Placement FAIL




Note the warning above:




Somewhere in Russia, the ad for the beauty salon:





We're not the only website which appreciates cool advertising campaigns - Wired often covers it, Ads of the World is a great place to discover new ones... also don't miss the TED's Ads Worth Spreading series, with a recent bunch of winners.

CONTINUE READING! (COOL ADS, ISSUE 13) ->

SEE WHOLE "COOL ADS" SERIES! ->


RECENT ARTICLES:
"Dark Roasted Blend" - All Kinds of Weird and Wonderful Things, Discovered Daily!"
DRB is a top-ranked and respected source for the best in art, travel and fascinating technology, with a highly eclectic presentation. Our in-depth articles in many categories make DRB a valued online magazine, bringing you quality info and entertainment every time you visit the site -
About DRB
Connect with us and become part of
DRB on Facebook
and
Twitter
.
YOUR COMMENTS:
:
READ OTHER RECENT ARTICLES:
CATEGORIES
:
Feel-Good!
|
airplanes
|
animals
|
architecture
|
art
|
auto
|
boats
|
books
|
cool ads
|
famous
|
futurism
|
food
gadgets
|
health
|
japan
|
internet
|
link latte
|
military
|
music
|
nature
|
photo
|
russia
|
steampunk
sci-fi & fantasy
|
signs
|
space
|
technology
|
trains
|
travel
|
vintage
|
weird
|
abandoned