"QUANTUM SHOT" #592
Link - article by Avi Abrams and Crystal W.


Most Amazing Themed Interiors of Las Vegas

This part is written by our guest writer Crystal, with photography by Avi Abrams, Dark Roasted Blend

Forget about fear and loathing. There are some truly wondrous environments and architectural spectacles that only Las Vegas could conjure - of course, we can not cover all of them within the limits of the short article, but we are going to mention some memorable ones.



(photos by Avi Abrams)

One need not travel far to satisfy a desire for fantastic architecture. Some of the world's most impressive designs can be found among the bright lights of famous (or infamous, depending on how you look at it) Las Vegas. Along this one length of boulevard, people can get a taste of New York, Paris or Venice. They can walk amongst circus performers and magicians. They can view modern spectacles of engineering at Bellagio, Wynn Las Vegas and MGM.

There is no other place on Earth that can take you from a ride in a gondola to a photo opportunity beside the Statue of Liberty without jumping on a plane. In fact, you may not need to leave one traffic intersection to see four entirely different environments:



(image via)

Check out these modern marvels and bask in their gorgeous interior design. Here are some beautiful sculptures near Monte Carlo Resort:




Very tastefully done interior design in Paris, Las Vegas (although folks who have actually traveled to France might say that the original has much more joie de vivre, but this sentiment applies to the whole Las Vegas - and Disney, for that matter - design policy):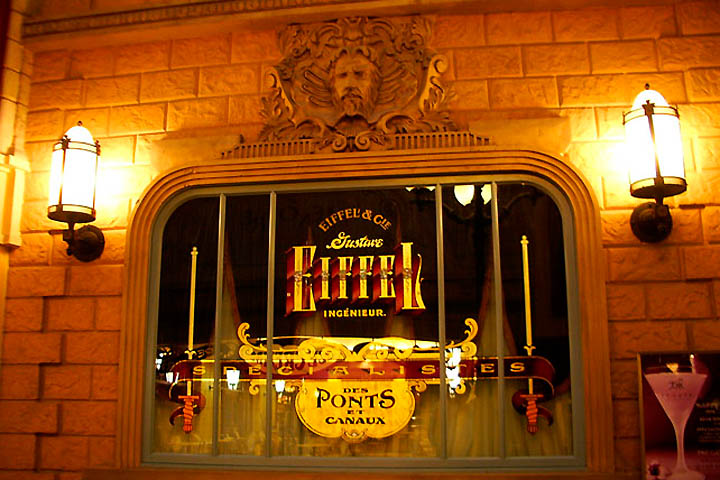 A Star Trek-styled portal at Las Vegas Hilton leads, regrettably, to a simple Earth-bound hotel:




Inside the pyramid of Luxor Las Vegas. This scene reminds me of Blade Runner, but only if I squint very hard:




"Red Square" in Mandalay Bay, featuring the decapitated likeness of... Lenin?:




Some other interesting design elements, found at Mandalay Bay, Paris and the Venetian:



(images via 1, 2)


Entirely Unexpected: Huge Wine Tower Inside Aureole Restaurant at Mandalay Bay

Mandalay Bay Resort provides a slice of Southeast Asia in Las Vegas: you are greeted with the call of exotic birds while lush foliage embellishes the interior and tiny pagodas and temples dot the surroundings. However, something entirely different can be found inside the Aureole Restaurant, something you do not expect to see as a part of Asia-themed interior design. Entering the staircase that envelopes the Wine Tower you see a 42-foot tall glass case - a sort of interior skyscraper, with thousands of the delicate glass bottles inside. Inside the towering case, two "wine angels" clothed in black catsuits retrieve the precious elixir:



(image credit: Randy Stewart)

The glass case offers a mesmerizing selection of over 2,000 wines from all over the world. There is room for 10,000 bottles and amazingly enough, the tower is refrigerated to ensure each drink is chilled to perfection.


The Murals of The Venetian: Michelangelo Would Approve?

The Venetian is breathtaking and one of the most unique hotels on the strip. As soon as you step foot inside you will be taken back by all the intricate details. Designed to look like a romantic vacation in Venice, the hotel is adorned with fabulous artwork, Italian flavor, and an indoor sky surrounding marketplace-like shops.




Feeling romantic? The Grand Canal circles the hotel and features gondoliers signing melodies while you glide through the canal in your gondola:




Probably most mesmerizing are the ceiling murals meant to resemble the work of Michelangelo. Vibrant imagery mimic the style of the Italian Renaissance and provide guests with heavenly inspiration throughout the hotel.



(photos by Avi Abrams)


Authentic Art Deco Elements Inside New York New York

Cross the Atlantic and take a bite out of the Big Apple. New York New York Hotel is the epitome of the legendary city, minus the traffic. Visitors can ride the Manhattan Express that circles the hotel before heading to the ESPN Zone for some All-American food.




Have a seat on the Brooklyn Bridge for great views of the strip. Inside, the hotel is built to resemble Central Park with a stream and authentic-looking New York neighborhoods.



(Art Deco design elements - photos by Avi Abrams)


The World's Largest Chocolate Fountain, Bellagio, Italy.... er, Las Vegas, of course

Let your tastebuds tingle and your eyes widen with lust at the sight of the World's Largest Chocolate Fountain, both in size and volume. Nestled in the Spa Tower at The Bellagio, this modern creamy sculpture was the design feat of award-winning Executive Pastry Chef Jean-Philippe Maury and Norwood and Antonia Oliver Design Associates. This cocoa cascade creates a tantalizing masterpiece that is both compelling and scrumptious.




Standing a heartmelting 27 feet, melted chocolate flows from ceiling to floor along a series of cascades at a rate of 120 quarts per minute. Three tanks melt 2,100 pounds of milk, dark, and white chocolate to 120F before dispensing it through 6 spouts at the top. The rich blend of cocoa then twists and twirls around one another throughout their journey down a series of 25 glass vessels.

Aqua glass was molded into half-inch thick chocolate vessels by artist Michel Mailhot and then suspended by cables to offer the illusion of floating chocolate.



(images via)

The entire spectacle is encased by a series of 300-pound glass plates that rise to form a funnel as the tiers expand upward. At the end of the downward journey, the chocolate collects in hidden melting pools before being pumped back to the beginning.

Six pumps work to transport the molten chocolate up stainless-steel pipes two inches in diameter hidden within the walls of Maury's Patisserie. Each pipe is surrounded by another three-inch pipe that circulates hot oils to keep the chocolate melted as it defies gravity to start over again. More than 500 feet of piping keeps this molten wonder running 24 hours a day. Even though the fountain is an impressive 27 feet, only 14 feet is actually visible to guests. The other 13 feet make up the piping and mechanical features.



(Bellagio's beautiful Art Nouveau glass flower ceiling, and still more flowers - photos by Avi Abrams)

While at the Bellagio, don't pass up a chance to see the dancing fountains. Water and color pulse to the beat of Broadway and classical tunes. The most serene and complex water feature ever built is lovingly designed to inspire romance as colors and blue aqua serenade one another long into the night.

The fountains are located within the eight-acre lake in front of The Bellagio. The scene spans 1,000 feet in length and comprises over 1,000 water expressions and over 4,000 individually programmed lights. With certain jets providing smooth continuous flows and others chiming in with quick, short bursts to different melodies, each show is a unique piece of expression and design.



(image via)

Since it seems that Las Vegas can get a little expensive, take note that seeing each of these treasures is free – however, it may be difficult to visit the chocolate fountain without indulging in some of the delicacies at Jean-Philippe Maury's Patisserie.



(image via)

About the author: Crystal has a passion for all things weird and travel-related. She doesn't frequent the eccentricity of "sin city" too often but when she does, her favorite place to relax is the Wynn Las Vegas - Photography by Avi Abrams, Dark Roasted Blend.

Go back to read Part 1 ->

Also Read: "World's Strangest Theme Parks"
"Most Beautiful Roads in the World, Part 1"


Permanent Link...
...+StumbleUpon
...+Facebook
Category: Travel,Vintage
RECENT ARTICLES:
"Dark Roasted Blend" - All Kinds of Weird and Wonderful Things, Discovered Daily!"
DRB is a top-ranked and respected source for the best in art, travel and fascinating technology, with a highly eclectic presentation. Our in-depth articles in many categories make DRB a valued online magazine, bringing you quality info and entertainment every time you visit the site -
About DRB
Connect with us and become part of
DRB on Facebook
and
Twitter
.
YOUR COMMENTS:
:
READ OTHER RECENT ARTICLES:
CATEGORIES
:
Feel-Good!
|
airplanes
|
animals
|
architecture
|
art
|
auto
|
boats
|
books
|
cool ads
|
famous
|
futurism
|
food
gadgets
|
health
|
japan
|
internet
|
link latte
|
military
|
music
|
nature
|
photo
|
russia
|
steampunk
sci-fi & fantasy
|
signs
|
space
|
technology
|
trains
|
travel
|
vintage
|
weird
|
abandoned