"QUANTUM SHOT" #514 Link Funny Fuzzies and Fuzzy Funnies to Make You Feel Warm We were blessed with great readers and wonderful comments and suggestions in 2008, and this Holiday Season we are looking forward to more educated lunacy and sophisticated weirdness to feature on DRB. Here are just a few pics to brighten up your day - have a great time with your family and friends! This house is both heavenly and... haunted: (the 100-year old "Chimera House" in Kiev, featuring scores of gargoyles)
(image credit: Bukvar) The way is fraught with dangers:
(image via)
What a perfect idea - to put the most spectacular Hubble telescope images on Holiday cards! Order them here.
(image credit: Hubble site) Santa crunch:
Photo by Dennis Stock / Magnum, 1961 This is what Santa will have to do without reindeer:
Nike ad "Just Do It" So they'd better be in good shape:
(original unknown) Send a greeting to your fellow IT employee... (see rather more frustrating wiring in this DRB series)
(image credit: Jen Cleary) Join the festivities!
(image via) This seems like a reasonable request:
Labor union members in Newark, New Jersey march against Prohibition, 1931. More Groovy Christmas Trees and Almost-Trees Here is the hubcap tree (or a bush) - this is a creation by artist Jim Pollack in Baltimore (on the left) - and a strangely festive structure made by fishermen at some Russian lake:
(images via 1, 2)
Gigantic Christmas tree (literally) goes through the roof of this family's house - more info
(images via) We've seen outrageous electic light truck decoration in Japan, but this Christmas decorated truck can hold its own against them - seen in St. Louis recently:
(image via) Over-the-top light displays - just a couple; I am sure you'll find pretty elaborate ones in your neighborhood:
(images via 1, 2) Three-dimensional snow impressions, made on cars and snowbanks:
(images via) This is the natural icicle formation - amazingly, showing the profile of the Old Man Winter (more info)
(image credit: Jeremy Olden) Snow casualties... wicked sculptures: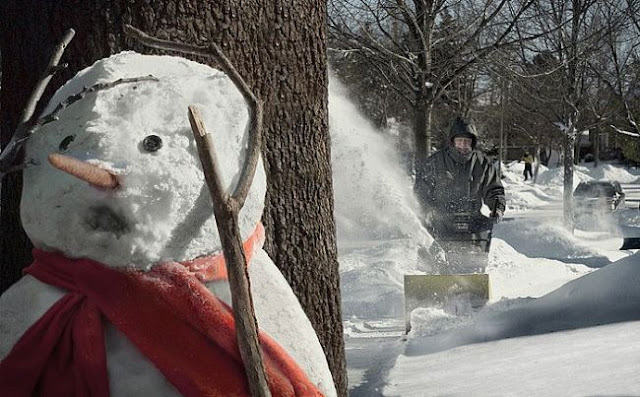 (original unknown) Irreverent Christmas All tangled up:
(image credit: Zen Sutherland) Tongue-in-cheek, or worse... -
(image credit: Rob Sheridan) A costume gone wrong:
Pretty much everything done wrong:
The Miracle of Light Now, here is something that really touches my heart. Take a grimey, miserable, mundane background - and add a touch of magic to it; in this case - little figures from The Little Prince by Antoine de Saint-Exupéry:
As we know nature does the same thing with little prompting: here is a real frosted window, worthy to be displayed in an art gallery -
(image credit: Ksenia Solokha) Pause for a minute and look at it...
Permanent Link...
...+StumbleUpon
...+Facebook
Category: Funny Pics
RECENT ARTICLES:
"Dark Roasted Blend" - All Kinds of Weird and Wonderful Things, Discovered Daily!"
DRB is a top-ranked and respected source for the best in art, travel and fascinating technology, with a highly eclectic presentation. Our in-depth articles in many categories make DRB a valued online magazine, bringing you quality info and entertainment every time you visit the site -
About DRB
Connect with us and become part of
DRB on Facebook
and
Twitter
.
YOUR COMMENTS:
:
READ OTHER RECENT ARTICLES:
CATEGORIES
:
Feel-Good!
|
airplanes
|
animals
|
architecture
|
art
|
auto
|
boats
|
books
|
cool ads
|
famous
|
futurism
|
food
gadgets
|
health
|
japan
|
internet
|
link latte
|
military
|
music
|
nature
|
photo
|
russia
|
steampunk
sci-fi & fantasy
|
signs
|
space
|
technology
|
trains
|
travel
|
vintage
|
weird
|
abandoned