"QUANTUM SHOT" #471
link



What if Babbage's Difference Engine spawned a "laptop"?

It's hard to find more desirable and satisfying (in a tactile sort of way) mechanical fetish item from the age of early computing...

For years Curta calculators enjoyed a cult status among collectors, and as recently as in 2003 they were featured in William Gibson's "Pattern Recognition" book. However, I daresay, not featured enough. This marvel of mechanical engineering should be given more exposure, especially given the bizarre and spooky circumstances of its origin.



(images credit: Larry McElhiney, Jack Christensen)



(images credit: Helmut G. Ayen)

- Entirely mechanical, no electricity or batteries involved.
- Designed by Curt Herzstark in 1938 and perfected inside a concentration camp.
- Considered to be the most efficient portable calculator (until electronic calculators came in the 70s)
- Simply a thing of beauty, stunning piece of engineering art.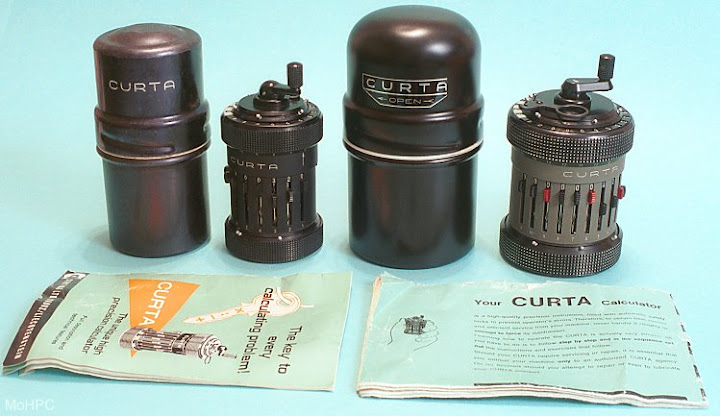 (image credit: Dave Hicks)


First, you gotta feel it in your hand... It purrs.

Take this glorified pepper-grinder shape in your hand, set the multiple sliders and turn the computing handle - and this groovy gadget starts to make a wizzing, almost musical sound. There is no electricity, wires, or batteries! Just a sophisticated package of miniature cogs and parts, that is a joy to disassemble and put together again...



(images by Olaf Veenstra, Vintage Calculators from VRML simulator, where you can actually operate a model)

Generally an arithmometer with multiple cogs and stepped drum mechanism, there is however a lot to disassemble. See a poster of all the parts inside, available for purchase on this site (the most comprehensive we could find on the topic):



(image credit: Rick Furr, Vintage Calculators)


Perfected in a concentration camp, as a gift to Hitler!

Probably the weirdest story of invention ever told:

Working on this device saved the life of its inventor, and could've put "the ultimate computing weapon" into the hands of every Nazi army engineer... pretty much the stuff of nightmares.

"Herzstark was a prisoner at Buchenwald but the camp leaders were aware of his work and encouraged it. They apparently wanted to give the invention to the Fuehrer as a victory gift at the end of the war! Herzstark was given a drawing board and worked on the design day and night. The camp was liberated in April, 1945 by the Americans. Herzstark survived as did his revolutionary concept for a miniature calculator." (source: Bruce Flamm)



(images credit: Helmut G. Ayen)

This article speaks at length about the inventor. By the way, it is perhaps the only calculator issued on a post stamp (in Liechtenstein) -





Disassembly of a mechanical marvel: It has 605 individual parts!

It must be very therapeutic and calming experience (you know how in the army they make soldiers to take apart and clean their guns, a repetitive ritual that calms down and reduces the chances of a shooting spree - I am being sarcastic here) Well, the antique calculator collectors are a cool bunch and not easily given to any angst - but they too, gladly, would spend hours taking apart this little calculating device. The best page showing the disassembly and wonderful innards of this device are located here. Here are only a few steps, highlighting the joy of this process:



(image credit: Vintage Calculators)

As you can see, not quite as complicated as the Large Hadron Collider, but pretty close. Another detailed page of Curta's disassembly is here.


This thing can even do square roots!

If you like to play with levers and buttons, then this Curta Simulation page is for you. There is also online manual, "that should've been included in the box". Still unclear on how it works? Here is a good video showing the steps of calculating on Curta:


link

Meanwhile, Russians engineers were using their own mechanical creations:

"The Iron Felix", Stalin-era Calculator

Check out this Russian model of arithmometer, ominously named "Felix" (after Felix Dzerzhiski, founder of Soviet KGB) It was based on 1914 St.Petersburg's Odner-Hill company device, shown on the bottom, click on image for more -



(images credit: Ogoniok, Sergei Frolov)

The first such device was made in 1931 and provided the Soviet bureaucracy and terror machine with much needed ways to account for things, including facilitating GULAG operations. Thus, they earned the right to be called "The Iron Felix" - haunted and heavy mechanisms:



(image credit: Uri)

The original pre-Revolution Odner:



(images credit: Sergei Frolov)

We will definitely continue the theme of mechanical calculators, so let us know of the "pride and joy" of your collection, if you have it!

To sum it up: If Charles Babbage could hire Curt Herzstark to develop a portable calculating machine... we would have awesome mechanical personal computers - fashioned in brass, or minimalist black, with the label "Designed by Babbage in California, assembled in China".

Also Read: Awesome Antique Calculators

Permanent Link...
...+StumbleUpon
...+Facebook
Category: Gadgets,Vintage
Dark Roasted Blend's Photography Gear Picks:
RECENT ARTICLES:
"Dark Roasted Blend" - All Kinds of Weird and Wonderful Things, Discovered Daily!"
DRB is a top-ranked and respected source for the best in art, travel and fascinating technology, with a highly visual presentation. Our in-depth articles in many categories make DRB a highly visual online magazine, bringing you quality entertainment every time you open your "feed" reader or visit our site -
About DRB
Connect with us and become part of
DRB on Facebook
,
Twitter
,
Pinterest
,
Instagram
,
Google Plus
; make sure to subscribe to our
updates
.
YOUR COMMENTS:
:
READ OTHER RECENT ARTICLES:
CATEGORIES
:
Feel-Good!
|
airplanes
|
animals
|
architecture
|
art
|
auto
|
boats
|
books
|
cool ads
|
funny pics
|
famous
|
futurism
|
food
gadgets
|
health
|
history
|
humour
|
japan
|
internet
|
link latte
|
military
|
music
|
nature
|
photo
|
russia
|
steampunk
sci-fi & fantasy
|
signs
|
space
|
sports
|
technology
|
trains
|
travel
|
vintage
|
weird
|
abandoned