"QUANTUM SHOT" #476
Link - article by Avi & Rachel Abrams



Jungles, swamps, guerillas and corrupt military - all in the most intense 90km on Earth

You might have wondered if it's possible to drive between North and South America - for surely there must be a road between these two continents! Well, as it turns out, there is absolutely NO ROAD connecting them, and all travel advisories clearly say "Don't Go", even if you feel somewhat suicidal. I am talking about the wild and wildly dangerous Darien Gap.



(image credit: Dan Perry)


If you ever wanted to drive from Chile to Alaska, you're clear out of luck. Here and there in the world, small gaps of wilderness hold out against the onslaught of rising populations, exploitation and bulldozers. One such area is found at the southern end of Panama, separating the North and Central Americas from South America.



(images by Glyn Garratt and Diana Bradshaw)


The Pan-American Highway stretches from Cape Horn, Chile to Alaska with one 90 km break: The Darien Gap.

This area is a forbidding mountainous jungle on the Panama side; full of swamps, guerrillas, drug traffikers and kidnappers on the Colombian side, making travel through the area not just a struggle against a hostile environment but also a maze of bribing the right people for passage and ducking bullets.

In case you missed the dangers we just enumerated, here is an easy list to remember:
- tough nasty jungle with plenty of disagreeable wildlife.
- impenetrable swamps
- crazed drug traffikers
- pissed-off guerrillas
- greedy kidnappers (all of the guys mentioned above)
- paranoid government police
- no marked trails



(Darien Gap from the boat; photo by Katharine)


If you ever wondered what's like to be kidnapped in the Darien Gap by Colombian Death Squad, here is an account:

National Geographic Adventure contributing editor Robert Young Pelton and two American backpackers were kidnapped there in 2003 and held for 10 days; here is what he has to say (once they got out of there alive) -

"The Darien Gap is one of the last—not only unexplored—but one of the last places people really hesitate to venture to... It's also one of the most rugged places. The basic problem of the Darien Gap is that it's one of the toughest hikes there is. It's an absolute pristine jungle but it's got some nasty sections with thorns, wasps, snakes, thieves, criminals, you name it. Everything that's bad for you is in there."


Better hold on to your Land Rover!

Various expeditions have crossed this area, but most of them have traveled over land and water. One of the earlier expeditions (traveling a big part of the way on a river boat) was in 1960, using Land Rover named "The Affectionate Cockroach":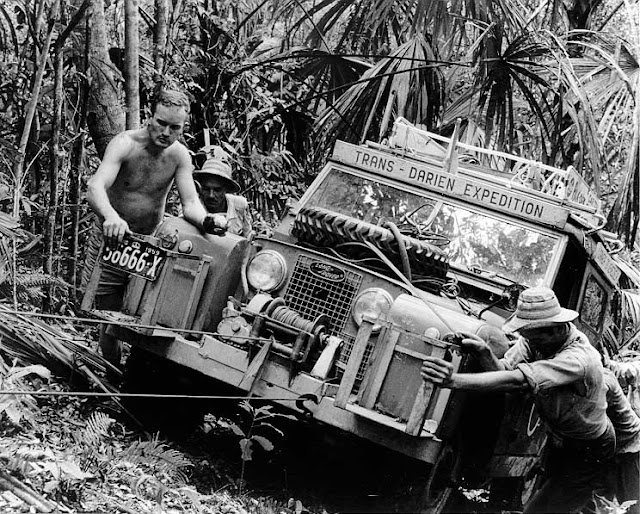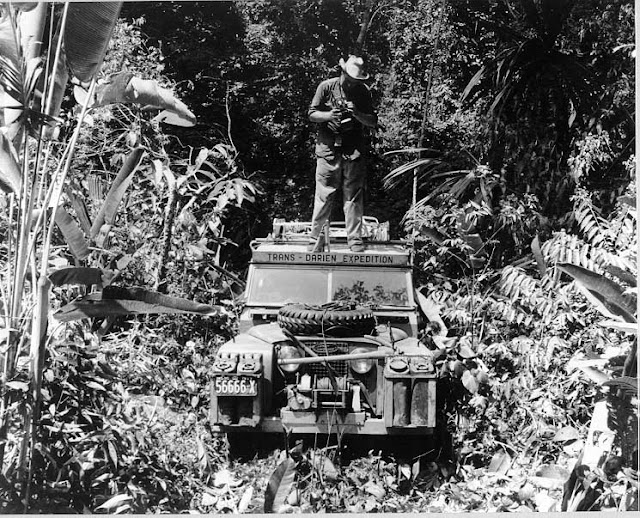 (images credit: Mr. Amado Arauz)


The first completely overland expedition was successfully completed by Ian Hibell. He rode a bicycle from Cape Horn to Alaska, from 1971 to 1973. There were two more expeditions in the 70's, but both used boats to travel significant amounts of the crossing. Loren Upton made the first all-land auto crossing in 1985. It took him 714 days to travel 201 kilometers in a CJ-5 Jeep. He returned in 1995 and drove a 2 wheel drive Rokon motorcycle across the gap (all on land) in 49 days.



(photos by Russel Braddon, Craig Murray)


If you decide to go, at first you'll be relieved to see some buses (painted to the max) on a local route to Yaviza -



(image credit: Antonio Baeza)





But traveling "in style" does not last that long. The road ends in Yaviza, and the only option to continue would be by river to Pinogana:



(image credit: Student Charity)


Most people get around by waterways anyway, and the few 4x4s (that can still be found) are left to rust in the backyard:



(images credit: Jeff Schnitzer)


Even that last piece of usable road is a pretty miserable stretch, by the looks of it:



(images credit: Jeff Schnitzer)


Some jungle areas are possible to navigate in a very light boat. A common type of stream in the Darien Gap may look like this:



(image credit: Student Charity)


There have also been some incredible foot crossings of the area. In 1975, Sebastian Snow and Wade Davis walked from Tierra Del Fuego, Argentina, to Costa Rica. In 1981 George Meegan walked from Tierra Del Fuego to Alaska and chronicled this astounding journey in a book called "The Longest Walk".

Here are some notes from 2007 trip:

"You have to hire a boat man, who will take you while he can. Then somebody else is supposed to guide you across some dry land to the next boat owner, and so on. So you should carry lots of cash to pay to these people... "

At the time of this writing, however, travel in the area has been greatly restricted and guided tours are not being conducted, due to kidnappings and political turmoil in Colombia.

For those who still visit the area, you may meet some friendly (and cute) people -



(images credit: Mauricio Borge)


...check out the interesting clothing on this girl from the Embera tribe (not exactly sfw)

... or some not that friendly characters (this picture is of El Salvador Militia, typical of the region) -



(images credit: Mauricio Borge)


Will the road be constructed? "Will the circle be unbroken?"

Construction of a road through the Darien is a touchy subject -- the area is among the world's highest for genetic diversity, the indigenous peoples in the area oppose the construction, local farmers oppose it, and though trade between the Americas will be facilitated, there is the probability that the drug trade will flourish as well. Two thirds of the bird species here are threatened along with many other plants and animals (more info)

Building the road itself will not destroy too much of the forest but the subsequent development of the area would irreparably destroy delicate ecosystems. An alternate plan has been proposed which would bring the road to the eastern coast of Panama and connect to Colombia via a ferry, thus leaving the national preserve completely untouched.

Historically, there was an abandoned railway built by the British for the gold miners of the early 1900s across part of the Darien Gap. Rusty locomotive shells and old mining equipment can be still found lying around in the jungle:



(image credit: Diana Bradshaw)


Teeming Bio-Diversity

The bridge from North America to South America is a young geologic formation. Back when the Island of Socotra was splitting off from the horn of Africa to become the biological wonderland that it is, Central America was just barely rising up above the ocean surface. Darien has become a biological laboratory in its isolation and is a critical bridge between the species of North & South America.

Unique giant iguana species:



(image credit: David Olson)


Great plants like this Hot Lips, Psychotria and another white "not-sure-what-it-is":



(image credit: Diana Bradshaw)


Insects are weird there too: see these tree-hoppers and harversters:



(images by Artour)


Seeing all this natural beauty you might be all primed to go and check out this region for yourself. So we feel compelled to finish with a word of advice from Robert Young Pelton (whom we quoted earlier):

"The Darien Gap is an extremely dangerous place—it's probably the most dangerous place in the Western Hemisphere, definitely in Colombia. It's used as a conduit for drugs. There are no police there, there's no military, the trails aren't marked. Unless you have a lot of experience in Colombia, I wouldn't suggest it.

[For the most part] the jungle there is not viewed as a place that is pristine and beautiful—it's looked at as a place where you get killed... I mean, I know how you can hike the Darien now. But you have to have a group of armed men with you."

The end of the road:



(image credit: heritagefutures)

Article copyright: 2008, Avi & Rachel Abrams, Dark Roasted Blend.
Read the rest of our "Most Dangerous Roads of the World" Series!


CONTINUE TO "AWESOME TRAVEL" SERIES! ->



RECENT ARTICLES:
"Dark Roasted Blend" - All Kinds of Weird and Wonderful Things, Discovered Daily!"
DRB is a top-ranked and respected source for the best in art, travel and fascinating technology, with a highly eclectic presentation. Our in-depth articles in many categories make DRB a valued online magazine, bringing you quality info and entertainment every time you visit the site -
About DRB
Connect with us and become part of
DRB on Facebook
and
Twitter
.
YOUR COMMENTS:
:
READ OTHER RECENT ARTICLES:
CATEGORIES
:
Feel-Good!
|
airplanes
|
animals
|
architecture
|
art
|
auto
|
boats
|
books
|
cool ads
|
famous
|
futurism
|
food
gadgets
|
health
|
japan
|
internet
|
link latte
|
military
|
music
|
nature
|
photo
|
russia
|
steampunk
sci-fi & fantasy
|
signs
|
space
|
technology
|
trains
|
travel
|
vintage
|
weird
|
abandoned