"QUANTUM SHOT" #447
link

Rarely Seen, Elaborate Art from Tzarist & Soviet Russia

Never mind the quality of goods themselves, or that you could not find them in stores anyway - some advertising posters from Tzarist and Soviet Russia featured outstanding graphic design, quite prized by collectors today. Here is a collection of unique and rarely-seen posters, serving as a commentary on troubled era and a deeply surreal consumer culture in pre-revolutionary and communist Russia.

Posters before the Revolution -
Full of "Art Nouveau" design elements, often a visual treat in itself, these sophisticated posters advertised no less sophisticated products, some of a very fine quality. The select few who could afford to buy, could truly engage in a world-class Victorian luxury.




Once communists came to power, the designs (and products themselves) became increasingly atrocious and pretty tasteless. But for the brief period in the 1900s, Russian consumer culture approached the sophistication and creativity of that in Europe.




Check out John Grieves from Berdyansk, with his agricultural equipment company:
(playing on the famous brand of John Deere, no doubt)




Russian traditional folk art is amply reflected in commercial posters:
(including some influences from Bilibin's illustrative style)




This mighty warrior is looking for beer (source of his strength?) -




The smiling lady is holding beer: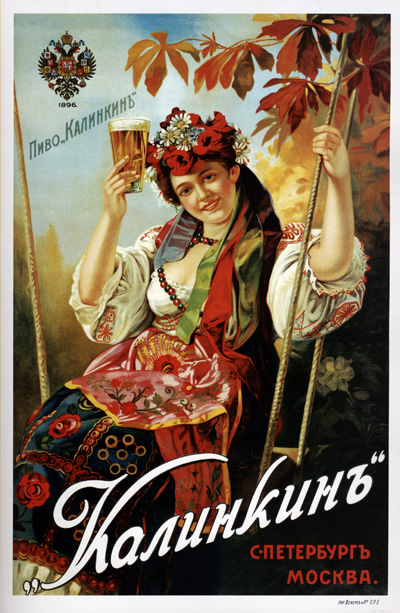 But this distinguished-looking gentleman is holding not beer, but "kvas" (bread drink, a fermented mildly alcoholic beverage made from black or rye bread) -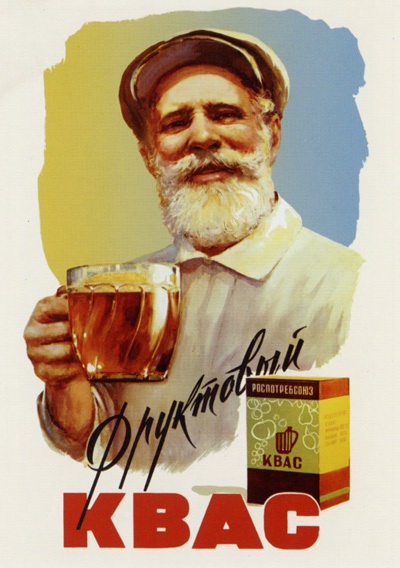 It helps when there is a huge variety of product to advertise: check out the extensive choice in beers from pre-Revolution Russian breweries: German, Bohemian, English Porter.




It seems that pre-revolutionary Russian beer industry was well on its way to become the "New Bavaria", as the poster above proudly proclaims.

I think they should revive this beer bottle-style, it's very distinctive:




An artsy ad for the Russian Tea:




Continuing to sweets and chocolate... "Just try to take the chocolate away from me, I'll show you!":




Crawfish! Well, actually crawfish-looking candy:




Other wonderful posters: for automobile show, and gun powder -




Not commercial, really elaborate poster celebrating 300 anniversary of Romanov's Tzar dynasty:




Very strange combination:




And a greatly atmospheric setting for bars of soap:





Even Communists Need to Advertise Sometimes...

...by normal (printed paper) means, that is, not by insidious propaganda. Of course, they'd rather use Orwellian brainwashing, but such technology could not be obtained at the time. So they had to resort to the normal "capitalist marketing" ways of pushing their miserable (or almost unobtainable) products to consumers.




Funny thing, though - most posters advertise a generic product, such as "The Chocolate", "The Ice cream", "The Cigarettes" - supposedly convincing the masses to try them more often. There were no trademarks, no variety of flavors to choose from (or a very basic choice) - so the only thing you see on the poster is the huge lettering "Eat more... Drink... Smoke!"

This one just says "Smoke Cigarettes!" (does not matter, which kind) -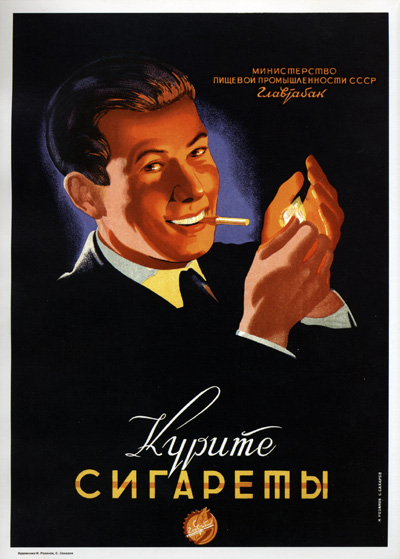 These are admonishments to cook hot dogs. Yes. Eat more hot dogs, wherever possible.




Some generic ice cream: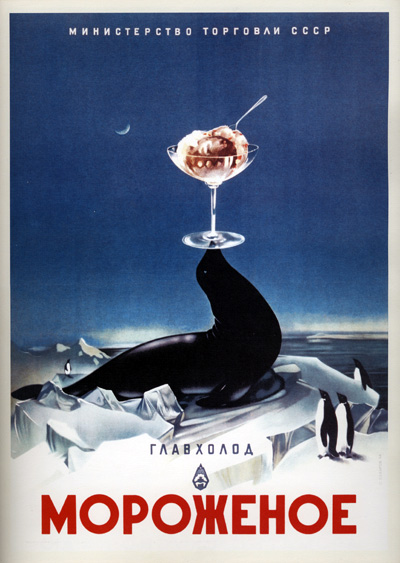 ....OK, I'll have more ice cream, no problem, comrades. The other funny part of Soviet poster design was an invitation to "DEMAND this product in stores" - as though the store clerks were hiding the items under the counter and would procure them only by special order. Ironically, this was often the case - the shortage of products and inefficient distribution saw to that. The poor consumers had to not only "demand", but also give bribes, grease certain hands with money to get the desired product.

Among the weirdest posters printed at this time (in the 1920s): "These pacifiers are second to none, I'd suck on them until I die" -




- or check that child's face on this generic juice advertisement, pretty creepy:




These faces / creatures are not much better (ad for cosmetic powder) -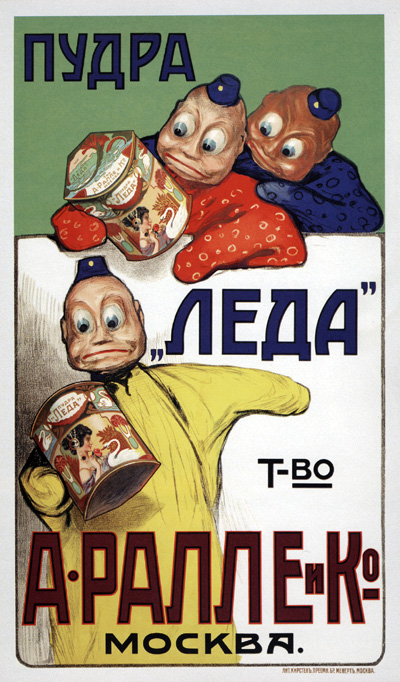 Happiness, derived from the new pair of rubber boots: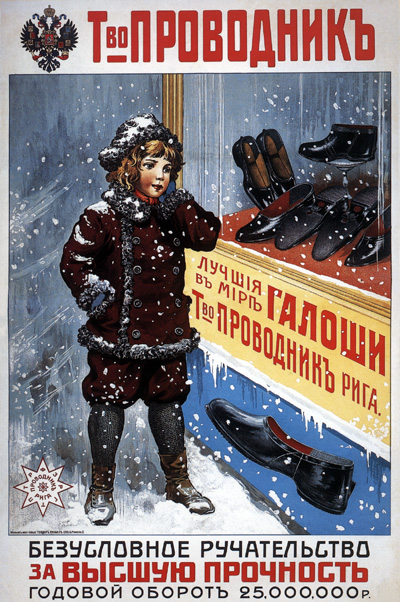 Interesting advertisement for a circus stunt: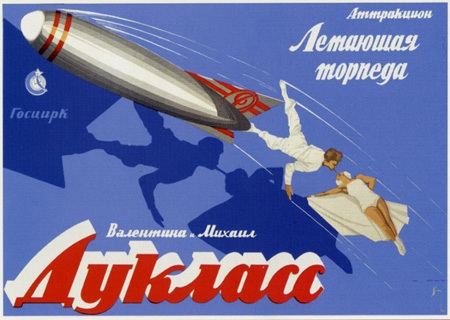 Typical Stalin-era sex appeal: girl pilot with a tube of toothpaste -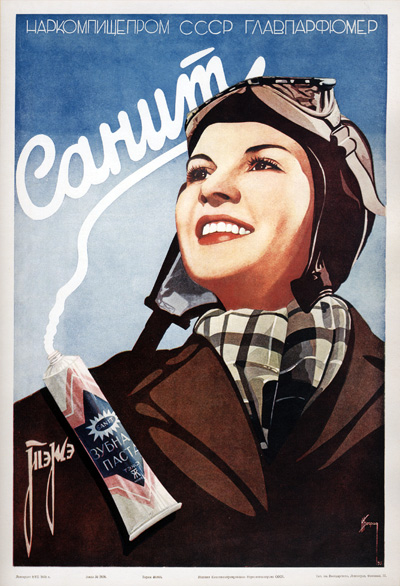 And a country guy riding a cigarette - apparently ignorant of the "government's health warning":




Also Read "Anti-US Posters from North Korea"

Permanent Link...
...+StumbleUpon
...+Facebook
Category: Vintage,Art
Dark Roasted Blend's Photography Gear Picks:
RECENT ARTICLES:
"Dark Roasted Blend" - All Kinds of Weird and Wonderful Things, Discovered Daily!"
DRB is a top-ranked and respected source for the best in art, travel and fascinating technology, with a highly visual presentation. Our in-depth articles in many categories make DRB a highly visual online magazine, bringing you quality entertainment every time you open your "feed" reader or visit our site -
About DRB
Connect with us and become part of
DRB on Facebook
,
Twitter
,
Pinterest
,
Instagram
,
Google Plus
; make sure to subscribe to our
updates
.
YOUR COMMENTS:
:
READ OTHER RECENT ARTICLES:
CATEGORIES
:
Feel-Good!
|
airplanes
|
animals
|
architecture
|
art
|
auto
|
boats
|
books
|
cool ads
|
funny pics
|
famous
|
futurism
|
food
gadgets
|
health
|
history
|
humour
|
japan
|
internet
|
link latte
|
military
|
music
|
nature
|
photo
|
russia
|
steampunk
sci-fi & fantasy
|
signs
|
space
|
sports
|
technology
|
trains
|
travel
|
vintage
|
weird
|
abandoned