"QUANTUM SHOT" #444
link

The Gathering of Steel Giants

Three huge cranes star in this tremendous MOVING event. The beloved landmark of the Swedish town is taken apart (like so many LEGO pieces) and taken to the faraway lands to the (almost) uncertain fate.

We wrote once about the Huge Floating Crane which can lift bridges and submarines. We also had a rare look inside the workings of Largest Crane and Container Ships. But this gargantuan scene asks for its own page, as the memory of the biggest gantry crane structure slowly fades into the stuff of legends.



(image credit: Barlon Randolph)

Witness a world's largest gantry crane - Kockums, which was originally located at Kockums Shipyard in Sweden, then was dismantled in 2002, painted orange and installed by Hyundai Heavy industries over in Offshore Fabrication Yard (Ulsan, South Korea). Here is how it looked before - a true landmark over the town of Malmo:



(image credit: Malmobilder)

- Capable of lifting 1,500 tons
- It is 165m wide and 128m high with a total weight of 7,560 tons.
- "The upper plate of the crane is 11.5 m wide and 14.6 m high, large enough for four buses to simultaneously drive through."
- It was used to lift the entire sections of Oresund Bridge.

Dismantling and setting up in a new place

Most of images were taken in the summer of 2002, see the full series here. The following article also has a great amount of info about this event.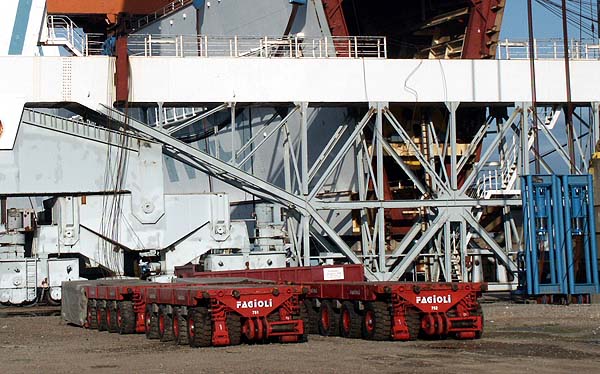 The yellow "ASIAN HERCULES" is used in this operation, which is in itself one of the world's largest floating cranes.




The gathering of huge ships, cranes, trucks - all in one picture! The ship's name is "Mighty Servant 3":




And yet another crane arrives to take part in dismantling operation:




One leg is loaded... then another.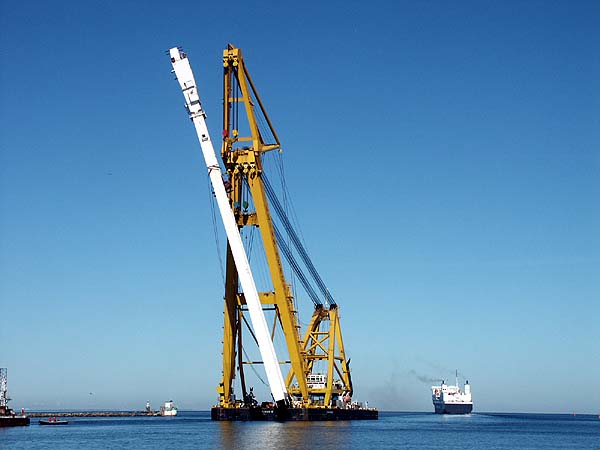 You can appreciate the real scale of these giant cranes here:




The loading of the upper plate (large enough for four buses to fit inside):




No more crane to grace this dock: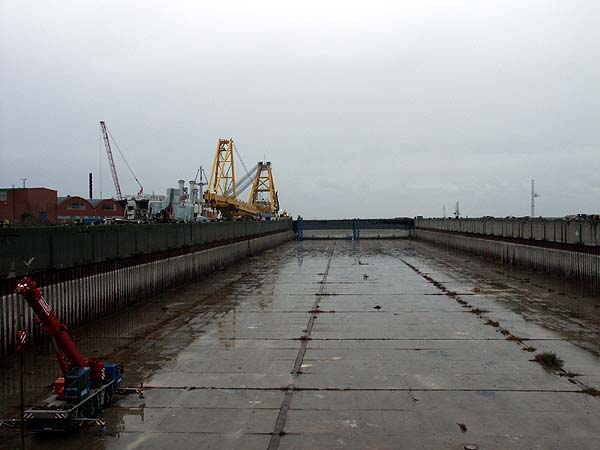 The "Mighty Servant" takes with its load to Korea:



(images credit: Lasse Ydhag, varvshistoria.se)

Putting it up again at Huyndai: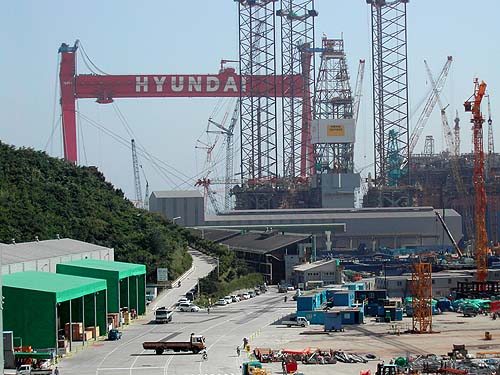 (images credit: varvshistoria.se)

You can see Kockums previous location in Sweden on Google Earth here. For its new orange Hyundai incarnation go to this page.

After being used in oil platform construction, the crane was reportedly moved to South Vietnam, and then dismantled by a British firm... or, as I like to think, maybe it joined the secret abode of Transformers in the sky.

Also check out our galleries of crane accidents All Cranes Are Doomed, Part 2

Permanent Link...
...+StumbleUpon
...+Facebook
Category: Boats/Ships,Technology
Dark Roasted Blend's Photography Gear Picks:
RECENT ARTICLES:
"Dark Roasted Blend" - All Kinds of Weird and Wonderful Things, Discovered Daily!"
DRB is a top-ranked and respected source for the best in art, travel and fascinating technology, with a highly eclectic presentation. Our in-depth articles in many categories make DRB a valued online magazine, bringing you quality info and entertainment every time you visit the site -
About DRB
Connect with us and become part of
DRB on Facebook
and
Twitter
.
YOUR COMMENTS:
:
READ OTHER RECENT ARTICLES:
CATEGORIES
:
Feel-Good!
|
airplanes
|
animals
|
architecture
|
art
|
auto
|
boats
|
books
|
cool ads
|
famous
|
futurism
|
food
gadgets
|
health
|
japan
|
internet
|
link latte
|
military
|
music
|
nature
|
photo
|
russia
|
steampunk
sci-fi & fantasy
|
signs
|
space
|
technology
|
trains
|
travel
|
vintage
|
weird
|
abandoned