"QUANTUM SHOT" #426
Link - article by Avi Abrams



Aerodynamic Planes, Trains and Automobiles

Luigi Colani is a legend among industrial designers (see both his sites 1 and 2). We've featured radical-looking Colani trucks, and his streamlined piano, but now - thanks to the photo material provided by Roger Todd, exclusively for DRB - we can have a glimpse of his other designs... all from a never-never land of his most far-reaching imagination.

To describe these concepts simply as streamlined is a huge understatement. They are wild, exciting, astonishing, and totally unexpected - a tribute to the Golden Age of Futurism (see our futurism category).

This era is largely gone... we don't see designers becoming superstar celebrities anymore, who would capture and shape world's imagination. Industrial design has become an 'apropos' feature of our life, but perhaps it lost some of its glamour and inspirational influence that defined the image of the 1960s and 1970s.

Let's start with trains. A steam train for Soviet Russia, no less! -



(images credit: colani.de)


This is the Coal-Dust-Powered Steam Locomotive for Siberia, 1979,design specifically for the BAM Railroad (Baikal Amur Mainline railroad). I have no trouble imagining these beasts devouring miles and miles of taiga-covered infinite expanse, no trouble at all. Too bad it did not materialize (partly because BAM itself was not fully finished):





Are these mono-track ideas? Yes, and here is an experimental shape for the Hamburg-Munich line "HM-1" -





More ideas for aerodynamic high-speed trains (I wonder if Japan is going to use any of them for their Shinkansen "bullet" high-speed trains in near future?):





Outrageous Transportation!

Just look at this fiant flying boat (or, ekranoplan) "The Lida" from 1983! Considering the love of Soviets for ekranoplans in general (ekranoplans are more commonly called in the West "wing-in-ground effect" vehicles), it is surprising that they have not actually made this beauty in real life:



(image credit: colani.de)


Here is even larger one:





This is what I call truly radical aircraft concepts

Some of them are so outrageous that usual questions like "why not?" and "can it be built?" might not even apply... (like this sketch done for the Japan Air Lines) -





...while others will leave you scratching your head, and maybe considering the thought that modern aviation has been long overdue for a major design overhaul: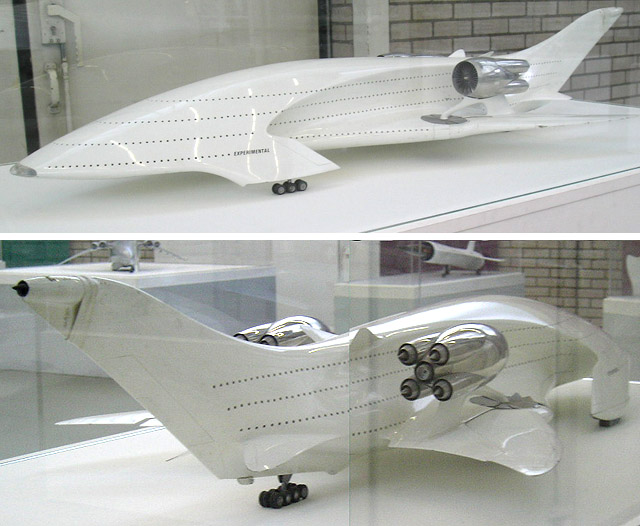 Cars & bikes that redefine wheeled transportation and concepts of luxury (yet again)

We love this more recent design for the streamlined mobile home:





Here is a "Horch Luxury" design (it's so over-the-top that no apologies will be necessary) -



(image credit: colani.de)


Check out its hood ornament:





More incredible aerodynamic shapes:





The "Frog" is the aerodynamic study for a motorcycle, made in 1973:



(images credit: Rolf Frohle)


Many of his shapes have the ability to haunt your sense of beauty and challenge you on esthetic front - you will either love them, or hate them; there is no middle ground. However, such is the essence of exciting design: to challenge the predetermined (and possibly stale) mainstream sensibilities. Luigi Colani has been doing this like no one else since the 1970s.

Our final image shows how our space program might have looked, if designers like Luigi Colani had their say -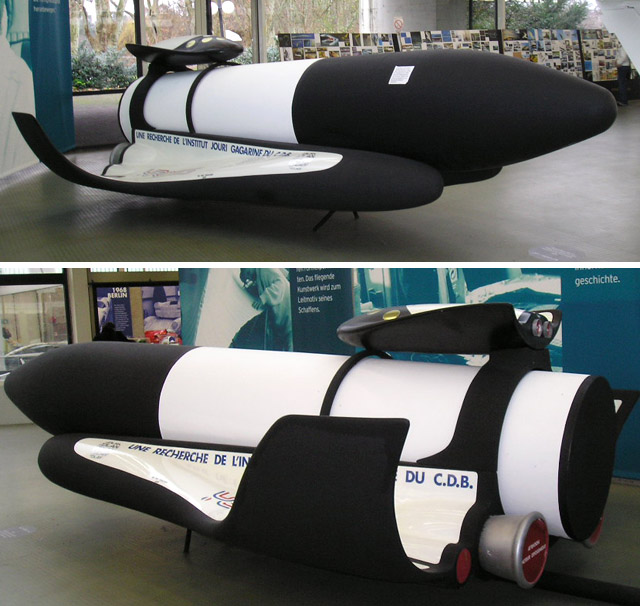 Imagine witnessing this launch in the early light of dawn... Enchanting!




Images credit: Colani Ausstellung in Karlsruhe 2004, Colani Trading AG, Roger Todd, colani.de, Rolf Frohle


CONTINUE TO THE NEXT PART! ->

Also read "Concept Truck by Luigi Colani" ->



RECENT ARTICLES:
"Dark Roasted Blend" - All Kinds of Weird and Wonderful Things, Discovered Daily!"
DRB is a top-ranked and respected source for the best in art, travel and fascinating technology, with a highly eclectic presentation. Our in-depth articles in many categories make DRB a valued online magazine, bringing you quality info and entertainment every time you visit the site -
About DRB
Connect with us and become part of
DRB on Facebook
and
Twitter
.
YOUR COMMENTS:
:
READ OTHER RECENT ARTICLES:
CATEGORIES
:
Feel-Good!
|
airplanes
|
animals
|
architecture
|
art
|
auto
|
boats
|
books
|
cool ads
|
famous
|
futurism
|
food
gadgets
|
health
|
japan
|
internet
|
link latte
|
military
|
music
|
nature
|
photo
|
russia
|
steampunk
sci-fi & fantasy
|
signs
|
space
|
technology
|
trains
|
travel
|
vintage
|
weird
|
abandoned