"QUANTUM SHOT" #428
link


Nothing Indiana Jones can't handle

If you've been thrilled (despite suspension of disbelief) by indestructible Indiana Jones hurtling down three spectacular CG waterfalls in a row, you might have wondered if our planet has REAL places with similarly enormous waterfalls in a jungle setting. Well, here is a place with a full 800 meter vertical drop - this should appear lethal even to Indiana Jones screenwriters.

Angel Falls, Venezuela (also called Salto Angel) is the Earth's highest uninterrupted waterfall. It is 979 metres (3,230 feet) tall - think of it as 2.5 times as tall as the Empire State Building and full 15 times higher than Niagara Falls!



(image credit: Nyaminyami)


Located in the Canaima National Park, in southeastern Venezuela, the falls start from the nameless creek that meanders through the series of highly-fractured crevices and gorges on top of a "Tepuy", or table-top mountain. The water then bursts into the void and plunges uninterrupted 2,421 feet to the river and more cascades below.

You can actually kayak to the base of the falls (imagine how wet you'll be there - though the waterfall is of such a great height that most water is turned into mist before it reaches the ground).



(image credit: Tony Welham)

In a season of highest water, the single waterfall splits into three streams - sometimes even more, which together become a giant veil of water.





How to get to the Angel Falls?

Not so easy. You would need to hook up with a flight from Caracas or Ciudad Bolivar to get to the Canaima camp, from where you'd start your trip along the river to the base of the falls. This page lists the complete directions. The travel guide even says that on cloudy days you can not see the falls (must be a real let-downer after all this trouble to get there!)

This is the most accessible viewpoint to photograph the falls:




The view from the top is fantastic enough to inspire a multitude of "Lost World" legends (including the famous Conan Doyle book), not to mention the table-top mountain itself - a wonder-world of vegetation and species found nowhere else on Earth.

A True Island in Time

It is truly an Island in Time, discovered by the civilized world only a hundred years ago - an ancient landscape shrouded in mystery.



(image credit: Mauricio Marques)

Aerial Fly-by of Angel Falls - an entirely different aspect:



(image credit: Brennan Mulrooney)




In the morning the rocks are colored pink from a rising sun:



(image credit: Mike Ernst)

The fascinating world around the waterfall is a perfect combination of magic and reality. The highly-eroded terrain of table-top mountain, the spectacular maze of gorges which leads to the waterfall can be clearly seen and enjoyed in this video:



url
Video from David Attenborough's BBC series "Planet Earth"

Rainbows seem to dwell at the foot of it (a boon to photographers). Some people are making breathtaking BASE jumps from its top. See the incredible video of Eric Jones's base jump here.





Stranded with wife and a gardener, looking for gold

Angel Falls were named after Jimmy Angel, a larger-than-life character, an experienced bush pilot and gold prospector, who accidentally discovered it in 1933.

Ironically, he also ended up stranded on top of this waterfall - on the enormous and isolated mesa mountain Auyan-tepui (which means "Devil Mountain"). He and his wife Marie (and their gardener) were on reconnaissance flight to look for gold - but damaged the plane at the landing and had to find the way down the mountain on foot. It took them eleven days - but they survived the ordeal (proving that cooperating - not arguing - with your wife can be beneficial in extreme circumstances)

The full story of Jimmy Angel adventures on top and around Auyan-tepui can be found on this excellent page - would make for a great adventure movie script.

Interestingly, there are some other mysterious wrecks in a savanna fields nearby (DC-3, no less):



(image credit: Rowan Castle)

The mountains in Venezuela (including the Canaima National Park) are equally magnificent:



(image credit: Hubert)

-------------------------

To whet your appetite for the next installment of the series, here is another really neat waterfall: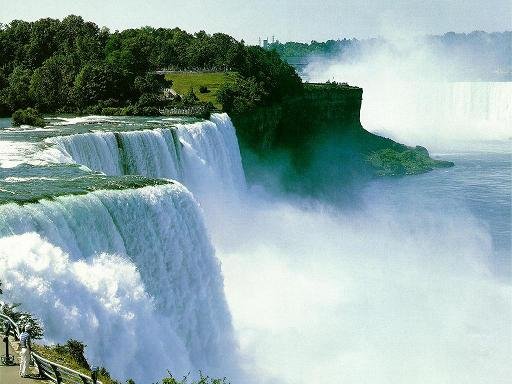 Iguacu Falls in Argentina and Brazil:
(which served as a real location for some of the recent Indiana Jones "waterfall drop" shots)



(image credit: Reinhard Jahn)

World Waterfall Database is a good site to discover the exact facts about your favorite waterfalls, and perhaps plan your next exploration trip.


Permanent Link...
...+StumbleUpon
...+Facebook
Category: Nature,Travel
Dark Roasted Blend's Photography Gear Picks:
RECENT ARTICLES:
"Dark Roasted Blend" - All Kinds of Weird and Wonderful Things, Discovered Daily!"
DRB is a top-ranked and respected source for the best in art, travel and fascinating technology, with a highly eclectic presentation. Our in-depth articles in many categories make DRB a valued online magazine, bringing you quality info and entertainment every time you visit the site -
About DRB
Connect with us and become part of
DRB on Facebook
and
Twitter
.
YOUR COMMENTS:
:
READ OTHER RECENT ARTICLES:
CATEGORIES
:
Feel-Good!
|
airplanes
|
animals
|
architecture
|
art
|
auto
|
boats
|
books
|
cool ads
|
famous
|
futurism
|
food
gadgets
|
health
|
japan
|
internet
|
link latte
|
military
|
music
|
nature
|
photo
|
russia
|
steampunk
sci-fi & fantasy
|
signs
|
space
|
technology
|
trains
|
travel
|
vintage
|
weird
|
abandoned