"QUANTUM SHOT" #239




Hummer owners should shudder - either with envy or disgust

You remember our popular series about VW Beetle modifications, or truck mods? Today we go to the extreme: if you happen to own (or have access to a tank), there is no limit to what you can do with it. Not that you SHOULD do anything to it, but...

Here is a tank (or rather, armored personnel carrier) limo, courtesy TankLimo.com - available for hire for only $3,200, and for a special price ($760 USD) you can even drive a 56ton Chieftain Main Battle Tank... over a family sedan car! Like they say on the site: "Life will never be the same again!"





Release your angst crushing Japanese family car imports:





Hello Kitty... Aim.. Fire!

You might remember this Casio ad campaign for Baby-G watches:




"Tank-A-Lot" UK company got similar inspiration for their modified artillery armored vehicle - this time for the "Amnesty International" event.



(images credit: indymedia.org.uk)


The Coolest Shoot on the Internet

Gothic Image had a great idea of combining this pink-blinged tank vehicle with a similarly pink-clad gorgeous female model for a shoot. Here are the results... wow.



(images credit: Gothic Image)

There is another "Pink Tank" in London:
(by Alexandra Mir)



(image credit: Cubitt Artists)

and yet another one:





I suspect these tanks come with "Hello Kitty" weapons included, like this one:



(image credit: KittyHell)

Russian T34 in South London, painted by Cubitt Artists; (more info)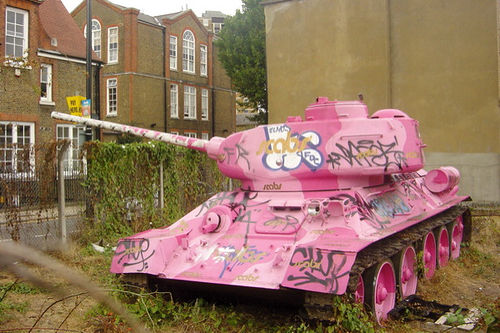 (image credit: Dave Sag)

It has been repainted several times, all pretty groovy: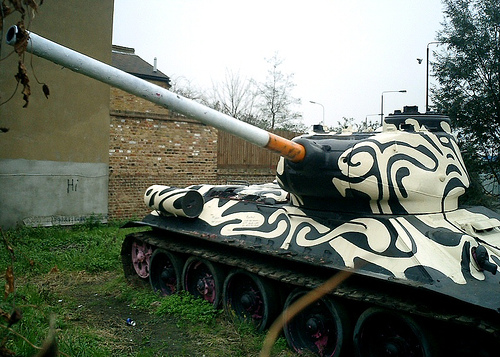 (image credit: StefZ)

Pink Tank at Rock Werchter Festival 2007: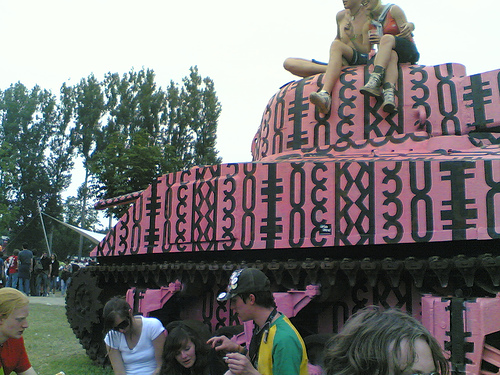 (image credit: Elliott Solomon)


KNIT TANK: Speaking of pink tanks, Marianne Joergensen covers the fearsome military machines with cute knitted blankets, making an unusual art statement:



(image credit: MakeZine)


"Peace" installation by artists Ulrike Rosenbach and Michael Fischer-Art at Brandenburg Gate in Berlin:



(image credit: AP Photo/Herbert Knosowski)


You can bling some heavy construction machinery in this way, as well:





Russian BTR for $105,000 USD

Courtesy Russian "Za Rulem" this modification has significantly more comforts than the Soviet Army spartan original (BTR-40P-2 which is widely known as BRDM-2). The final product appears to be quite road-worthy and may even fit in your garage.



(images credit: Za Rulem)

The plaque above even reads "Dear sir, please take notice" instead of usual "Attention, Beware!"

Here is the least expensive, but maybe not so convincing modification:




Finally, an idea with a great potential:





Permanent Link...
Category: Technology,Auto
Related Posts:
Tank Accidents!, Scary Trucks, Strange Tanks

RECENT ARTICLES:
"Dark Roasted Blend" - All Kinds of Weird and Wonderful Things, Discovered Daily!"
DRB is a top-ranked and respected source for the best in art, travel and fascinating technology, with a highly eclectic presentation. Our in-depth articles in many categories make DRB a valued online magazine, bringing you quality info and entertainment every time you visit the site -
About DRB
Connect with us and become part of
DRB on Facebook
and
Twitter
.
YOUR COMMENTS:
:
READ OTHER RECENT ARTICLES:
CATEGORIES
:
Feel-Good!
|
airplanes
|
animals
|
architecture
|
art
|
auto
|
boats
|
books
|
cool ads
|
famous
|
futurism
|
food
gadgets
|
health
|
japan
|
internet
|
link latte
|
military
|
music
|
nature
|
photo
|
russia
|
steampunk
sci-fi & fantasy
|
signs
|
space
|
technology
|
trains
|
travel
|
vintage
|
weird
|
abandoned