"QUANTUM SHOT" #166




Formula One car "Spyker F8-VII" takes on F-16 fighter jet -
Guess who wins?

More than ten thousand spectators gathered at the Royal Netherlands Air Force base in Volkels, Holland, to witness an astonishing "Full Throttle" racing event:

A Spyker F8-VII race car, powered by a Ferrari engine, and "piloted" by Formula One driver Christijan Albers went head-to-head against Air Force pilot Ralph "Sheik" Staal's F-16 fighter jet.



(images credit: Autojunk.nl and Motorsport-Total)

The Spyker F8-VII was faster than the F-16 over the first 300 metres. However at the closing meters of 1 kilometer race, the plane just proved to have more acceleration. They finished with only two car lengths difference.

"It was a tight race..." said Albers. 450 km/h in 15.5 seconds. If James Bond needed to catch that F-16, chasing it from his car, he would need the help of some special effects. No car can do it yet, but the race is getting tighter.

Here is a picture of another race - this time with a big rig:




Now up the stakes:

Lamborghini Reventon vs. the fighter jet (a Tornado F22) at the Ghedi airport in Italy. The Lamborghini Reventon almost won the race!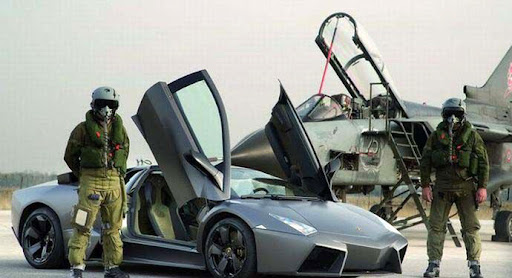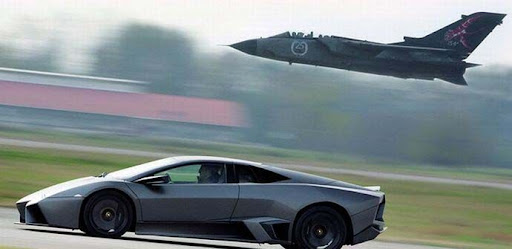 Here is the video of this event:


url


The spectacular sight of a jet fighter accelerating on a highway brings me to another topic:

The Low-Flying Aircraft

The following are photos of extremely low-flying planes, taken mostly at air shows. Starting with the Chinese "Su-30 Zhang Jia Jie":



(image credit airliners.net)



(images credit: www.f-16.net)

Belgian MT-48 training airplane flying pretty low:



(Photo by Remco Donselaar, airliners.net)

Fly-by stunt over Nuclear Aircraft Carrier (click to enlarge):


(image courtesy: wrongcrowd.com)

These people should get away from C-17 cargo plane, and quickly:



(Source: Doug Stephan)

Category: Airplanes,Auto, Sports
RECENT ARTICLES:
"Dark Roasted Blend" - All Kinds of Weird and Wonderful Things, Discovered Daily!"
DRB is a top-ranked and respected source for the best in art, travel and fascinating technology, with a highly visual presentation. Our in-depth articles in many categories make DRB a highly visual online magazine, bringing you quality entertainment every time you open your "feed" reader or visit our site -
About DRB
Connect with us and become part of
DRB on Facebook
,
Twitter
,
Pinterest
,
Instagram
,
Google Plus
; make sure to subscribe to our
updates
.
YOUR COMMENTS:
:
READ OTHER RECENT ARTICLES:
CATEGORIES
:
Feel-Good!
|
airplanes
|
animals
|
architecture
|
art
|
auto
|
boats
|
books
|
cool ads
|
funny pics
|
famous
|
futurism
|
food
gadgets
|
health
|
history
|
humour
|
japan
|
internet
|
link latte
|
military
|
music
|
nature
|
photo
|
russia
|
steampunk
sci-fi & fantasy
|
signs
|
space
|
sports
|
technology
|
trains
|
travel
|
vintage
|
weird
|
abandoned