"QUANTUM SHOT" #106




"Concept That Makes You Question Your Own Sanity
Just By Looking At It"
--NY Times

"The Rhombus, which was built by Changfeng College of Automotive Engineering in China, has its wheels arranged in a diamond shape, with each pointy end supported by a single wheel and two wheels in the middle." Such wheel placement could be an advantage - the front and back wheels turn simultaneously, thus giving the car really short turn radius. The concept was in the making since 1990, and finally was shown at Detroit auto show this year. Even though it can easily win an award "The Ugliest Car of the Year", it definitely makes a most audacious engineering statement.




Sources: ChinaMotors.ru, NYTimes

If you are wondering how Chinese dreamed this up, or what did they smoke :) -
Well, one just has to look over the old issues of "Popular Mechanics" magazine: here is an artist depiction of the rhomboid car from 1954: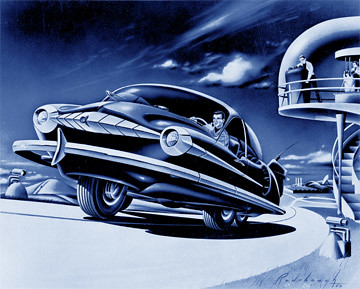 ...and in case you ever wondered what is OFFICIALLY "The Ugliest Car Ever Built?"
It's an "Aurora" monster built in 1957 by an eccentric New York priest as the ultimate safety vehicle (clearly, his design was not graced by the hand of God). It's been lovingly restored in 2005 - more pictures here




"Safety features" of this car included (then rare) seat-belts, a roll cage, side-impact bars, a collapsible steering column, and a padded instrument panel. The most innovative safety feature, which has not been incorporated into other cars, was the ability to swivel the seats to face rearwards should a collision seem imminent."
However, only one prototype was produced, and it broke down 15 times on the way to the press conference, requiring towing to 7 different garages. (wiki)

Category: Automobile
RECENT ARTICLES:
"Dark Roasted Blend" - All Kinds of Weird and Wonderful Things, Discovered Daily!"
DRB is a top-ranked and respected source for the best in art, travel and fascinating technology, with a highly eclectic presentation. Our in-depth articles in many categories make DRB a valued online magazine, bringing you quality info and entertainment every time you visit the site -
About DRB
Connect with us and become part of
DRB on Facebook
and
Twitter
.
YOUR COMMENTS:
:
READ OTHER RECENT ARTICLES:
CATEGORIES
:
Feel-Good!
|
airplanes
|
animals
|
architecture
|
art
|
auto
|
boats
|
books
|
cool ads
|
famous
|
futurism
|
food
gadgets
|
health
|
japan
|
internet
|
link latte
|
military
|
music
|
nature
|
photo
|
russia
|
steampunk
sci-fi & fantasy
|
signs
|
space
|
technology
|
trains
|
travel
|
vintage
|
weird
|
abandoned