"QUANTUM SHOT" #81
It's a Jet! It's a Train! It's M-497


Something out of Buzz Lightyear's imagination, this jet-enhanced train car was tested (successfully) in the summer of 1966. This was the time when rail-road usage declined in America, as the interstate highway system completed its major routes and airlines drew increasing numbers of travelers. New York Central research team, led by Don Wetzel, was assigned a task to collect data on possible high-speed rail service and whether the tracks could handle high-speed passenger traffic.

You can read the account of the jet locomotive's test in this article, or check out a book "Flight of the M-497" by Hank Morris and Don Wetzel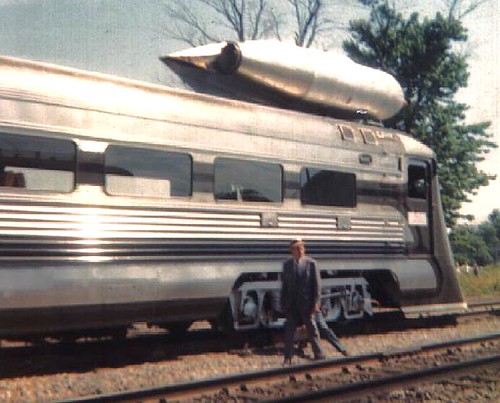 "Wetzel and his crew adapted two General Electric J-47-19 jet engines, which had been designed as boosters for the Convair B-36 intercontinental bomber. These were mounted just above the engineer's station at the front of the car. Wetzel's original design had the jet engines at the rear, but this changed after his wife, making her point with some sketches on a dinner napkin, suggested that the locomotive would look better with them mounted up front. This switch also helped keep the nose of the locomotive on the tracks. The Cleveland shop fashioned a black streamlined cowling for the front of the Budd car, which was designated M-497. Workers called it the Black Beetle."




The tests have seen the M-497 flashing by at 183.85 miles per hour, a U.S. rail-speed record that stands to this day.




"Jet-powered Budd cars were never seriously considered for practical passenger service, and modern high-speed trains in France, Japan, England, and the United States all use conventional diesel-electric or all-electric motive power.

Wetzel and his team reused the jet engines for another research project, a high-powered snow blower for opening winter track. In tests at the Central's Buffalo yards, the jet blower efficiently cleared the rails; it also blasted most of the ties and ballast from under them."




Images courtesy TrainWeb, NE Rainfan

UPDATE:

As it turns out, Russia also entered into the "Jet Train" race, with a similar prototype in 1970:




It had engines from a Yak-40 passenger jet plane and could go as fast as 249 km/h (only a little slower than an M-497). It remained only a prototype, possibly because of the conditions of the Russian railroads at the time.



(illustration from 1971 "TM" magazine)


2. This Locomotive Has Fins!

The M-497 was not the only experiment to find a way to draw ridership back to rails back in the 1960s. GM Aerotrain came closer to wide-spread use and is certainly more well-known today.




In the era of Harvey Earl's dreamy cars with the sweeping lines and fins, this locomotive fits right in.




"The Aerotrain is a streamlined trainset introduced by General Motors Electro-Motive Division in the mid-1950s. Like all of GM's great body designs of this mid-century era, this futuristic train was first brought to life in Harley Earl's GM Styling Section." (Wikipedia)
Designed along the lines of Buick LeSabre Futurama concept car, this railroad marvel was meant to capture the hearts of Space-age American public. It stayed in service till 1966.

Buick LeSabre:



The Aerotrain cars, based on GM bus designs and using an air cushioning system, were rough riding and not very comfortable for the passengers. O, but you could lose yourself at the rail-road crossings, staring at the streamlined forms ...




The Time magazine article in 1956 noted: "No plush-lined Cadillac of the rails, the Aerotrain was designed more like a stripped-down Chevvy." It even had the rear end design of the Fifties station wagon:




and the view of the cabin is very car-like: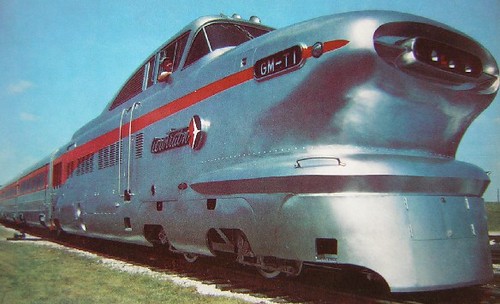 "If we can build a railroad car to sell at half the price of present cars, and be operated at half the price, that's good for the railroads and good for G.M. too."
Such was the idea in 1956, but we all know how it ended.




Image Sources: Carofthe Century, NexusBoard


Other High-Speed Train visions:

Pennsylvania Railroad S-1 locomotive, styled by Raymond Loewy. It was shown at the 1939 World's Fair (read more here):




"Sky-Train" (we will cover some high-speed trains in the next part of this article)




The bizarre "radio tube train" from Modern Mechanix:




Vacuum Tube Train ideas were quite popular in the 60s. The following two images are ultra-rare futuristic illustrations from Soviet "TM" magazine, published in 1967:




Here are a few Disney visions and vintage monorails, seen in Disneyland (late 50s versions):



(image credit: plan59)



(image credit: davelandweb)

We don't have much information about this concept. Any info would be appreciated:





CONTINUE TO PAGE 2 OF THIS ARTICLE:
"Super High-Speed Trains"

Permanent Link...
RECENT ARTICLES:
"Dark Roasted Blend" - All Kinds of Weird and Wonderful Things, Discovered Daily!"
DRB is a top-ranked and respected source for the best in art, travel and fascinating technology, with a highly eclectic presentation. Our in-depth articles in many categories make DRB a valued online magazine, bringing you quality info and entertainment every time you visit the site -
About DRB
Connect with us and become part of
DRB on Facebook
and
Twitter
.
YOUR COMMENTS:
:
READ OTHER RECENT ARTICLES:
CATEGORIES
:
Feel-Good!
|
airplanes
|
animals
|
architecture
|
art
|
auto
|
boats
|
books
|
cool ads
|
famous
|
futurism
|
food
gadgets
|
health
|
japan
|
internet
|
link latte
|
military
|
music
|
nature
|
photo
|
russia
|
steampunk
sci-fi & fantasy
|
signs
|
space
|
technology
|
trains
|
travel
|
vintage
|
weird
|
abandoned