"QUANTUM SHOT" #67




1. Giant robot takes care of cars

This blog tracks the news about robotics advances in Japan. One company definitely to watch for is TMSUK, which has quite an impressive line-up of robots for various applications, with some even in use on campuses throughout Japan. The biggest of the bunch is T-52 model:




Is this robot on a mission to seek and destroy improperly parked cars? Certainly the idea has been around long enough:




- Car-wrecking robot from the cover of "Wonder Stories" science fiction pulp magazine from 1935.

T-52 however, is not a nemesis to cars. Quite the opposite:

Pink Tentacle reports:

"This is the giant rescue robot called T-52 Enryu ("Rescue Dragon"). It has a bulldozer-like base and a 5-meter long arms that can lift cars stuck in the snow. In the tests T-52 Enryu showed off its avalanche prevention skills by removing accumulated snow from the edge of a cliff. The robot also demonstrated its ability to extract a car buried under a bank of snow."
T-52 Enryu stands 3.45 meters tall and weighs 5 tons.




More pictures of this model tests: here


Robot Stylists Go Medieval

T-82 model may be the coolest-looking robot to date. Your personal stainless-steel "Knight of Antiquity", eager to help you shop for groceries and around the house.




T-82 scoops candy into a bag at Robotics show in Fukuoka. It has the most dexterious hand movements among robots today.





3. Practical Patrol and Monitor Robot (QC-SR)

Watch out! This robot goes on patrol in a building, and is capable of handling various emergencies, including fire.


5. Bipedal Walking Robots
Humanoid Two-legged Walking Robot "SHINPO"


Using the rotation of the human pelvis and the free movement of leg-joints as a model, the company has finally succeeded in making a robot that can walk without bending its knees - a first in this field with almost humanlike walking style.
It can climb stairs and carry things weighing 60 to 90kg.

"SHINPO" was developed in a collaboration of TMSUK Co., Ltd. and Atsuo Takanishi Laboratory for a part of the robot exhibition at Niigata Science Museum.


Biped Humanoid Robot WABIAN-2
(WAseda BIpedal humANiod-No.2)

From Takanishi Laboratory comes this cool humanoid model: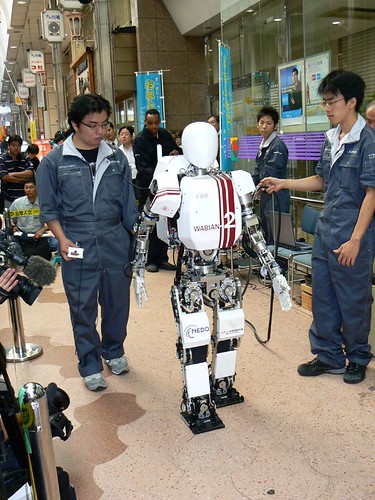 and another stair-climbing one (not so humanoid):




More cute robots:




A model of the Tachikoma robot from the anime "Ghost in the Shell: Stand Alone Complex."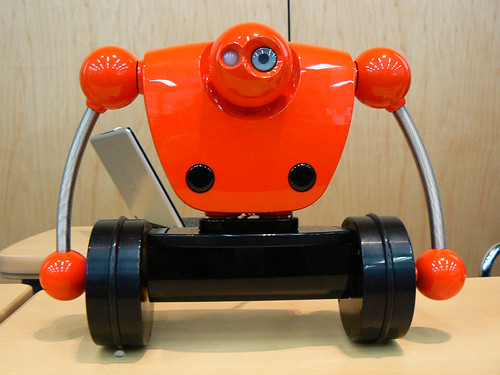 Balancing wheel model.

Permanent Link...
RECENT ARTICLES:
"Dark Roasted Blend" - All Kinds of Weird and Wonderful Things, Discovered Daily!"
DRB is a top-ranked and respected source for the best in art, travel and fascinating technology, with a highly eclectic presentation. Our in-depth articles in many categories make DRB a valued online magazine, bringing you quality info and entertainment every time you visit the site -
About DRB
Connect with us and become part of
DRB on Facebook
and
Twitter
.
YOUR COMMENTS:
:
READ OTHER RECENT ARTICLES:
CATEGORIES
:
Feel-Good!
|
airplanes
|
animals
|
architecture
|
art
|
auto
|
boats
|
books
|
cool ads
|
famous
|
futurism
|
food
gadgets
|
health
|
japan
|
internet
|
link latte
|
military
|
music
|
nature
|
photo
|
russia
|
steampunk
sci-fi & fantasy
|
signs
|
space
|
technology
|
trains
|
travel
|
vintage
|
weird
|
abandoned