"QUANTUM SHOT" #62




"The galaxy is expanding - Probably to get away from this planet."

I know, I know, there are tons of these posters (check'em out here or you can even create your own on this site)... but this bunch should de-motivate you faster and more thoroughly. You should be cleansed of all and any enthusiasm in no time flat: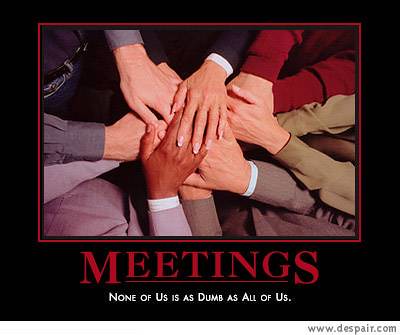 See more at Despair.com

a few posters related to blogosphere:




and finally, if by any chance you are still motivated to put out any effort, you can be assured you will most certainly fail - and then you'll need the following script, or list of answers:

TOP 20 REPLIES TO CLIENTS
- FOR PROGRAMMERS
(when when their programs don't work)

20. "That's weird..."

19. "It's never done that before."

18. "It worked yesterday."

17. "How is that possible?"

16. "It must be a hardware problem."

15. "What did you type in wrong to get it to crash?"

14. "There is something funky in your data."

13. "I haven't touched that module in weeks!"

12. "You must have the wrong version."

11. "It's just some unlucky coincidence."

10. "I can't test everything!"

9. "THIS can't be the source of THAT."

8. "It works, but it hasn't been tested."

7. "Somebody must have changed my code."

6. "Did you check for a virus on your system?"

5. "Even though it doesn't work, how does it feel?

4. "You can't use that version on your system."

3. "Why do you want to do it that way?"

2. "Where were you when the program blew up?"

1. "It works on my machine"

Source jdstorer2

Permanent Link
RECENT ARTICLES:
"Dark Roasted Blend" - All Kinds of Weird and Wonderful Things, Discovered Daily!"
DRB is a top-ranked and respected source for the best in art, travel and fascinating technology, with a highly visual presentation. Our in-depth articles in many categories make DRB a highly visual online magazine, bringing you quality entertainment every time you open your "feed" reader or visit our site -
About DRB
Connect with us and become part of
DRB on Facebook
,
Twitter
,
Pinterest
,
Instagram
,
Google Plus
; make sure to subscribe to our
updates
.
YOUR COMMENTS:
:
READ OTHER RECENT ARTICLES:
CATEGORIES
:
Feel-Good!
|
airplanes
|
animals
|
architecture
|
art
|
auto
|
boats
|
books
|
cool ads
|
funny pics
|
famous
|
futurism
|
food
gadgets
|
health
|
history
|
humour
|
japan
|
internet
|
link latte
|
military
|
music
|
nature
|
photo
|
russia
|
steampunk
sci-fi & fantasy
|
signs
|
space
|
sports
|
technology
|
trains
|
travel
|
vintage
|
weird
|
abandoned