"QUANTUM SHOT" #60
Link - by Avi Abrams
4. Supertanker Knock Nevis/ Jahre Viking - big ship with a big story

(Photo collection Dag Bjerke, via Supertankers)

This is the king of all supertankers, and possibly the biggest ship ever constructed (see French tankers on page 1, competing for this title). However, it is certainly the BIGGEST SHIP still in operation (albeit as a "floating storage and offloading unit" only). There is also a larger-than-life story associated with that ship.

First of all, it had more pseudonyms than Alexandre Dumas:
- "Seawise Giant"
- "Porthos"
- "Happy Giant"
- "Jahre Viking"
- "Knock Nevis"

Built in Japan in 1979 for a Greek shipping magnate, who went bankrupt shortly thereafter, she was sold to the Hong Kong owner, who promptly increased her length even more. In 1981 "The Seawise Giant" was born, biggest among ships.

To give you some idea of her size, compare with London's Tower Bridge:




... with Empire State Building and Eiffel Tower:




At first, she operated between the Middle East and the USA but from about 1986 she was used as a floating storage ship and transhipment terminal in Iran during the Iran-Iraq War. In May, 1988, the ship was attacked and heavily damaged by bombs dropped from Iraqi jets while lying at the Iranian Hormuz terminal in the Strait of Hormuz. Check out the fire and damage photos here. Extensively damaged, she sank in the shallow waters there.

But the story does not end here. Miraculously, she gained a second life and a full restoration! "The Sea Wise Giant", or what remained of her, was bought by a Norwegian company, re-floated, and towed to the Keppel shipyard in Singapore. After major conversions and repairs she was relaunched in 1991 first as the "Happy Giant", and then as the "TT Jahre Viking". Here is a photo of restoration (click to enlarge):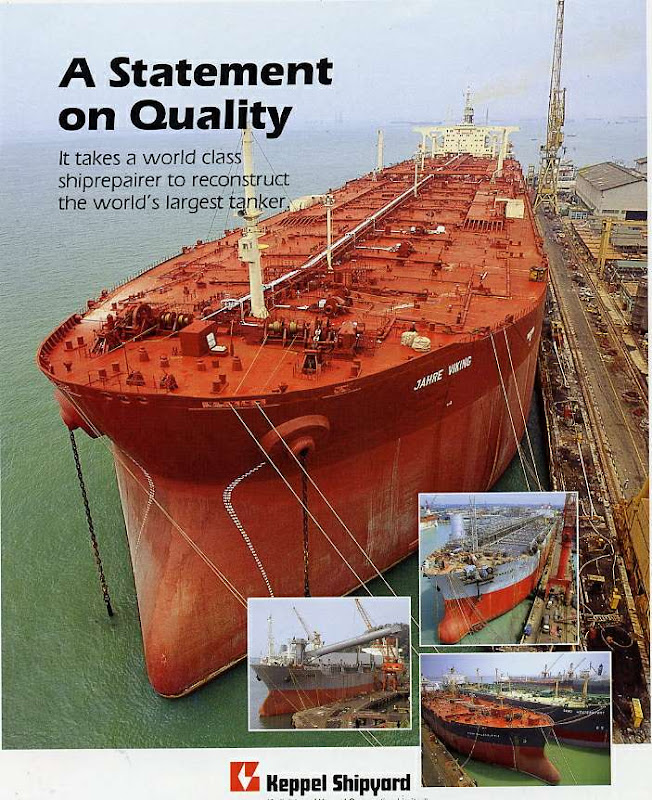 In March 2004, the ship was sold again and sent by her new owner to the Dubai shipyard to be refitted as a floating storage and offloading unit (FSO). There, she was given her current name, "Knock Nevis". On the following photos we see her arrival at the docks - the final sea voyage of the great and legendary ship: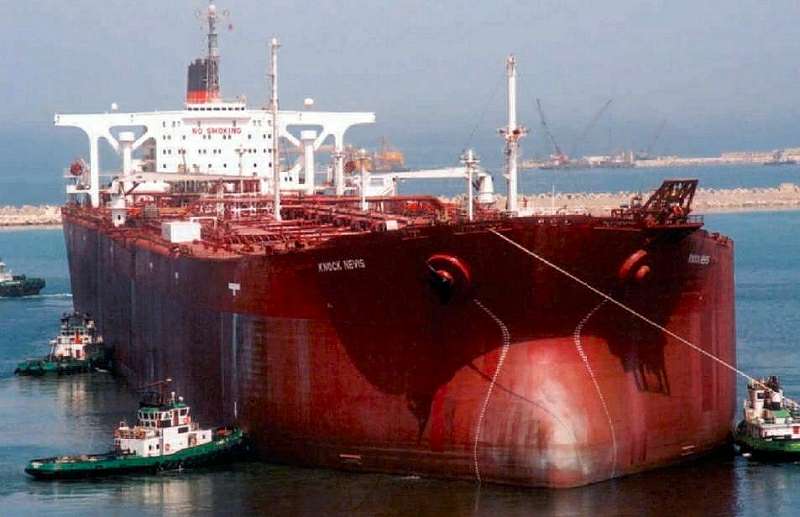 Sources: Wikipedia, The Tribune.


The Heart of a Giant

Take a look at the biggest diesel engine in the world: these technological marvels are required to move such huge ships as the Knock Nevis, or the Emma Maersk (discussed in Part 3)




CONTINUE TO PART THREE ->

Page 3: Huge Container Ships Harass Small Tugboats!

READ THE WHOLE SERIES HERE ->


RECENT ARTICLES:
"Dark Roasted Blend" - All Kinds of Weird and Wonderful Things, Discovered Daily!"
DRB is a top-ranked and respected source for the best in art, travel and fascinating technology, with a highly eclectic presentation. Our in-depth articles in many categories make DRB a valued online magazine, bringing you quality info and entertainment every time you visit the site -
About DRB
Connect with us and become part of
DRB on Facebook
and
Twitter
.
YOUR COMMENTS:
:
READ OTHER RECENT ARTICLES:
CATEGORIES
:
Feel-Good!
|
airplanes
|
animals
|
architecture
|
art
|
auto
|
boats
|
books
|
cool ads
|
famous
|
futurism
|
food
gadgets
|
health
|
japan
|
internet
|
link latte
|
military
|
music
|
nature
|
photo
|
russia
|
steampunk
sci-fi & fantasy
|
signs
|
space
|
technology
|
trains
|
travel
|
vintage
|
weird
|
abandoned