"QUANTUM SHOT" #21(rev)
Link - by Avi Abrams



A "Batmobile" That Never Was: Alfa Romeo B.A.T. Series, 1953-1955

Jaw-Dropping. That's the best way to describe these four-wheeled winged wonders. "Startling", "futuristic" and "mind-blowing" would work, too. This visually arresting trio of Berlinetta Aerodinamica Tecnicas - B.A.T. for short - were as radical in their day as the original Lamborghini Countach.

Judging from these photographs, B.A.T.5 looked remarkably like the Batmobile, but it was never intended to be one. It did, however, become a symbol of the dynamism and daring in postwar Italian design - a beauty to behold.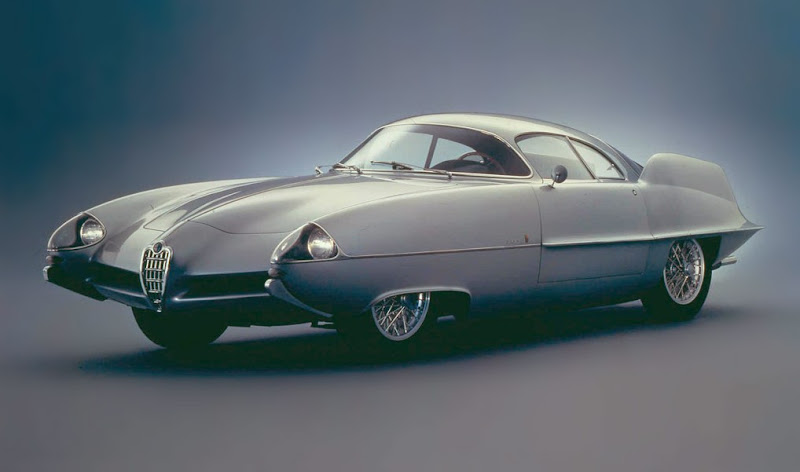 (images via Supercars)

Each year between 1953 and 1955, Bertone and Alfa Romeo presented a BAT concept at the Turin Autoshow: the BATs 5, 7 and 9. 1955 saw the final Bertone design for the B.A.T. project - a series of prototypes which displayed the peak of styling and runaway creativity. "The B.A.T. 9 did away with the marked wing lines of the previous models in favour of a cleaner, more sober lines" (more info).



(images via 1, 2, 3)

The concept behind the Berlinetta Aerodinamica Tecnicas was to make car's body as free of aerodynamic drag and turbulence as possible. "B.A.T. 7 was even more over-the-top than the B.A.T. 5, with wings that swooped in more toward the rear glass, a small fin running the length of the split-rear-window center section, and proportions even more startling than those of its predecessor".



(images via Supercars)

"The general design, proportions, and styling cues of the B.A.T. 9 were seen on a number of other Bertone design projects throughout the balance of the 1950s; these included a one-off Abarth 215 A coupe, Bertone's limited-production Alfa Romeo Sprint Speciale, and a one-off Maserati 3500 GT in 1959." (Supercars)

North American car designers also picked some clues from these Italian beauties; witness Virgil Exner's creation from 1960 - 1960 Ghia Selene II (see his other designs here) -



(images via Imperial Club)

As for the Alfa-Romeo's BAT cars, it's safe to say that the world never before or since witnessed such audacious design on a series of three unique cars, each appearing at the same show a year apart. Overall, the B.A.T.s were instrumental in bringing the Italian creativity in design to world's eager attention.


Another "Bat" has flown in 2008. An updated classic, still sporting wild original forms

Well, it seems that the world demanded "more of a good thing", and the Bertone Design firm lovingly obliged. This is a work of love, a statement, a new take on the old curvacious madness... but judge for yourself:
(more info)



(images via 1, 2)

Have another look at this original set of design eye-candies. Take your pick!



(image via)

CONTINUE TO "PININFARINA ALFA ROMEO" CONCEPT CARS! ->





RECENT ARTICLES:
"Dark Roasted Blend" - All Kinds of Weird and Wonderful Things, Discovered Daily!"
DRB is a top-ranked and respected source for the best in art, travel and fascinating technology, with a highly eclectic presentation. Our in-depth articles in many categories make DRB a valued online magazine, bringing you quality info and entertainment every time you visit the site -
About DRB
Connect with us and become part of
DRB on Facebook
and
Twitter
.
YOUR COMMENTS:
:
READ OTHER RECENT ARTICLES:
CATEGORIES
:
Feel-Good!
|
airplanes
|
animals
|
architecture
|
art
|
auto
|
boats
|
books
|
cool ads
|
famous
|
futurism
|
food
gadgets
|
health
|
japan
|
internet
|
link latte
|
military
|
music
|
nature
|
photo
|
russia
|
steampunk
sci-fi & fantasy
|
signs
|
space
|
technology
|
trains
|
travel
|
vintage
|
weird
|
abandoned