"QUANTUM SHOT" #48
Link - article by Avi Abrams



Beware: Creative Food can bite into YOU, for a change

As you've seen in our previous parts - The Pasta Monster (And Other Strange Food Art), Creative Food Manipulation, there are many creative cooks and artists out there who can turn your mundane lunch or dinner into an unforgettable experience.

Sometimes we wonder what sort of crazy Food Art Mr. Bean would create!? (after he's done eating these crustaceans in the French restaurant).




Culinary Carvings

... on cheese:




... with apple slices:




... with orange peels:




... egg shells:



(art by Kyle Bean)

The art of good sandwich:




It's a Pea, Pea World:




Waffles are great for creatively passing the time: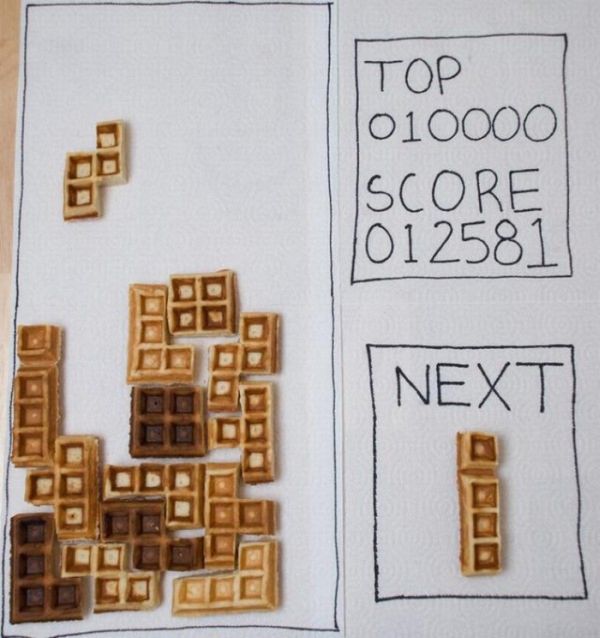 -------

Extraordinary, unheard-of food

Make your tomatoes GOLD (order it here):



(image via)

In the absence of ice cream, licking blocks of ice on a hot day (circa 1911):



(image credit: Shorpy)

Soft ice-scraper:




Japanese heart-shaped watermelons, costing $160 each - more info:




By the way, this is how such unusual fruit shapes are created (more info):



(image via)

More wonderful fruit dishes:




Eat it before it gets born! -



(original unknown)

For the miniature food sculptures, visit this link. Lovely little creations.

-------

Creative Oddities

The Whole Human (sealed and delivered to your food store):




Dog Bread & a very invasive spaghetti:




A real product: Cold-Blooded Ice Cubes -




Cookie Monster flash mob:




Jim's Pancakes site has a different pancake sculpture almost every morning:




Kitchen games:




Edible Cuties:




This "food" was born this way:




-------

Egg Drama




Egg-drama reaches new heights at "Nocturnal Moth" - see more here:



(image credit: Nocturnal Moth)

Chicken Run? How about Egg Run -




Mercilessly shot by the photographer Ryan Matthew Smith (his "Modernist Cuisine" series is exceptional, too):



(image via)

How would you like to face this egg holder in the mornings? -




or even worse... -



(art by Andrew)

All's well that ends well:




-------

Cake Drama... and other Feral Foods

It all starts with a double cake rainbow:




- or maybe a double-rainbow Jell-O deserts?



(original unknown)

Roswell UFO alien autopsy:




Marshmallow Drama (among many other great food scenes at Bent Objects, by Terry Border:



(image via)

Wonderfully creative Muppet cupcakes (see more here):



(image via)



(image credit: Andre Baumecker)

On a crime scene (art by Kevin Van Aelst):



(image credit: Kevin Van Aelst)

Feral food attack! -



(image via)

Outdoor Chtulhu sightings:




- and indoor ones:




-------

Dishes Suitable to Weird Food

A hungry dish:




A dish of... something:




An awesome drinking straw:



(original unknown)

-------

Groovy Vintage Foods Section

Beer & BBQ ruled in the 1950s, just as they rule now:




We're going to conclude with this helpful chart:



(original unknown)


CONTINUE TO OTHER PART OF THIS ARTICLE! ->

CHECK OUT THE REST OF "WEIRD FOOD" SERIES ->


RECENT ARTICLES:
"Dark Roasted Blend" - All Kinds of Weird and Wonderful Things, Discovered Daily!"
DRB is a top-ranked and respected source for the best in art, travel and fascinating technology, with a highly visual presentation. Our in-depth articles in many categories make DRB a highly visual online magazine, bringing you quality entertainment every time you open your "feed" reader or visit our site -
About DRB
Connect with us and become part of
DRB on Facebook
,
Twitter
,
Pinterest
,
Google Plus
; make sure to subscribe to our
updates
.
Our mobile site:
http://mobile.darkroastedblend.com
. You can also read us on iPad, as part of the
Flipboard
popular free app.
YOUR COMMENTS:
:
READ OTHER RECENT ARTICLES:



Creation and Destruction of Sand Mandalas

Profound Art Ritual Reflecting the Sanctity of Our Lives



Funny Sports Update

Underwater Ice Hockey, Extreme Stunts, etc.(Pics)



The New Motor, or the Steam-Powered Messiah

The strange, true tale (plus some wicked cyberpunk art)



Machines Alive! The Whimsical Art of Boris Artzybasheff

Is it a dream, or a nightmare?



Automated Musical Instruments

Music Robots: No Performer Necessary



American Supersonic Airliners:
Race for a Dream

Supersonic Marvels, Largely Forgotten Today



Pulp Pleasures: Eando Binder

"Where Eternity Ends" and other rare gems



Epic Fantasy: the Start of the Journey

Part 2 of our "Best Classic Fantasy" series



Strange Shadows: Best Classic Fantasy

Fantasy "Glitches in the Matrix", Epic Lands, and more!


DRB Feel-Good
Happy Holidays from DRB!

2014 Feel-Good Issue, Part 2


DRB Feel-Good
Christmas Feel-Good Special

Happy Holidays and Great New 2014 Year from DRB!



Epic Space Fiction by Alastair Reynolds

"Nostalgia for Infinity", indeed



Cinerama: "The Next Big Thing That Was"

Curved screens, gigantic projectors & "out-of-this-world" picture


DRB Series
Magnificent Fractals (DRB Series)

Probably the Most Spectacular Collection of Fractals on the Web



Fractals For Food

If You Eat This, Will It Make You Better At Math?



Three-Dimensional Mechanical Fractals

Don't stare at them for too long, or your brain will capsize!



Pre-Fractal Art

Stunning Examples of Fractal Art in History



A Codebreaker's Dream: The Bombe!

"The Bombe" vs. "The Enigma" code battle



Extremely Weird Bus Stops & Shelters

Wildly bizarre bus stop "creations"



Incredible Balancing Acts & Tightrope Walking

Up on the Roof: Not for the Faint of Heart



The Creepiest Mannequins

Serious Halloween Scares and Frights



Wildly Funny Frogs

Frogs in their "moments of weakness"



World's Strangest Vehicles, Part 5

The Truly Bizarre Car Zoo!



Deadliest Creatures (that are Easiest to Miss)

Real terror lurks in quiet darkness



"Music For... What?" Weird Album Covers

Music for Vacuuming, and much much more!



World's Strangest Vehicles, Part 4

Sheer Auto Adrenaline!
CATEGORIES
:
airplanes
|
animals
|
architecture
|
art
|
auto
|
boats
|
books
|
cool ads
|
funny pics
|
famous
|
futurism
|
food
gadgets
|
health
|
history
|
humour
|
japan
|
internet
|
link latte
|
military
|
music
|
nature
|
photo
|
russia
|
steampunk
sci-fi & fantasy
|
signs
|
space
|
sports
|
technology
|
trains
|
travel
|
vintage
|
weird