"QUANTUM SHOT" #356
Link - by Avi Abrams


Enhancing natural landscapes with "super"-natural light

This article is not about a "Painter of Light" Thomas Kinkade, but rather about less-established and extremely talented photographers, who use dynamic electric light patterns to enhance nature's given landscapes and bleak industrial urban-scapes.

Almost invariably, something luminous and strangely mesmerizing is thus brought "to light", transforming the photograph into an entirely different experience - and making our hearts beat faster.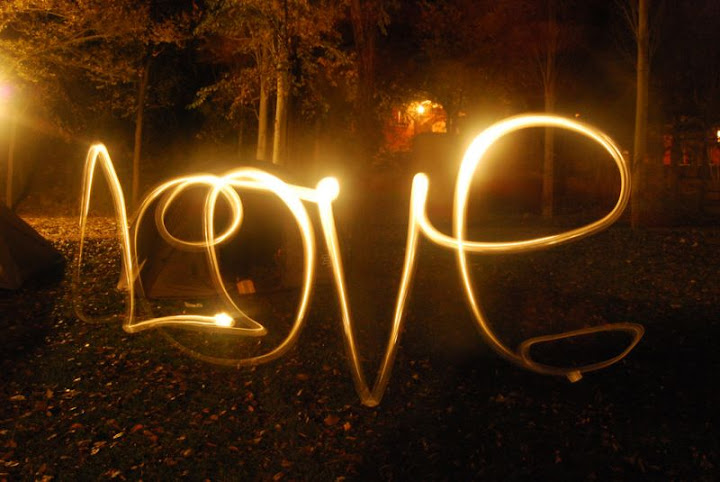 (image credit: Manu Caminero)

It all started with Eric Staller

Eric Staller is a sculptor more known for his permanent art installations in public places, but even more impressive is his experimentation with light. His light drawings and sculptures date as far back as the late 1970s (being definitely in-line with disco-era sensibilities). He was perhaps the first photographer to paint light into the live urban environment: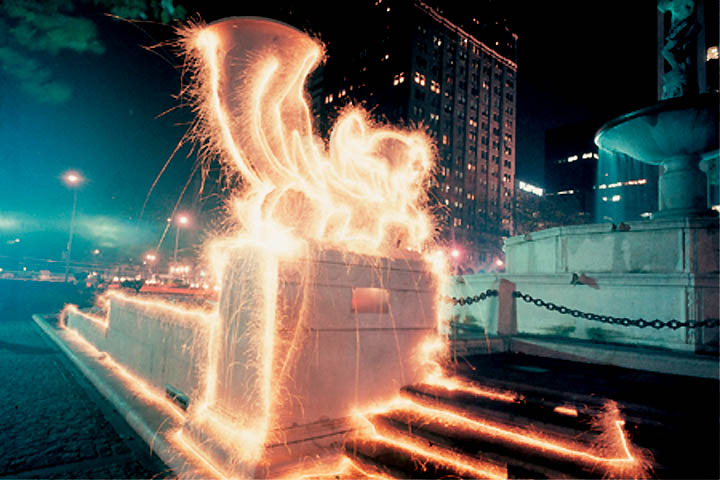 (image credit: Eric Staller)

No Lens, Only Intricate Light

Alan Jaras (aka "Reciprocity") captures surreal refraction patterns of light, passing through molded plastic. Amazingly, these photos were made the "natural way", without the use of a camera lens, or any retouching by Photoshop. His flickr photostream is one of the most interesting and adventurous on the web.



"Spicules of Light" by Alan Jaras



"Captured in Light" and "Molten Light" by Alan Jaras

"Normally black and white, these photos feature colours added directly into the plastic"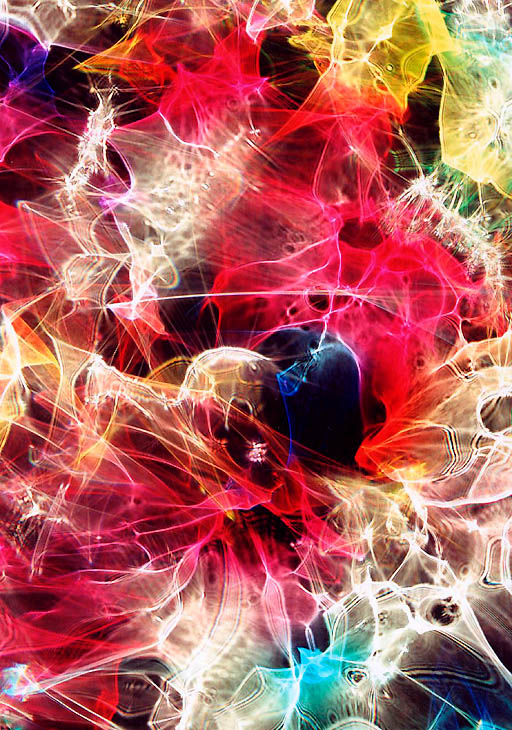 "Complexity of color" by Alan Jaras


Light Among the Ruins

Abandoned buildingds and often ghastly places achieve a new license to life with these urban light explorations. The nameless artists responsible for the following "graffitis of light" perhaps live somewhere nearby and make their creative statement by turning ugly venues into canvases of "cleansing" light:



(original unknown, via Encounter)


Some other examples of "painting with light":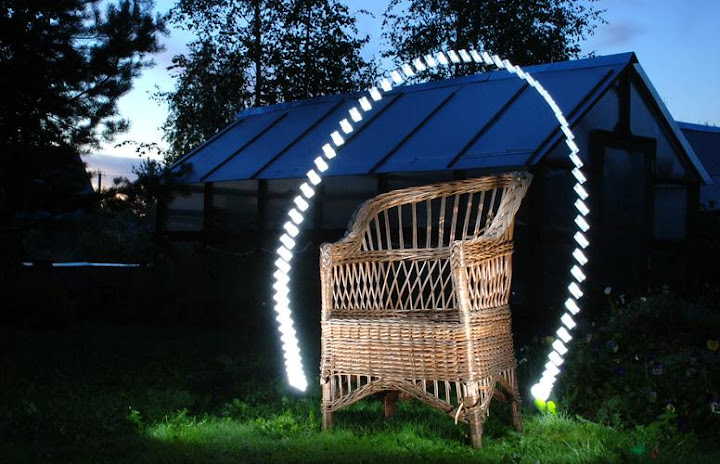 (image credit: Sashnone)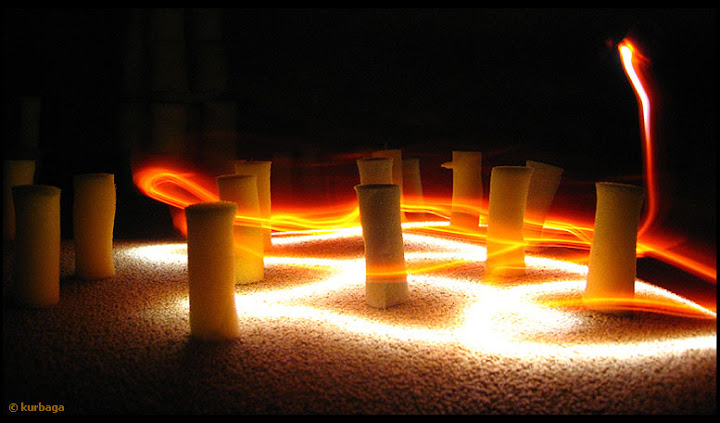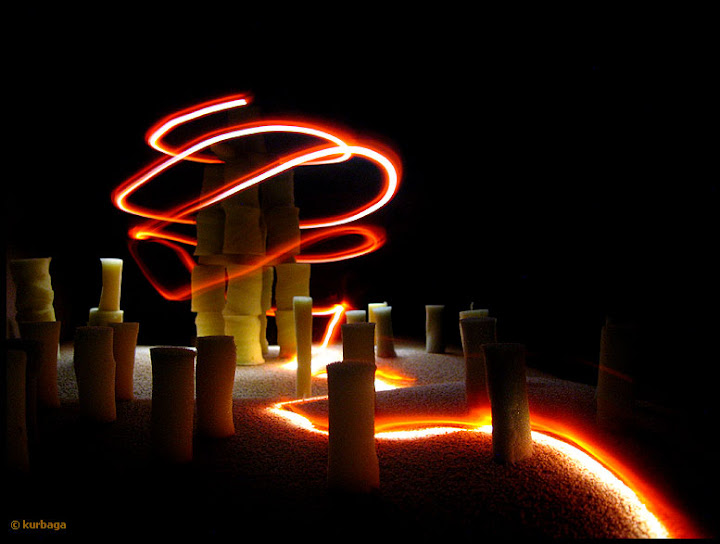 (image credit: Kurbaga)



(original unknown)


Mystery and Melancholy of a Street

These positively "heavenly" apparitions were created by the LICHTFAKTOR group. We already wrote once about their work, but it seems that angels of creativity continue to bestow their visitations upon this enlightened urban clan. They go into the night and return with transcendental glowing swirls... like these ones: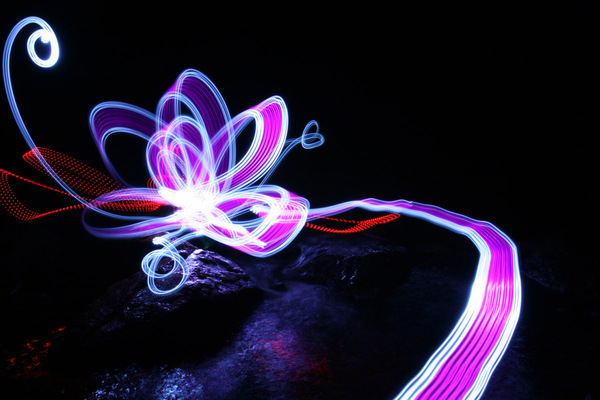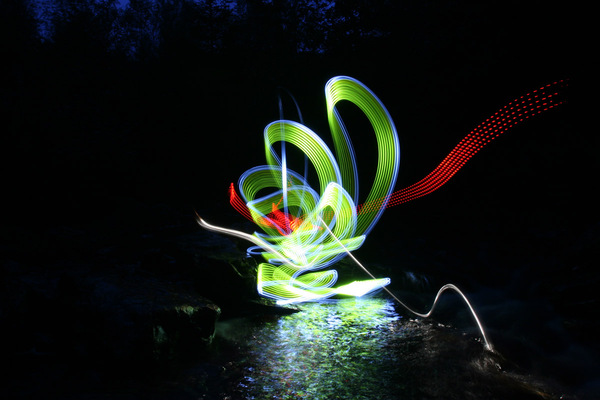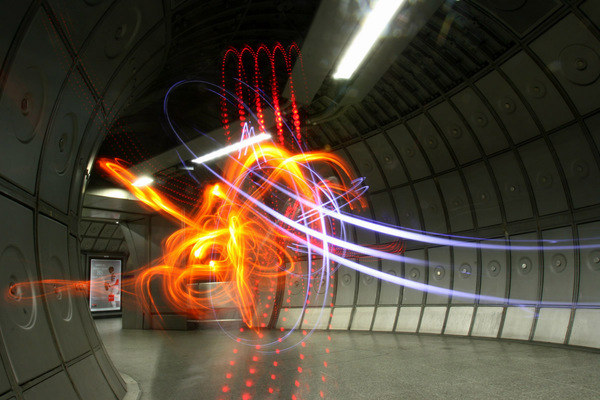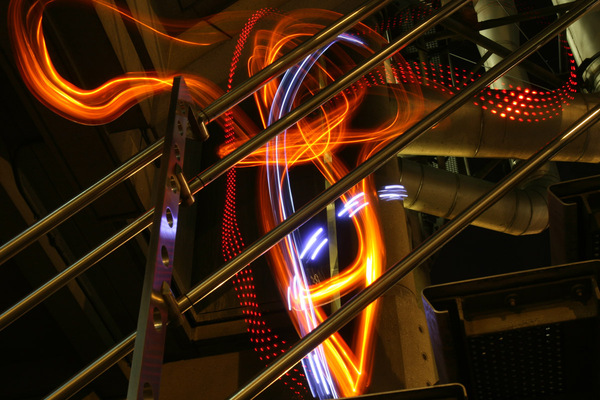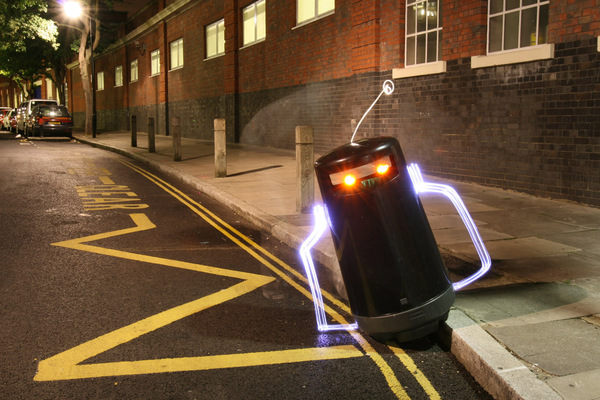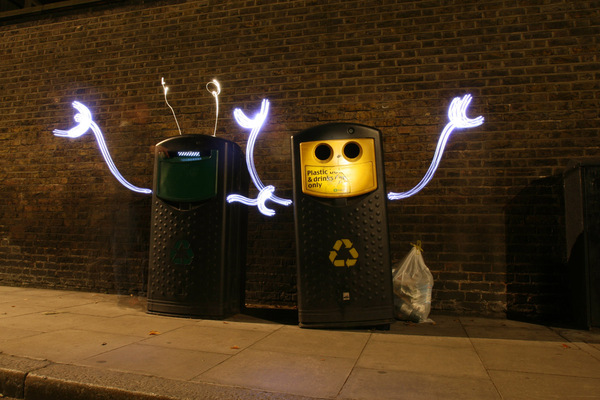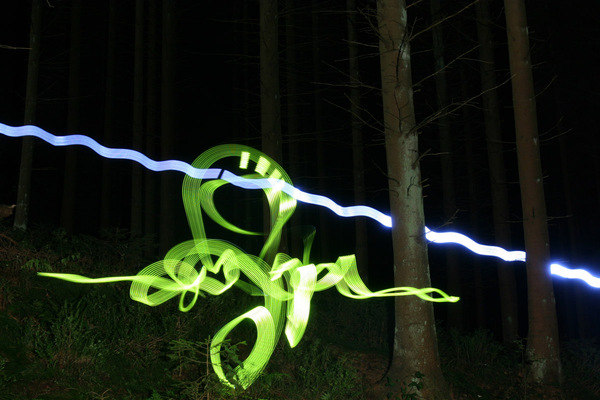 (images credit: LICHTFAKTOR)


Spiritual Glow

Dean Chamberlain takes the inherent glow that all mysterious worship places evoke in our heart, and makes it alive on your computer screen. His temple & palace interiors are both uplifting and mystifying: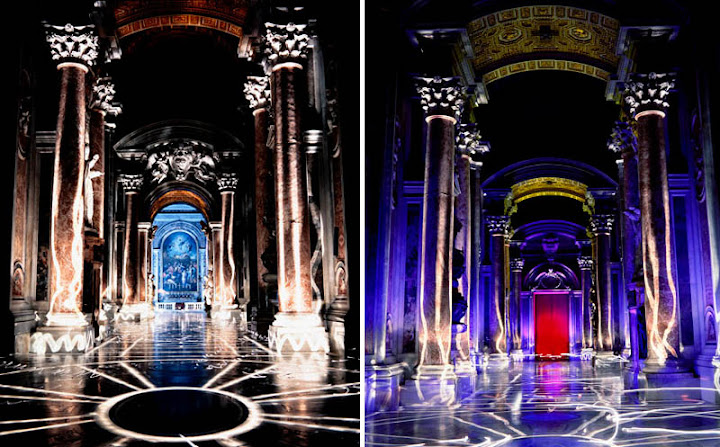 There is a certain sanctity in other places, too -
in a bedroom: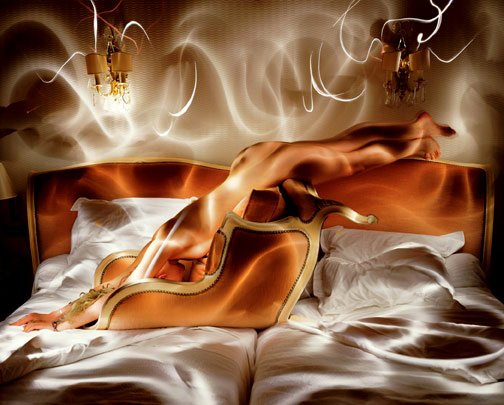 in a forest: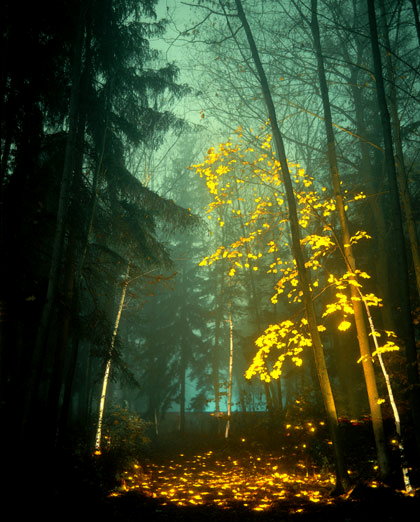 (images credit: Dean Chamberlain)


Seaside Transformed

It's impossible not to fall in love with the sea and the coast when seeing marvelous photography by Toby Keller, aka BurnBlue. His light painting technique is often subtle, and it's hard to tell where the natural light ends and the "super"-natural light begins. Waves provide the long-exposure for the soft glow, and a deep blue ghost-like apparitions seem to lure us, mere mortals, toward their magical portals, and into the infinite light: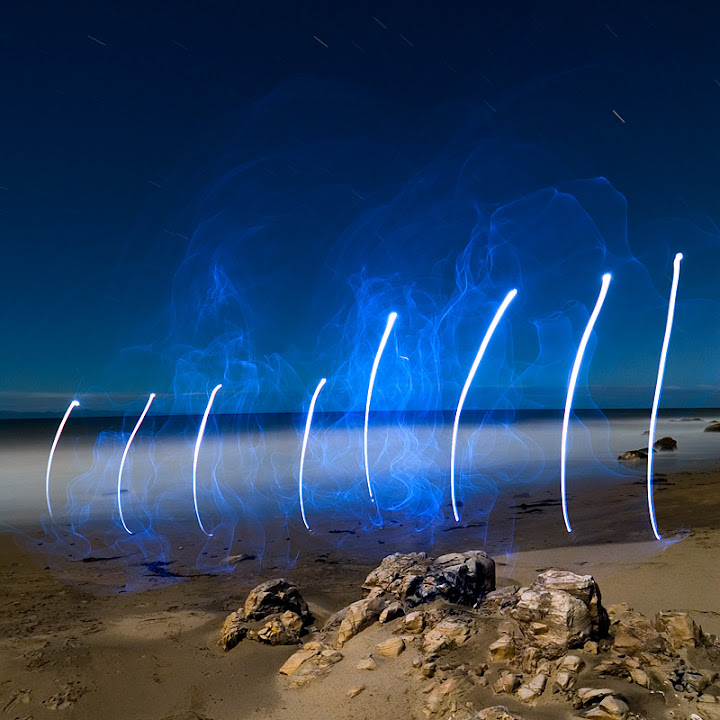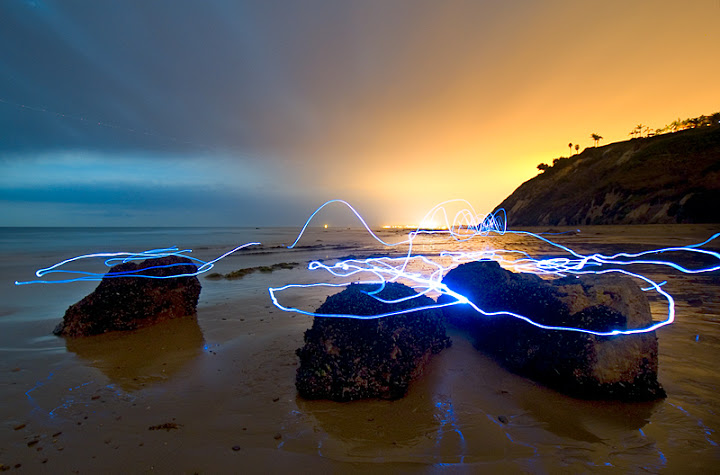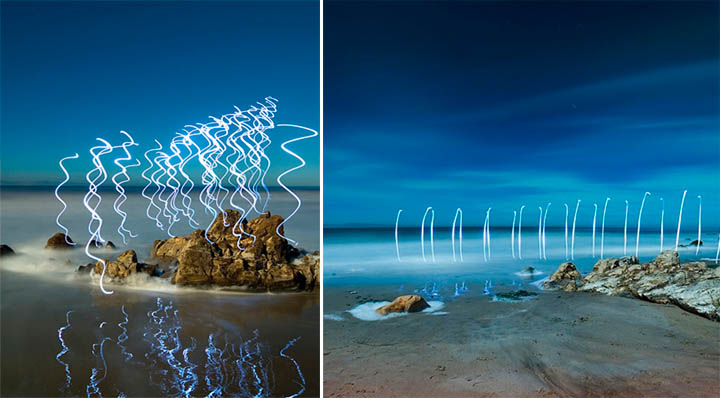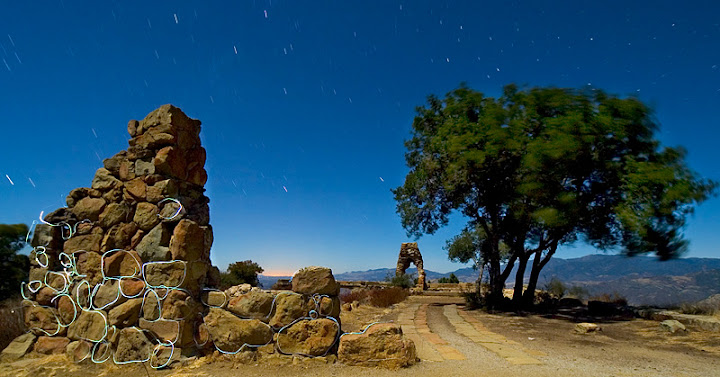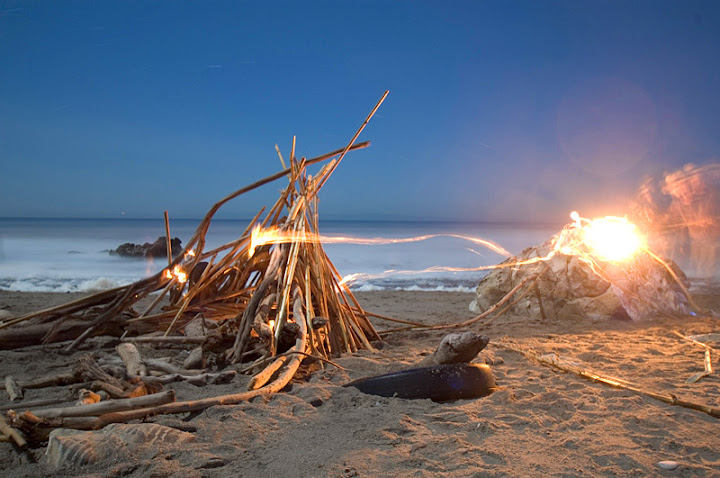 Apparition in progress: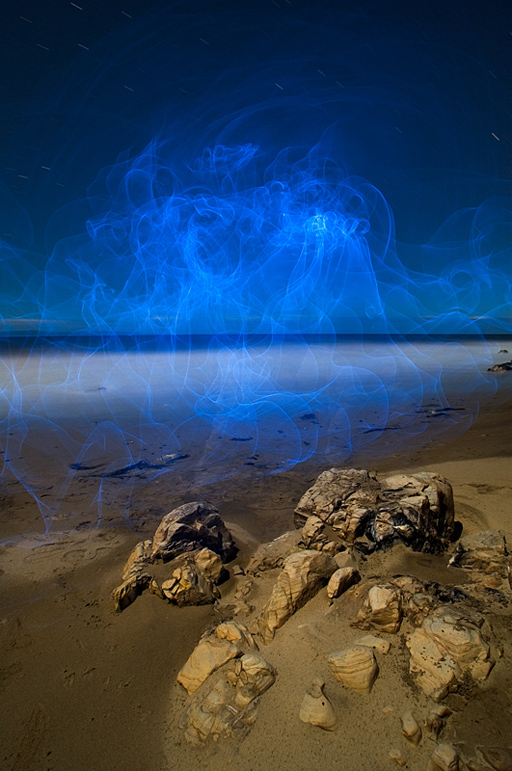 And yet, no matter how skillful you are as a painter, natural light is still the winner. Here is very evocative shot of moonlight at sea: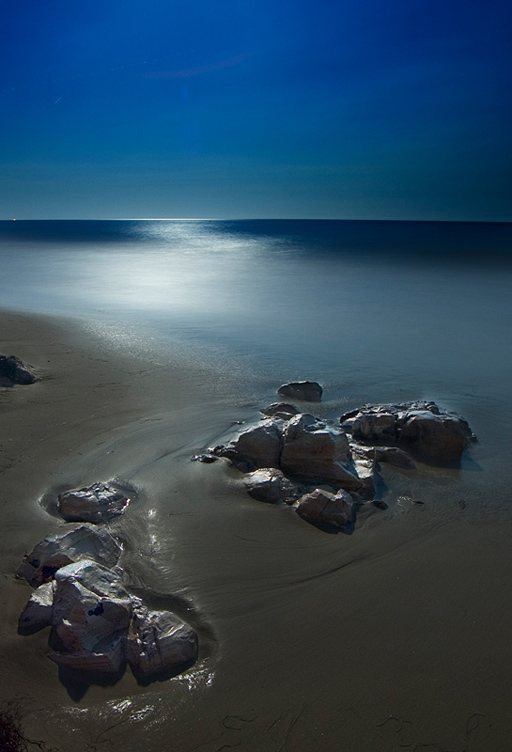 and a riot of colors during sunset: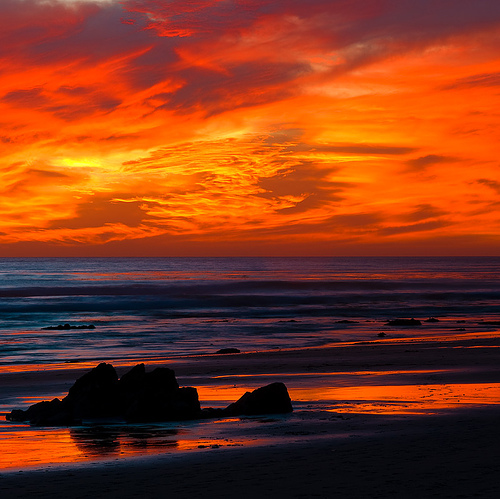 (images credit: Toby Keller)

See many other Toby Keller's light "paintings" here and on flickr.

Also see "GRAFFITI SHOWCASE" ->


Permanent Link...
...+StumbleUpon
...+Facebook

READ RECENT POSTS:
"Dark Roasted Blend" - All Kinds of Weird and Wonderful Things, Discovered Daily!"

DRB is a top-ranked and respected source for the best in art, travel and fascinating technology, with a highly visual presentation. Our in-depth articles in many categories make DRB a highly visual online magazine, bringing you quality entertainment every time you open your "feed" reader or visit our site.

Connect with us and become part of DRB on Facebook, Twitter, Pinterest, Google Plus; make sure to subscribe to our updates.

Our mobile site: http://mobile.darkroastedblend.com. You can also read us on iPad, as part of the Flipboard popular free app.


COMMENTS:
:
READ MORE RECENT POSTS:



Extremely Weird Bus Stops & Shelters

Wildly bizarre bus stop "creations"



Incredible Balancing Acts & Tightrope Walking

Up on the Roof: Not for the Faint of Heart



The Creepiest Mannequins

Serious Halloween Scares and Frights



Wildly Funny Frogs

Frogs in their "moments of weakness"



World's Strangest Vehicles, Part 5

The Truly Bizarre Car Zoo!



Deadliest Creatures (that are Easiest to Miss)

Real terror lurks in quiet darkness



"Music For... What?" Weird Album Covers

Music for Vacuuming, and much much more!



World's Strangest Vehicles, Part 4

Sheer Auto Adrenaline!



World's Most Curious Ephemera, Part 2

The Art of Luggage Labels, etc.



World's Most Curious Ephemera

Pieces of Paper that Intrigue & Inspire



World's Strangest Motorcycles

The Ultimate Unusual Bike Collection



World's Strangest Vehicles, Part 3

Cars that are... different



World's Strangest Vehicles, Part 2

Automotive wrongness, or the new kind of right?



"Vertical Grass" Art & Architecture

Transient Green Masterpieces



Huge Semi-Submersible Ships

Real-life "Sea Monsters & Giants of the Waves"



Steampunk Scooter & Other Machines by Arthur van Poppel

Jules Verne's Styled Music Submarines



Japanese Contemporary 2D Artists

Spectacular, complex, sophisticated



Japanese Creative Barcodes

"Barcode Revolution" is sweeping the world


Pic-of-the-Day
Great Space & Pulp Art by Norman Saunders

Damsels in distress, all over the time and space



Joystick Car Dashboards

Joyful, Joyful Joystick Driving!
CATEGORIES
:
airplanes
|
animals
|
architecture
|
art
|
auto
|
boats
|
books
|
cool ads
|
funny pics
|
famous
|
futurism
|
food
gadgets
|
health
|
history
|
humour
|
japan
|
internet
|
link latte
|
military
|
music
|
nature
|
photo
|
russia
|
steampunk
sci-fi & fantasy
|
signs
|
space
|
sports
|
technology
|
trains
|
travel
|
vintage
|
weird