"QUANTUM SHOT" #351
link


Echoes of Fun, Silence of Decay

The day the music stopped, the fun ended, the rides halted and the gate closed up for good - that day the park fell into the brooding silence, deep and desolate, yet fraught with echoes and afterimages of former joy.

Specters of happy crowds, romancing couples, over-active children, memories of devil-may-care atmosphere and addictive/indulgent food - all came to haunt the place, seemingly stronger with every passing year. As the forest grew and reclaimed its own, the grounds were sinking deeper into the "loud silence", a sentimental oblivion, leaving behind a tangible presence of the past, and a longing... and bringing scores of urban explorers to sample its past glory and savor its present decay.

Okpo Land in South Korea

Southern Korean island of Geoje holds the remains of Okpo Land park. Jon Dunbar sent us these photographs, full of suppressed (and sometimes all-too-obvious) weirdness: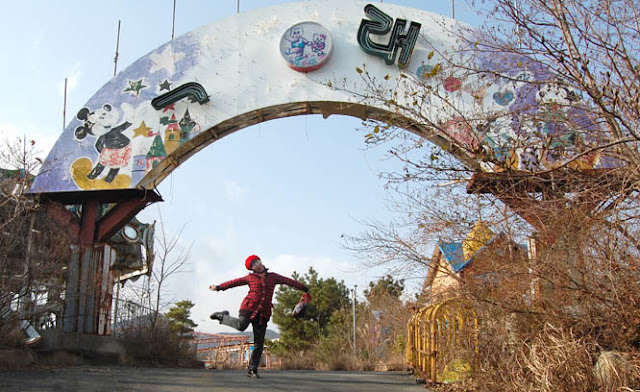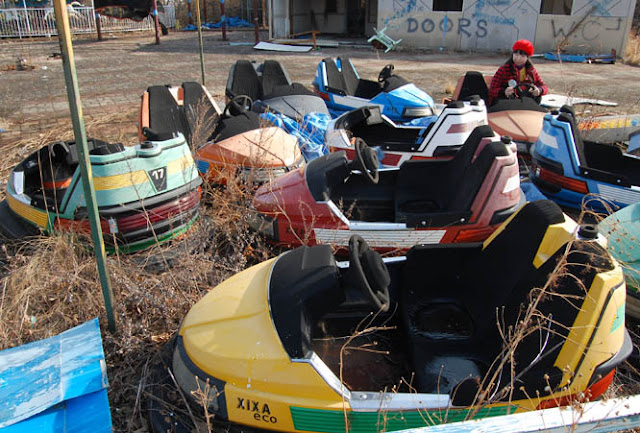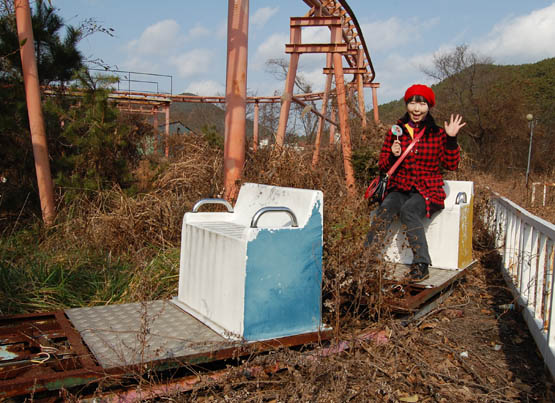 "This amusement park sits on a ridge on the edge of Okpo City (pop. 200 000) in Geoje Island, for all to see. It has been closed since 1999, when the park's second fatality-causing accident saw a young girl fall off a chick-shaped skybike. The owner of the park shut it down and never paid the girl's family a cent (or won)"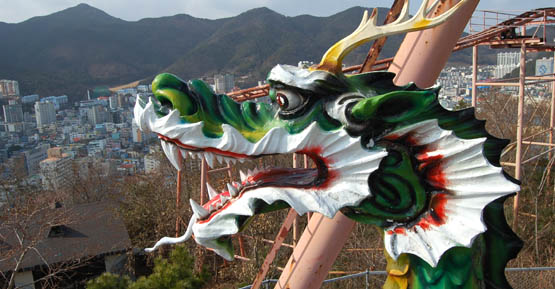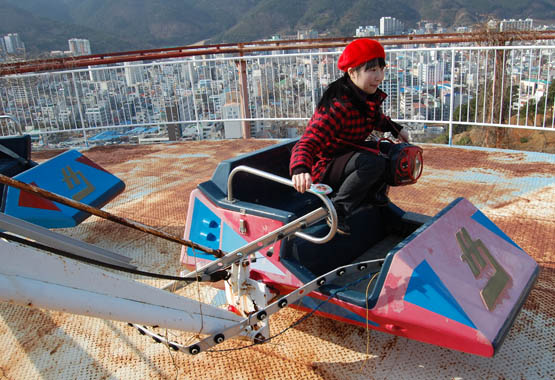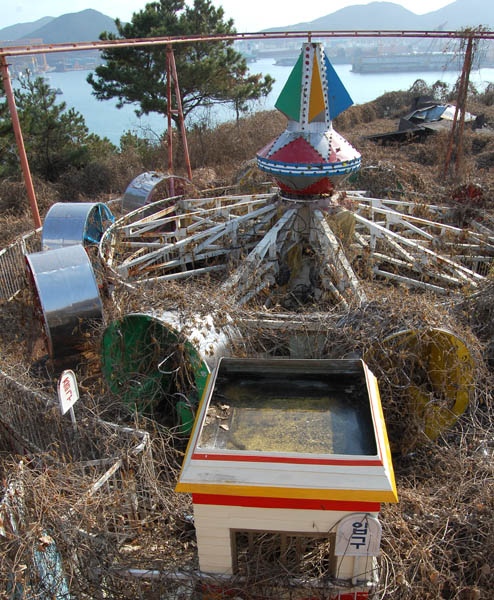 "I believe this is where the accident occurred, or at least this is the ride that killed her:"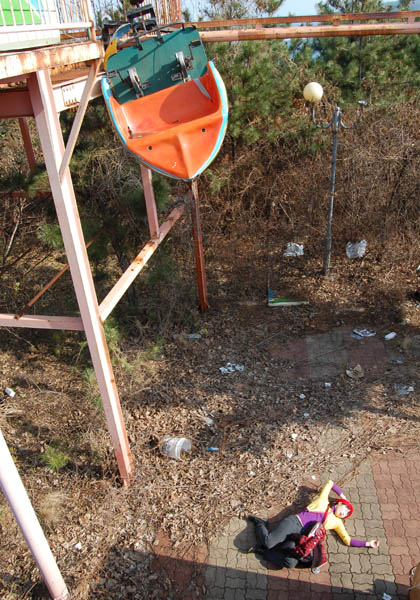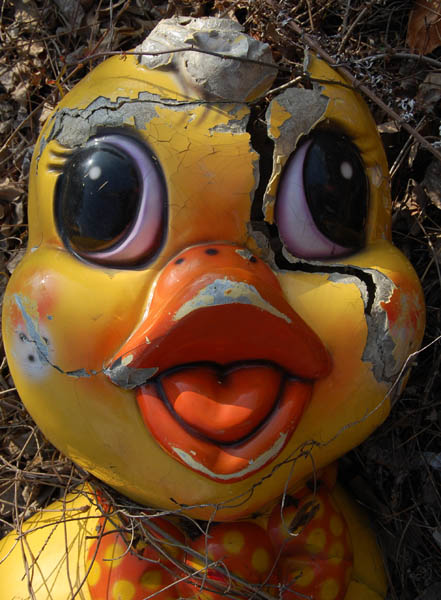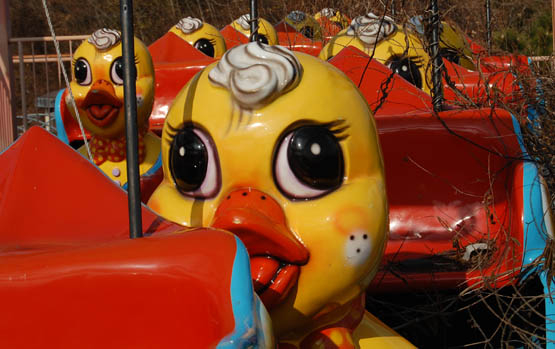 Taken from the highest point on the roller coaster: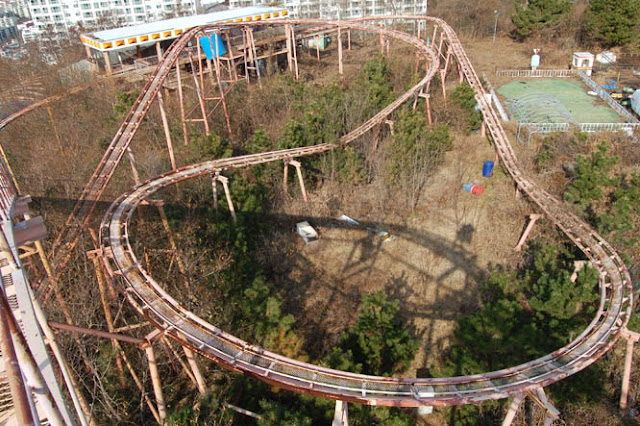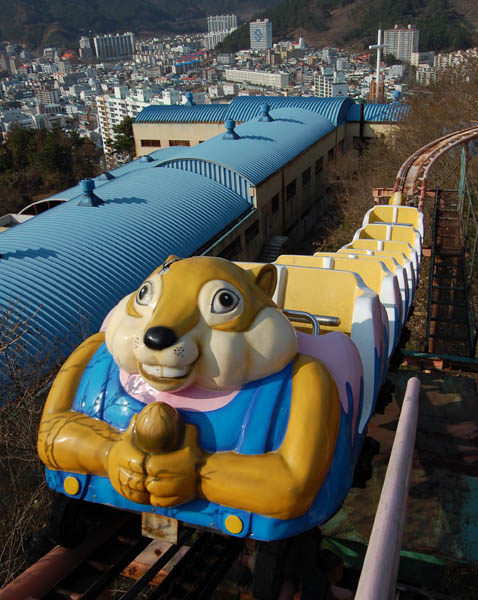 "The roller coaster was cute. Also, the building in the background turned out to be an abandoned swimming pool" -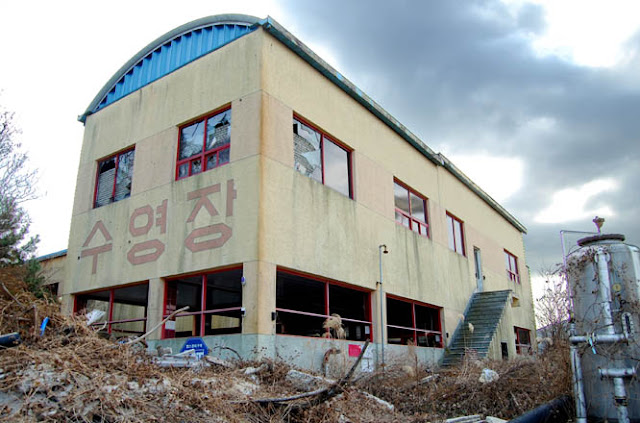 "Flying to the Moon never looked so impossible:"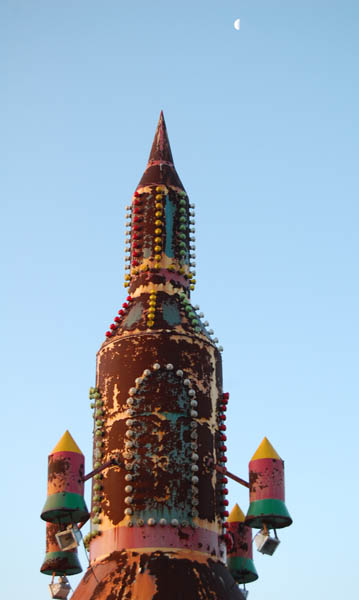 (images credit: John Dunbar)


Overgrown into the next dimension

Joel Styer has amassed quite a collection of abandoned or destroyed park properties in every state of the US. With his permission, here is probably the creepiest park of them all:

Chippewa Lake in Ohio

The following is a place you don't find too often - a forest growing THROUGH the roller coaster, and the roller coaster itself, being made out of wood, growing, blending, merging with the forest into a magical haunted whole.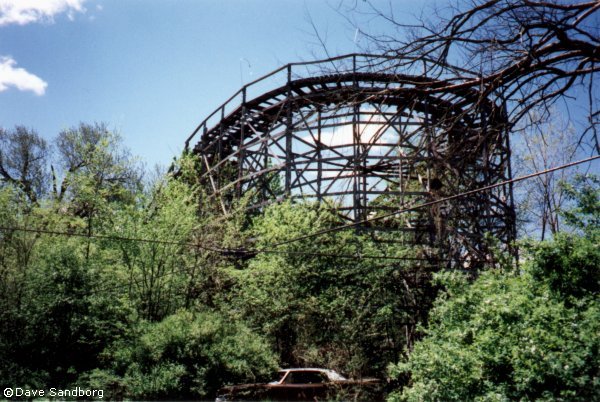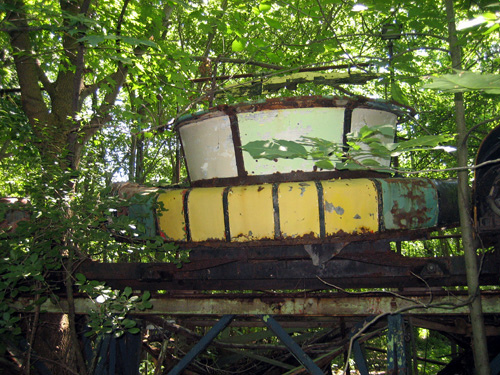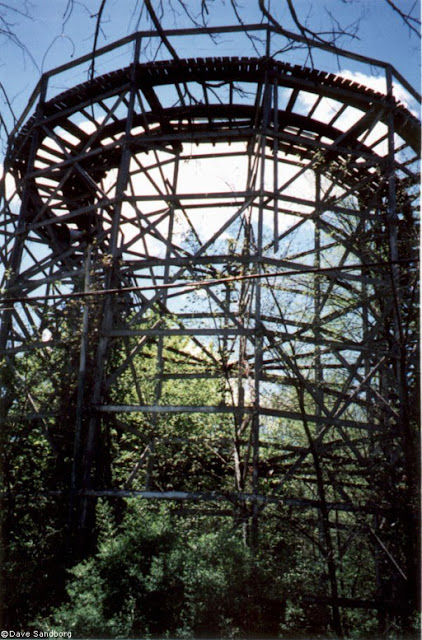 Closed down since the late 70s, due to the fire, this fascinating overgrown park was home to three roller coasters, including the wooden coaster, built in 1924 by Fred Pearce. Other rides were pretty rare as well, for example, The Tumble Bug (only three in the US and one in the UK). Today the park looks like something Ewoks would have enjoyed, a shady green Ewok's paradise.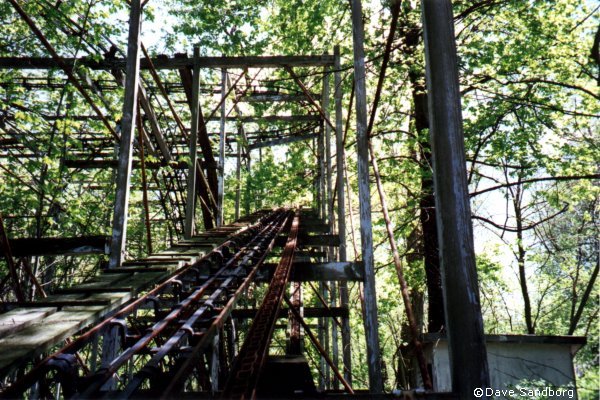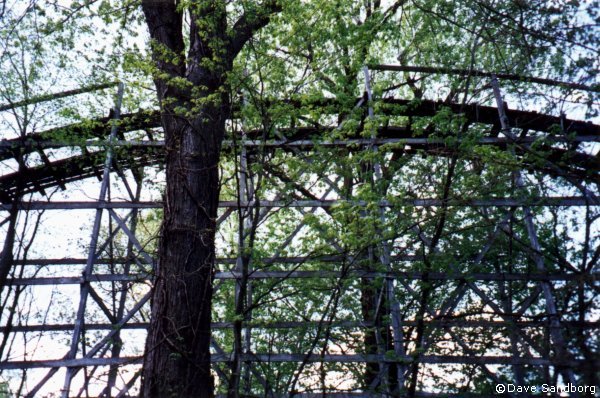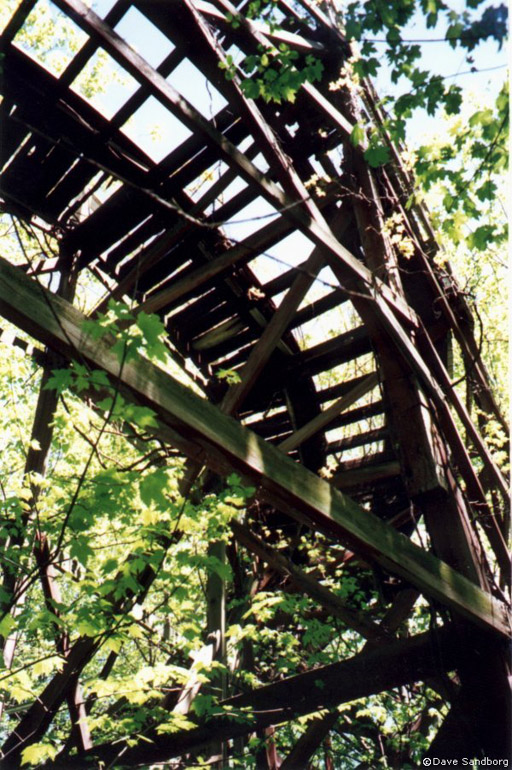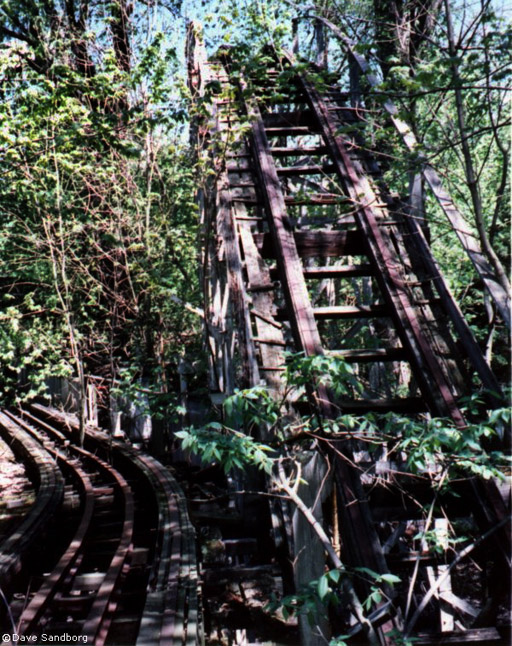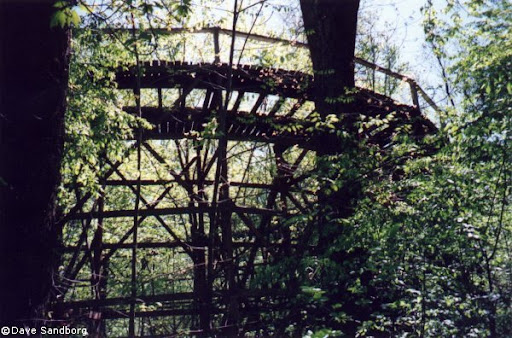 The brake run: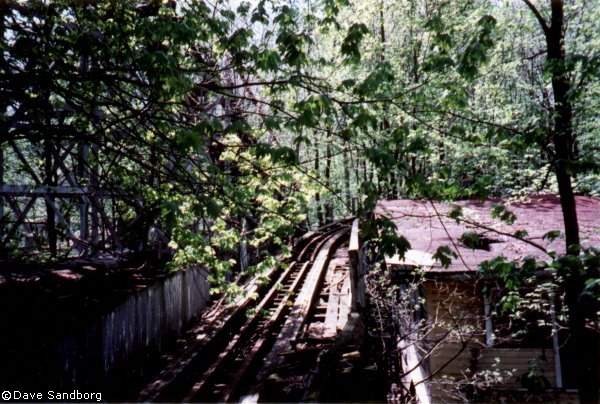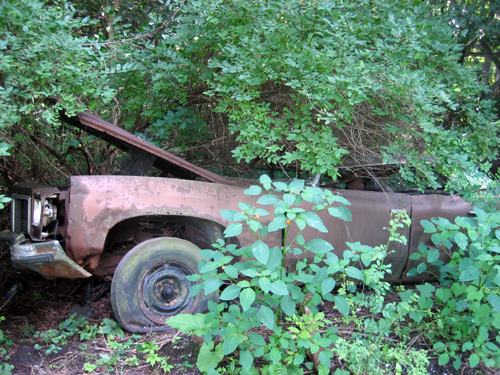 The ferris wheel peeks out of the tree growth. Squirrels love it.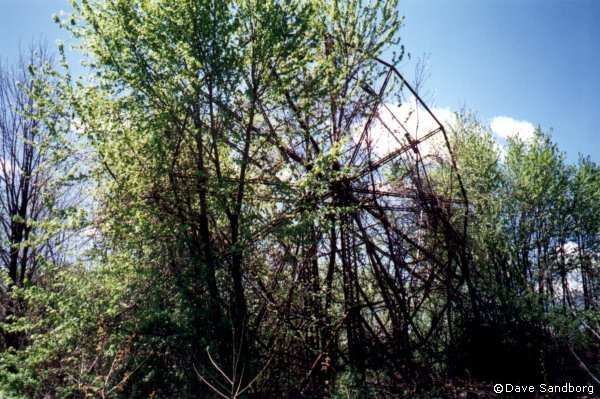 (images credit: David Sandborg)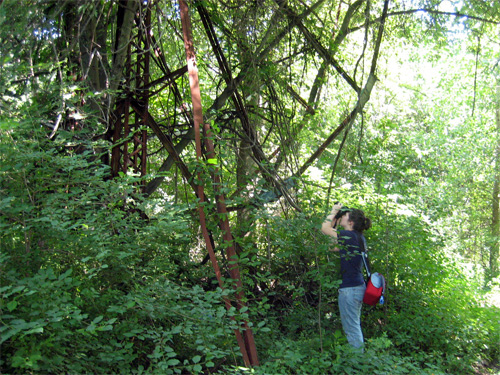 Post-apocalyptic imagery aside, it's also amazing how much growth occurred in only 30 years of abandonment: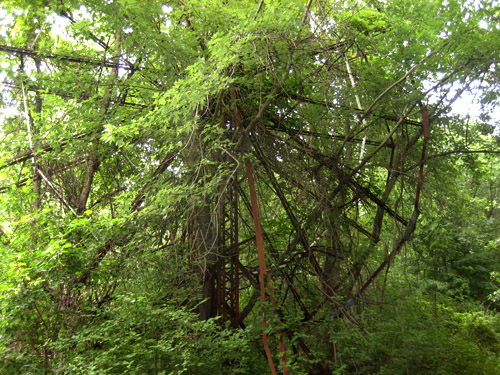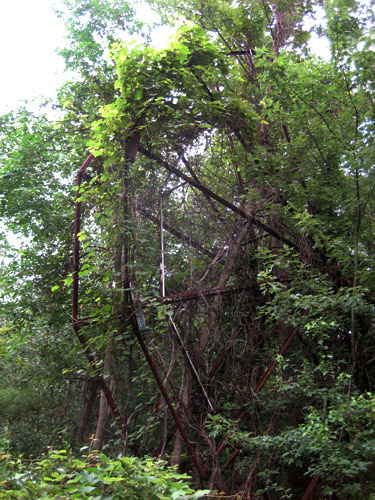 (images credit: Penelope Jonze)


Out of Place, Out of Time

Not in Japan, but in Spain, in Tarragona's forest stands this powerful 10-meter-high statue of Mazinger Z.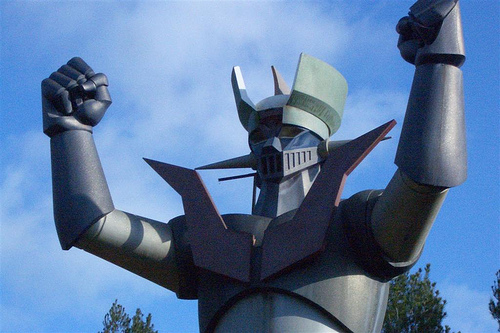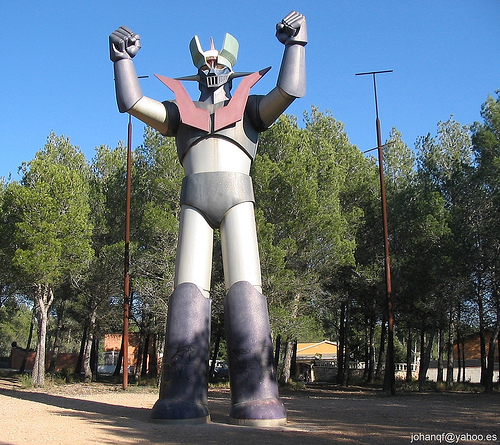 (image credit: johanqf)

Mazinger Z is a robot colossus from famous Japanese manga, it was known in the US under the name Tranzor Z. The statue was built at the time when Mazinger TV series was on the air - 25 years ago. Maybe somebody got so impressed with the show that he built the "life-size" model in his backyard? Well, actually there was supposed to be an amusement park with Mazinger at the entrance. The park was never built, but the statue still stands surrounded by the pine forest. The huge robot arms are raised in perpetual defiance of the stupid fate that put him here: at the wrong time, wrong place, and even wrong country.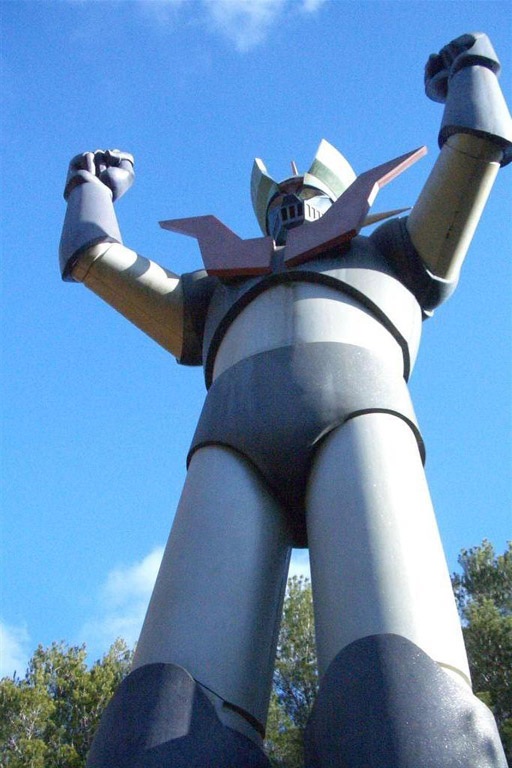 (image credit: Miquel)

It's big, but not as big as the "real" Mazinger Z supposed to be: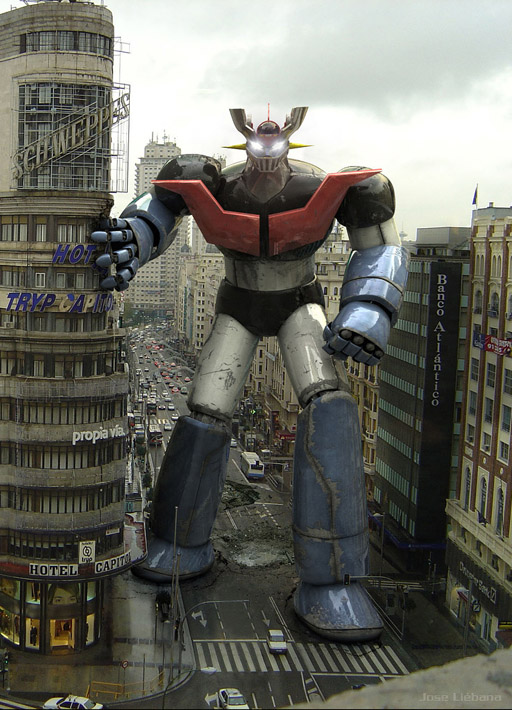 (artwork by Jose Manuel Liébana)

Other Sources: 1, 2

CONTINUE TO NEXT PART! ->



+StumbleUpon



Permanent Link...
Category: Travel,Vintage
Related Posts:
Rusting Monsters of the Lopatino Mines
World's Wildest Roller Coasters
RECENT ARTICLES:
"Dark Roasted Blend" - All Kinds of Weird and Wonderful Things, Discovered Daily!"
DRB is a top-ranked and respected source for the best in art, travel and fascinating technology, with a highly visual presentation. Our in-depth articles in many categories make DRB a highly visual online magazine, bringing you quality entertainment every time you open your "feed" reader or visit our site -
About DRB
Connect with us and become part of
DRB on Facebook
,
Twitter
,
Pinterest
,
Google Plus
; make sure to subscribe to our
updates
.
Our mobile site:
http://mobile.darkroastedblend.com
. You can also read us on iPad, as part of the
Flipboard
popular free app.
YOUR COMMENTS:
:
READ OTHER RECENT ARTICLES:



Creation and Destruction of Sand Mandalas

Profound Art Ritual Reflecting the Sanctity of Our Lives



Funny Sports Update

Underwater Ice Hockey, Extreme Stunts, etc.(Pics)



The New Motor, or the Steam-Powered Messiah

The strange, true tale (plus some wicked cyberpunk art)



Machines Alive! The Whimsical Art of Boris Artzybasheff

Is it a dream, or a nightmare?



Automated Musical Instruments

Music Robots: No Performer Necessary



American Supersonic Airliners:
Race for a Dream

Supersonic Marvels, Largely Forgotten Today



Pulp Pleasures: Eando Binder

"Where Eternity Ends" and other rare gems



Epic Fantasy: the Start of the Journey

Part 2 of our "Best Classic Fantasy" series



Strange Shadows: Best Classic Fantasy

Fantasy "Glitches in the Matrix", Epic Lands, and more!


DRB Feel-Good
Happy Holidays from DRB!

2014 Feel-Good Issue, Part 2


DRB Feel-Good
Christmas Feel-Good Special

Happy Holidays and Great New 2014 Year from DRB!



Epic Space Fiction by Alastair Reynolds

"Nostalgia for Infinity", indeed



Cinerama: "The Next Big Thing That Was"

Curved screens, gigantic projectors & "out-of-this-world" picture


DRB Series
Magnificent Fractals (DRB Series)

Probably the Most Spectacular Collection of Fractals on the Web



Fractals For Food

If You Eat This, Will It Make You Better At Math?



Three-Dimensional Mechanical Fractals

Don't stare at them for too long, or your brain will capsize!



Pre-Fractal Art

Stunning Examples of Fractal Art in History



A Codebreaker's Dream: The Bombe!

"The Bombe" vs. "The Enigma" code battle



Extremely Weird Bus Stops & Shelters

Wildly bizarre bus stop "creations"



Incredible Balancing Acts & Tightrope Walking

Up on the Roof: Not for the Faint of Heart



The Creepiest Mannequins

Serious Halloween Scares and Frights



Wildly Funny Frogs

Frogs in their "moments of weakness"



World's Strangest Vehicles, Part 5

The Truly Bizarre Car Zoo!



Deadliest Creatures (that are Easiest to Miss)

Real terror lurks in quiet darkness



"Music For... What?" Weird Album Covers

Music for Vacuuming, and much much more!



World's Strangest Vehicles, Part 4

Sheer Auto Adrenaline!
CATEGORIES
:
airplanes
|
animals
|
architecture
|
art
|
auto
|
boats
|
books
|
cool ads
|
funny pics
|
famous
|
futurism
|
food
gadgets
|
health
|
history
|
humour
|
japan
|
internet
|
link latte
|
military
|
music
|
nature
|
photo
|
russia
|
steampunk
sci-fi & fantasy
|
signs
|
space
|
sports
|
technology
|
trains
|
travel
|
vintage
|
weird