"QUANTUM SHOT" #297
Link


Cars that are... different

Read previous Part 2 and Part 1

Some are ugly, some are more than ugly, crossing into hideous, some are better looking and possibly better designed than most modern cars - you get all ends of the spectrum here. Since our last article in this series, we've received many tips about the cars we would not know (or recognize) otherwise. There is no end to people's creativity when it comes to one of most treasured perks of civilization - the automobile.

Limos (and custom stretches) with identity disorders



- via Spiked Humor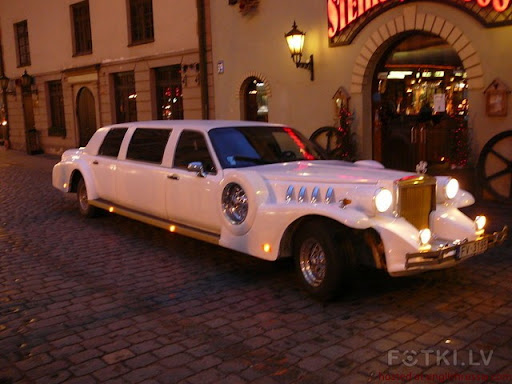 This super-limo from Japan (electric-powered KAZ) is all about efficiency and performance, but looks like a mutated caterpillar with a few legs missing. Read more about it here.




Speaking of extra wheels, this configuration seems to perform very well on a racetrack:



(image credit: keskustelu.plaza.fi)


Off-Roading Beasties

"This abomination was seen at the Star of Texas Fair & Rodeo"
(sent in by Greg Hewgill)




4-axle SUV (looks like it's a confident rock-climber)





"Big Foot" in Orlando, Florida:

1996 Ford F250 pickup body with a 460 cu inch V8 for power. Bigfoot weighs 28,000 lbs (12700 kg) and stands 15 feet 6 inches tall. The enormous tires are from an Alaskan Land Train, a vehicle used by the US army in the 1950's.



photo by Avi Abrams

Here is that Land Train (a most beautifully weird vehicle in itself)




Here is another cool-looking vintage off-road vehicle:
"Mobile Geological Laboratory" GEOLAB from 1970.
From "A Source Book of Unusual Vehicles" by Gordon and Marjorie Davies



(image credit: cdfarnsworth)

An all-electric off-road GEM is spaced-out ATV version, jacked up and ready to frolic in the dunes:



(images credit: autobloggreen)


Can't make a "strange vehicle" article without mentioning some little-known variations on SUV theme from Russia:




Rare Soviet van concept, 1966:




Another rare Russian concept
(they did not seem to take better pictures at that time in Russia)




On English Russia site there is a nice page about Leonid Brezhnev's exclusive all-wheel drive "Volga" modification. Only 5 copies of Gaz-24-95 have been made for the communist leader, who liked to use it for his hunt outings in the country.




In our own archives we found this mysterious Russian concept:
(it seems to be amphibious, too)




Trust the Russians to mix a tractor with a sports car:





Holland produced some weirdest looking cars, too - this is the first Dutch post-war car "Gatso":



(image credit: Modern Mechanix)





Coming back to modern times, there seems to be a new rage about canopied car/bike performance vehicles, at least in Europe:


Monotracer, the epitome of cool?

"MonoTracer" from the Swiss company Peraves (who also for many years built the iconic "Ecomobile") is a fun sporty vehicle. "Ferry Porsche once remarked that the last car to be built on earth would surely be a sports car. Monotracer is the perfect combination of a sporty touring motorcycle and a real "lean machine" sports car." It's a cabin motorcycle performance vehicle, with the only obvious drawback - the price. For 52,000 Euros you can also buy yourself an SLK. But they also promise the performance of Porsche 911.



(images credit: Peraves)

Acceleration 0-100 kph (0-62 mph) = 5.7 sec.
Top speed in excess of 250 kph. (155 mph)

Here is the older EcoMobile, quite popular in Switzerland (they have been around for 15 years). Eric Mortelmans tipped us of its existence and said that it was a fantastic experience to drive in one. The company covered 12 million miles on "Ecomobile" tours around the globe, crisscrossing USA without a single technical problem, if you believe the site.



(images credit: Micheal Moore (MaxPower))

Vehicles from the same school of thought as "Monotracer" - The Carver, which we mentioned in Future Tech 2. The Carver has been covered by Top Gear (who were absolutely ecstatic about it!) and has a pretty neat website.



(images credit: Carver)

The Dynamic Vehicle Control (DVC) automatically tilts the cabin, depending on the steering input, speed and acceleration of the vehicle, much like a motorcycle. See how it negotiates corners here.


Another iteration: "Acabion GTO" (see lots of pics here) Neat little airplane...er, bike. It's no joke - "Acabion" is technically the world's fastest production car at 342 mph!



(images credit: Autoblog)


"Mercedes" also weighs in on the concept: they unveiled F-300 LifeJet way back in 1997 at the Frankfurt International Motor Show:




Consider it a joke, but all these vehicles seem to stem from this futuristic golf cart:



(image credit: toy4bbws)

More strange roadster concepts:
Corbis "Merlin", 2001



(image credit: Kiel Bryant)

Here is an older one, but still futuristic looking:
"Modulo" from Pininfarina, 1970



(image credit: Kiel Bryant)

Tri-Magnum was offered as DIY kit "car" since 1983:



(images credit: Tri-Magnum)

----------
BIKES

Solar "Under"-Powered?

This one is powered by the solar batteries, and looks pretty good. Made by Spanish company SunRed, it uses a clamshell panel structure, which extends when the bike is parked and stores energy for the coming rides. The ride is pretty "exhilarating": 13 miles at (under-whelming) 30 mph.




This one is solar-powered AND fast:
(created by Marcel da Luz from Toronto)



(images credit: cbc.ca)

Bike / ATV hybrids

STi-ATV is admittedly the best improvement on Subaru Impreza that we've ever seen. Made in New Zealand by Ken Brough, it has a website, showing off that wonderful "kiwi" ingenuity.



(image credit: Ken Brough)

This also seems to be good tricycle concoction - a new scooter from Piaggio, Fuoco 500.



(Source: www.italscooter.net)


The Rapom V8 is the most powerful motorcycle in Britain and it runs on pure alcohol.

What a great selling line for an uber-macho-cool machine (with 1000 horse powers)! We're sold.



(images credit: dailymotos)

Another empowering bike:




Rough draft:




Comfortable?




Take your BBQ with you:




Normal bike, unusual biker:




This one is only a toy, we hope:





Weirdness Potpourri

There is something about this idea: combine an 18-wheeler with a convertible. Certainly makes a statement:




This is one hot tractor:





School buses are frequent victims of malicious customization:




Read more about this topsy-turvy bus here. Created by ever-amazing Tom Kennedy (see more auto-monsters on his site).


Wooden Wonder, Hentai-style:




The device to dirty up your legs:




Awww... cuteness:





Vehicles as Art

The beauty, as always, is in the eye of a beholder:
(real-life versions of the classic Hanna-Barbera "Wacky Races: cartoon)



(sent in by Laura Adler)

ring...ring...




Mercedes covered in pens? Yes, you heard right. The more pens, the merrier.
(see owner's website)



(image credit: Costas Schuler)

Car covered in computer keyboard buttons: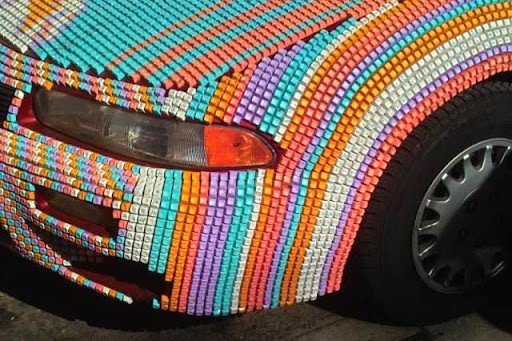 Bamboo-camouflaged WWII Willys Jeep:



(image credit: pia.gov.ph)

This modern Rinspeed eXasis looks like it can be made out of bamboo, too. It's marketed as "glass" car, however, with clear plastic body over insectoid aluminum frame.



Photo courtesy salon-auto.ch

What, another shoe car?





Product-branded (Promotional) cars

They are weird examples of "kitsch" art, marketing gone wrong. Seriously, would you re-consider your buying habits, looking at these gaudy creatures? There were lots made, most in a very questionable taste, but here are a few that we like (sort of..)

"Pep-O-Mint", 1918 driver sits in the middle of the "O":



(image credit: George W. Green)

"Zippo" sheer weirdness, based on Chrysler Saratoga New Yorker in 1947:
(complete with neon flames)



(image credit: hotrodsetc)



(image credit: Brian Shorey)



(image credit: Jake Petersen)

The following car is such a classic, that it transcends the "genre":
Planters made out of RV:



(image credit: prototypesource)

Neatorama documents more instances of marketing-inspired vehicle madness.


Other Creative Means of Transportation

Not necessarily cars, these wheeled beauties will bring you to your destination in all kinds of styles, with a good chance to attract a crowd of on-lookers.

This one is actually pretty neat. Subtitled "Surf Your Life!", this Easy Glider from Switzerland can revolutionize the commuting office crowd into a wild bunch of boarders:




And it costs only $1,023 USD!



(image credit: Easy Glilder)

What IS this thing?? - Well, turns out it's a "HyperBike". Powered by both arms and legs and capable of speeds of 50 mph.
See more here and here. (thanks, Maeks)




Car on Legs. Next we'll see some legs, mounted on a car.




Nice to have your car to come to you, bowing to "its master" and almost wiggling its tail.

Send us more ridiculous and cool vehicles you find around you.


CONTINUE TO PART FOUR! ->

Read previous Part 2 and Part 1



+StumbleUpon



Permanent Link...
Category: Auto,Weird
READ RECENT POSTS:
"Dark Roasted Blend" - All Kinds of Weird and Wonderful Things, Discovered Daily!"

DRB is a top-ranked and respected source for the best in art, travel and fascinating technology, with a highly visual presentation. Our in-depth articles in many categories make DRB a highly visual online magazine, bringing you quality entertainment every time you open your "feed" reader or visit our site.

Connect with us and become part of DRB on Facebook, Twitter, Pinterest, Google Plus; make sure to subscribe to our updates.

Our mobile site: http://mobile.darkroastedblend.com. You can also read us on iPad, as part of Flipboard popular free app, under "Cool Curators" category - see here.


COMMENTS:
:
READ MORE RECENT POSTS:
CATEGORIES
:
airplanes
|
animals
|
architecture
|
art
|
auto
|
boats
|
books
|
cool ads
|
funny pics
|
famous
|
futurism
|
food
gadgets
|
health
|
history
|
humour
|
japan
|
internet
|
link latte
|
military
|
music
|
nature
|
photo
|
russia
|
steampunk
sci-fi & fantasy
|
signs
|
space
|
sports
|
technology
|
trains
|
travel
|
vintage
|
weird