"QUANTUM SHOT" #48
Link - by Avi Abrams


1. Magnificient Guoliang Tunnel Road in China
- Road that does not tolerate any mistakes

In our popular post about "Top 5 Most Dangerous Roads in the World" we mentioned a few roads that imperil the lives of motorists, or just make it really miserable for them. The following roads did not quite make the list, but they continued to pop up in conversations around the world. These roads may not be "deadly" as such, but certainly require a keen concentration on driving, as the overbearing rock walls in many of them are not known to be a forgiving substance.



(images via 1, 2)

The road shown here is the Guoliang Tunnel in Taihang mountains (China). It has been built by villagers themselves, which is an inspiring story in itself:

"Before 1972, the path chiseled into the rock used to be the only access linking
the village with the outside world. Then the villagers decided to dig a tunnel through the rocky cliff. Led by Shen Mingxin, head of the village, they sold goats and herbs to buy hammers and steel tools. Thirteen strong villagers began the project. It took them five years to finish the 1,200-metre-long tunnel which is about 5 meters high and 4 meters wide. Some of the villagers even gave their lives to it. On May 1, 1977, the tunnel was opened to traffic."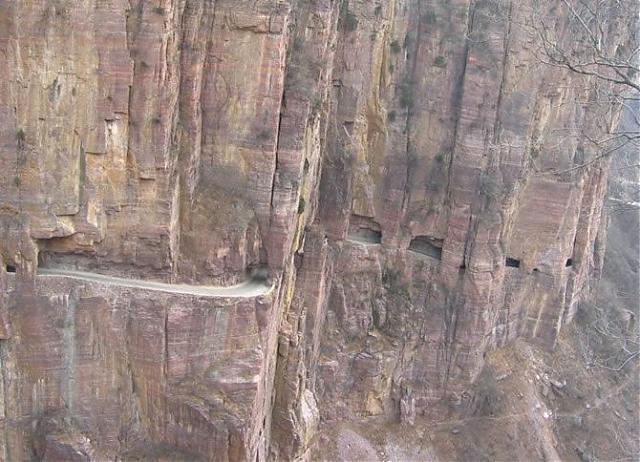 (images via 1, 2)

The wall of the tunnel is uneven and there are more than 30 "windows" of different sizes and shapes. Some windows are round and some are square, and they range from dozens of metres long to standard-window-size. It is frightening to look down from the windows, where strange rocks hanging form the sheer cliff above and a seemingly bottomless pit lying below. A village, opposite the tunnel, appears to hang on the precipice.



(images via)

Source: Link (this blog possibly first solved the mystery on the location of some popular photos). Also more photos are here


Taroko Gorge Road in Taiwan (Chungheng)

Another one of quite unforgiving roads, consisting of tunnels carved in the mountain rock:



(images via)


Pasubio (Vicenza), Northern Italy

This is an ancient road, converted to a hiking trail. Mountain bikers love it for the spectacular views, cool tunnels and hair-raising precipices... Some cars (presumably small italian kind) climb the hairpins to service the guesthouse built there.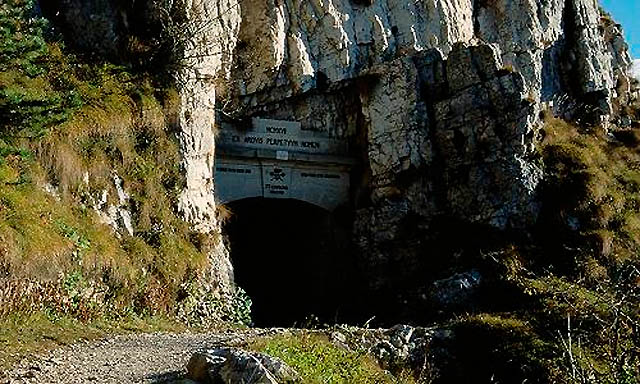 (images via)

CONTINUE TO PART THREE! ->

Click to read the whole series ->


Permanent Link...
...+StumbleUpon
...+Facebook

RECENT ARTICLES:
"Dark Roasted Blend" - All Kinds of Weird and Wonderful Things, Discovered Daily!"
DRB is a top-ranked and respected source for the best in art, travel and fascinating technology, with a highly visual presentation. Our in-depth articles in many categories make DRB a highly visual online magazine, bringing you quality entertainment every time you open your "feed" reader or visit our site -
About DRB
Connect with us and become part of
DRB on Facebook
,
Twitter
,
Pinterest
,
Google Plus
; make sure to subscribe to our
updates
.
Our mobile site:
http://mobile.darkroastedblend.com
. You can also read us on iPad, as part of the
Flipboard
popular free app.
YOUR COMMENTS:
:
READ OTHER RECENT ARTICLES:



Enchanting Waterfall Island

Like the Nagrand region in World of Warcraft


DRB Feel-Good
DRB Feel-Good Issue #16

Loads of cool and rare imagery



Auto Oops! Bizarre Car Accidents, Part 7

New batch of maddeningly mysterious wrecks



Mind-Blowing Optical Illusions, Part 6

"The soul has illusions as the bird has wings: it is supported by them"



Exceptional British 1950s Scifi Artwork

Quintessential Space Pulp Art by Ron Turner and others



Extreme Parenting & Wild, Wild Kids! Part 2

The Joys and Perils of Having Interesting Kids



Creation and Destruction of Sand Mandalas

Profound Art Ritual Reflecting the Sanctity of Our Lives



Funny Sports Update

Underwater Ice Hockey, Extreme Stunts, etc.(Pics)



The New Motor, or the Steam-Powered Messiah

The strange, true tale (plus some wicked cyberpunk art)



Machines Alive! The Whimsical Art of Boris Artzybasheff

Is it a dream, or a nightmare?



Automated Musical Instruments

Music Robots: No Performer Necessary



American Supersonic Airliners:
Race for a Dream

Supersonic Marvels, Largely Forgotten Today



Pulp Pleasures: Eando Binder

"Where Eternity Ends" and other rare gems



Epic Fantasy: the Start of the Journey

Part 2 of our "Best Classic Fantasy" series



Strange Shadows: Best Classic Fantasy

Fantasy "Glitches in the Matrix", Epic Lands, and more!
CATEGORIES
:
airplanes
|
animals
|
architecture
|
art
|
auto
|
boats
|
books
|
cool ads
|
funny pics
|
famous
|
futurism
|
food
gadgets
|
health
|
history
|
humour
|
japan
|
internet
|
link latte
|
military
|
music
|
nature
|
photo
|
russia
|
steampunk
sci-fi & fantasy
|
signs
|
space
|
sports
|
technology
|
trains
|
travel
|
vintage
|
weird