Hilarious Sports Pics!
"QUANTUM SHOT" #788
Link - article by Avi Abrams



Faster... Stronger... Higher... Funnier!!

So... did you get your share of funny sport pics from London Olympics yet?

This extensive, side-splitting compilation (part of our Funny Sports Series) should point you in the right direction: we divided the bulk of hilarious pictures into corresponding sport activities, and guess what? "Soccer" and "gymnastics" proved to be the most fruitful when it comes to funniest poses and face expressions. See for yourself!

Funniest Moments in Soccer & Rugby



(images via)

Jano Ananidze from Spartak, Russia, in explosive action:




...in the meantime in another corner of the field:




Ouch! -



(images credit: AP, via)

"Italy's Daniele De Rossi tackles Jay DeMerit of the U.S during their Confederations Cup soccer match at the Loftus Versfeld stadium in Pretoria, 2009":



(image credit: REUTERS/Siphiwe Sibeko)

"England Saxons' Tom Vardell is pulled down by United States' Junior Sifa, left, and Ata Malifa in the second half of a Churchill Cup pool play rugby match at Infinity Park in Glendale, Colorado, 2009" -



(image credit: AP Photo/Jack Dempsey)

Over and above -




Dutch keeper Edwin van der Sar at Euro 2008, Netherlands vs. Russia:



(image via)

A little oral hygiene is in order -




A Brazil fan at Holland vs. Brazil: World Cup 2010 quarter-final match -



(image via)

Optical illusions abound:




The odds are definitely stacked against the team on the right:




George Bush? George Bush! -




Chickens like soccer, too! -



(see more pics here)


Funniest Gymnastics

Australian Samuel Offord dismounts the parallel bars in the Gymnastics Team Final event at Commonwealth Games 2010 (left) and Olympic Gymnast Alicia Sacramone (right):



(images credit: AP, via)

I hope this is Photoshop (left). The girl is Daiane Garcia dos Santos, one of Brazil's most successful female gymnasts... On the right is just a creative advertisement for Freddy at Olympic Beijing 2008:




Something did not go well? -




I did not think such an arrangement was humanly possible... (German gymnasts at the World Games in Kaohsiung. See more such acrobatic gymnastics in this video) -



(image credit: SAM YEH/AFP)

And then this... -



(original unknown)

Grassroots gymnastics on Lisbon streets:



(image credit: Magdalena Szurek)

Some moments in basketball:




A significant effort:





Funniest Swimming

We love this one the best! -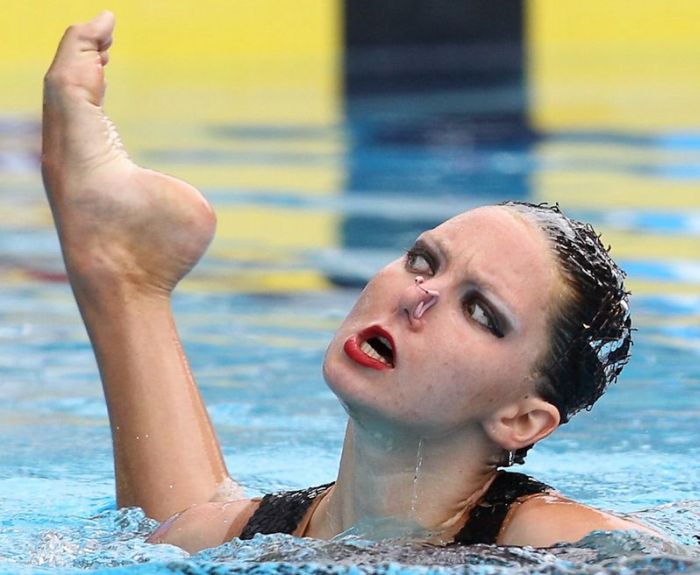 (originals unknown)

This mysterious water... -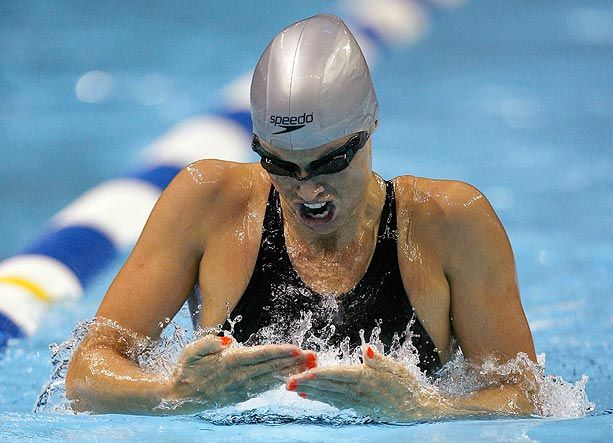 (top image credit: Reuters)

Surface tension makes it all the more interesting...

Article by Avi Abrams, Dark Roasted Blend.


CONTINUE TO HILARIOUS "KEEP YOUR EYES ON THE BALL" PICS! ->

CHECK OUT THE REST OF OUR POPULAR "FUNNY SPORTS" SERIES ->



RECENT ARTICLES:
"Dark Roasted Blend" - All Kinds of Weird and Wonderful Things, Discovered Daily!"
DRB is a top-ranked and respected source for the best in art, travel and fascinating technology, with a highly visual presentation. Our in-depth articles in many categories make DRB a highly visual online magazine, bringing you quality entertainment every time you open your "feed" reader or visit our site -
About DRB
Connect with us and become part of
DRB on Facebook
,
Twitter
,
Pinterest
,
Instagram
,
Google Plus
; make sure to subscribe to our
updates
.
YOUR COMMENTS:
:
READ OTHER RECENT ARTICLES:
CATEGORIES
:
Feel-Good!
|
airplanes
|
animals
|
architecture
|
art
|
auto
|
boats
|
books
|
cool ads
|
funny pics
|
famous
|
futurism
|
food
gadgets
|
health
|
history
|
humour
|
japan
|
internet
|
link latte
|
military
|
music
|
nature
|
photo
|
russia
|
steampunk
sci-fi & fantasy
|
signs
|
space
|
sports
|
technology
|
trains
|
travel
|
vintage
|
weird
|
abandoned