"QUANTUM SHOT" #661Link - by Andrew Bleiman & Avi Abrams


Go on a "cuteness binge" - and never regret it!

In you are on a quest for cuteness to brighten up your day, Zooborns is a great website, and now a book (and an exclusive DRB article to go with it, courtesy Andrew Bleiman) that just might brighten up your whole week, if not a month! It is full of the Cutest Baby Animals Born on Earth, and then some.

Actually, there are two books coming out with Simon & Schuster - all ages and young children version - both books include outstanding pictures of baby animals and make great gifts for adults who love animals or any child. I honestly believe that these are the cutest animal books ever created:

Tai & Pip, Red Panda Cubs from Edmonton Valley Zoo:



(Photo credits: Jesse Popowicz / City of Edmonton)

Amani the Baby Aardvark from Detroit Zoo:



(Photo credits: Detroit Zoo / Mark Gaskill)

Clouded Leopard Cub from Muséum National d'Histoire Naturelle:



(Photo credits: Muséum national d'Histoire naturelle)

Hoover the Tawny Frogmouth from SeaWorld Orlando, Florida:



(Photos credits: Jason Collier / SeaWorld Orlando)

Monifa the Pygmy Hippo from Taronga Zoo:



(Photo credits: Lorinda Taylor / Taronga Zoo)

Gentoo Penguins from Seaworld San Diego:



(Photos credits: Bob Couey / Sea World San Diego)

Hasani the Gorilla from San Francisco Zoo:



(Photo credits: George Nitikin / San Francisco Zoo)

Menari the Sumatran Orangutan:



(Photo credits: Bob MacLean / Audubon Zoo)

Bella the Beluga Whale from Shedd Aquarium:



(Photo credits: Shedd Aquarium / Brenna Hernandez)

Beco the Asian Elephant from Columbus Zoo:



(Photo credits: Graham Jones / Columbus Zoo and Aquarium)

Tahina the Crowned Sifaka Lemur, Museum Besançon:



(Photo credit: Museum Besançon)

Andrew Bleiman says: "I run Zooillogix but spend most of my time these days on my other site, Zooborns. We work closely with accredited zoos and aquariums around the country and share their new baby animals with world. While most folks come to our site for cute stuff, in the process we try to educate people about the ways zoo breeding programs support conservation efforts in the wild."

Asian small clawed otter... a brood or them? a four-pack?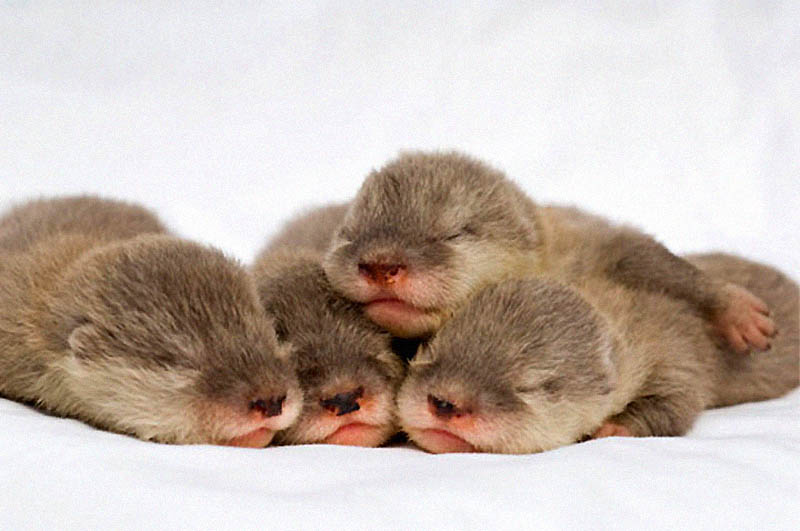 This anteater is not just tiny - it's almost "microscopic"! - and weighs only a triffle:




A Red Kangaroo:




There is a book version for all ages (left) and a version for young children (right):




Order them from Amazon (10% of all ZooBorns revenue from the books goes directly to the Association of Zoos and Aquariums Conservation Endowment Fund):
All Ages Version - Click Here
Young Children Version - Click Here

Become a fan on Facebook - click here - and be updated with this sort of cuteness every day!

CONTINUE TO "ANTEATER COOLNESS"! -

Read the rest of the "Funny Animals" series! ->


RECENT ARTICLES:
"Dark Roasted Blend" - All Kinds of Weird and Wonderful Things, Discovered Daily!"
DRB is a top-ranked and respected source for the best in art, travel and fascinating technology, with a highly visual presentation. Our in-depth articles in many categories make DRB a highly visual online magazine, bringing you quality entertainment every time you open your "feed" reader or visit our site -
About DRB
Connect with us and become part of
DRB on Facebook
,
Twitter
,
Pinterest
,
Instagram
,
Google Plus
; make sure to subscribe to our
updates
.
YOUR COMMENTS:
:
READ OTHER RECENT ARTICLES:
CATEGORIES
:
Feel-Good!
|
airplanes
|
animals
|
architecture
|
art
|
auto
|
boats
|
books
|
cool ads
|
funny pics
|
famous
|
futurism
|
food
gadgets
|
health
|
history
|
humour
|
japan
|
internet
|
link latte
|
military
|
music
|
nature
|
photo
|
russia
|
steampunk
sci-fi & fantasy
|
signs
|
space
|
sports
|
technology
|
trains
|
travel
|
vintage
|
weird
|
abandoned