Link
Scroll down for today's pictures & links.

Imagining the Tenth Dimension

"Mind-boggling" is the right word for this video, which starts slow and ends with an existential "bang". See if you can keep up with it.



Link (Veoh video)

Make sure to check out a book by Rob Bryanton - there is a lot more there, what you've seen is only a summary of the first chapter...

Today's pictures & links:

More Automotive Dreaming from Luigi Colani



(image credit: L. Benkard)

Colani Super Corvette V8 1988:



(image credit: essichgurgn)

Colani Lotec Ferrari Testa D'Oro (1989) - 436 km/h



(image via)

See more Luigi Colani designs on this page.

------------

First Aid Instructions



(image credit: fatheed)

------------

One Solitary Snowflake

...is melting. Riitta Ikonen and photographer Anni Koponen lament the lack of snow in Finland:



image by Riitta Ikonen

------------

Annular Solar Eclipse



(image credit: Dennis Mammana)

"An annular eclipse occurs when the Sun and Moon are exactly in line, but the apparent size of the Moon is smaller than that of the Sun. Hence the Sun appears as a very bright ring, or annulus, surrounding the outline of the Moon."



(image credit: Fermin Naelga Jr.)

------------

Mixed fresh links for today:

Most Dangerous Places in the U.S., example - [urban]
Animal Locomotion... all sorts - [wow nature]
Neat Unemployment Chart - [economy]
Top 5 Mind-bending Buildings - [architecture]
Zombies Concept Art - [warning: violent]
View from 7 highest peaks - [wow pics]
U.S. states renamed for countries with similar GDP, info - [interesting]
This look will break your heart... - [fun video]
The Devil Went Down to Georgia - [claymation]
Neatorama opens "user submitted content" section - [web news]

------------

Ghostly Leningrad WW2 Siege Collages

Imagine walking on the street of modern St.Petersburg and stumbling into a space-time anomaly: a gateway into the most horrendous time in Soviet history, a WW2 siege of Leningrad... Only a step separates our indiffirent and often cynical present from the heroic past: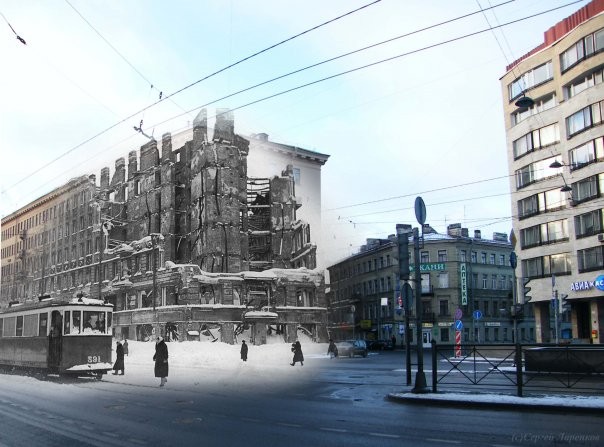 As featured on BoingBoing, these are creations of Sergey Larenkov (from Firma-Psychopath) - see the rest of these great mashups here

Speaking of Russia in World War Two, why are these guys pointing to Texas? -




------------

Underwater Hockey

Few people know about this sport... Learn about it in this article.



Sent in by F. de Graaf

------------

A manly name for a soldier



sent by Jessica Wills

Sign vendetta:



(original unknown)

Only fair warning:



(original unknown)

------------

Plastic Celebrities

Famous actors and actresses as dolls, sporting the same wooden/artificial looks as are featured in most "glamour" magazines... Noel Cruz has a lot more on his site and for sale on eBay.



Daniel Craig, Madonna



Orlando Bloom, Kirsten Dunst
(found via)

More celebrities, this time by the sculptural needle felting (artist: Kay Petal) -



(image credit: Kay Petal)

Nightmare celebrities:



(original unknown)

Happy celebrities:



(image via)

------------

Mad, mad fashion....




------------

Brilliant Felines



(originals unknown)

------------

Concentrate on the middle picture

and go into a deep trance...




(original unknown)

READ THE PREVIOUS ISSUE! ->

Permanent Link...
...+StumbleUpon
...+Facebook
RECENT ARTICLES:
"Dark Roasted Blend" - All Kinds of Weird and Wonderful Things, Discovered Daily!"
DRB is a top-ranked and respected source for the best in art, travel and fascinating technology, with a highly visual presentation. Our in-depth articles in many categories make DRB a highly visual online magazine, bringing you quality entertainment every time you open your "feed" reader or visit our site -
About DRB
Connect with us and become part of
DRB on Facebook
,
Twitter
,
Pinterest
,
Instagram
,
Google Plus
; make sure to subscribe to our
updates
.
YOUR COMMENTS:
:
READ OTHER RECENT ARTICLES:
CATEGORIES
:
Feel-Good!
|
airplanes
|
animals
|
architecture
|
art
|
auto
|
boats
|
books
|
cool ads
|
funny pics
|
famous
|
futurism
|
food
gadgets
|
health
|
history
|
humour
|
japan
|
internet
|
link latte
|
military
|
music
|
nature
|
photo
|
russia
|
steampunk
sci-fi & fantasy
|
signs
|
space
|
sports
|
technology
|
trains
|
travel
|
vintage
|
weird
|
abandoned