Link
Scroll down for today's pictures & links.

Face Flipping

Squeeze it, stretch it, flip it around... The "I Flip for You" video by John Schnall:
(there is also another one)


url

Today's pictures & links:

Giant Science Machines Assure a Better Future

Or a next bad disaster movie script... Now that CERN Large Hadron Collider is Live, and Stephen Hawking saying that "It is absolutely and positively safe" (sounds a little like words from "Dr. Strangelove" movie) - we would like to refresh in your memory how stupefyingly TITANIC and grandiose this project really is: Click Here for our feature, now in wide format.

And for the visual treat, check out this Z machine - the largest x-ray generator on Earth (click to enlarge!)



(image credit: sandia.gov)

Don't forget to check out other monstrous scientific installations, wonderfully covered by Deputy Dog site in this well-known series: Part 1, Part 2

------------

City of Salt

Fascinating narrative combined with mind-blowing visuals - what more can you ask for? Especially if it shows truly exotic location and great adventure travelogue. Click here.





The cool guys responsible for the above are Richard Selesnick and Nicholas Kahn.

------------

Why did you do this to me?..



(image credit: Christine)

------------

Trashed by Elephants!
(in cooperation with National Geographic magazine)

Another harrowing shot from "The Elephants of Samburu" series:



(photo by Michael Nichols, National Geographic)

"Daniel Lentipo (pictured) and researcher George Wittemyer hunkered inside this truck while a bull named Rommel thrashed it, expressing some displaced aggression after a humbling face-off with another male."

Cute baby elephants playing with each other:



(photo by Michael Nichols, National Geographic)

------------

Mixed fresh links for today:

70 Amazing Houses Around the World - [architecture]
How to Remember Names and Places - [cool vintage]
Anamorphic Portrait Illusion - [cool art]
Menacing Towers for Super Villains - [architecture]
NY Vision: classy project - [cool art]
Alien invasion with a great ending - [cool video ad]
The Human Slinky - [fun video]
Swept away by giant waves - [sport? video]
Hairbreadth escape from oncoming train - [car video]

------------

Most Spectacular Summits of the World

Absolutely addictive site (better than LOLcats, let me assure you) - which published the most spectacular mountain photography from the leading climbers of the world. Here are some examples, see for yourself: "Summit Post"



(images credit: "Summit Post")

------------

The Aliens Has Landed!

"The Day the Muslim World Stood Still", or something like that.




Would be cool to find out where is this... except that probably such saucers are landing all over Middle East right now.

Or just hiding in the clouds: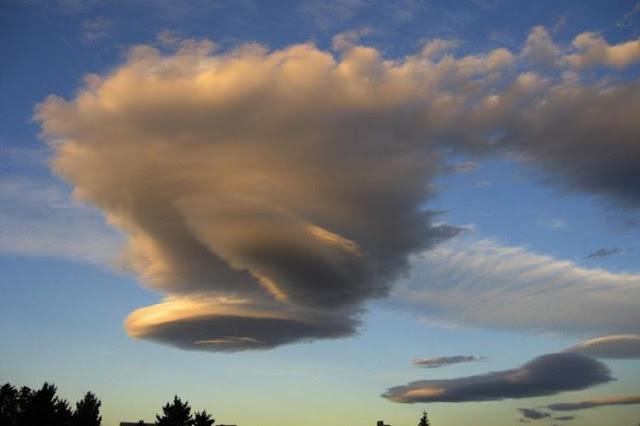 (image via)

------------

I Live Inside This Tree!

Identify yourself, stranger.



(original unknown)

And get this guy off my tree!



(image - via, see more there)

------------

"Washington Crossing the Delaware" Remake

Artist: Nathan Lewis - link to his site.
Title: "Till We Find the Blessed Isles Where Our Friends Are Dwelling" - which is a line from Nietzsche's Zarathustra.
When old becomes new again...




------------

Another Giant Russian Ekranoplan

Can't get enough of them! (see lots here, if you haven't yet)



(image credit: Beriev)

This time it's the "Beriev - 2500" - more info. Words simply fail to describe it - check out the concept paintings. It promises to be the dream machine for all the hot-blooded geeks out there. Super heavy ground-effect machine as it is, there are many challenges for Beriev engineers... who seem to be very confident about this project. (tip by Christopher Galus, thank you)




------------

Outrageous Photoshop Portfolio

Sebastian Niedlich really knows which creatures (and humans) would combine into something truly bizarre and irresistible. See these sets:




Cute / Ugly - "kitten seal" and "potato shark" creatures:



(images credit: Sebastian Niedlich)

------------

Khrushchev's Nemesis

Jayne Mansfield proved irresistible to the good old comrade Nikita Khrushchev. One more shot and he'd given her Cuba AND Albania:




------------

Till death do us part



(image credit: bsk.kpgs.ru)

READ THE PREVIOUS ISSUE

Permanent Link...
...+StumbleUpon
...+Facebook
Dark Roasted Blend's Photography Gear Picks:
RECENT ARTICLES:
"Dark Roasted Blend" - All Kinds of Weird and Wonderful Things, Discovered Daily!"
DRB is a top-ranked and respected source for the best in art, travel and fascinating technology, with a highly visual presentation. Our in-depth articles in many categories make DRB a highly visual online magazine, bringing you quality entertainment every time you open your "feed" reader or visit our site -
About DRB
Connect with us and become part of
DRB on Facebook
,
Twitter
,
Pinterest
,
Instagram
,
Google Plus
; make sure to subscribe to our
updates
.
YOUR COMMENTS:
:
READ OTHER RECENT ARTICLES:
CATEGORIES
:
Feel-Good!
|
airplanes
|
animals
|
architecture
|
art
|
auto
|
boats
|
books
|
cool ads
|
funny pics
|
famous
|
futurism
|
food
gadgets
|
health
|
history
|
humour
|
japan
|
internet
|
link latte
|
military
|
music
|
nature
|
photo
|
russia
|
steampunk
sci-fi & fantasy
|
signs
|
space
|
sports
|
technology
|
trains
|
travel
|
vintage
|
weird
|
abandoned