"QUANTUM SHOT" #478
link

When "Oops!" is immortalized in stone

It's not easy to fix an error once it's literally "cast in stone" and turned into an atrocious building, which somehow gets approved by the (obviously drunk) quality inspectors.

Maybe builders just hope that future occupants would not mind seeing these blunders too much (as long as they are non-life-threatening) - but surely, a more sensitive soul just might get really disturbed and go nuts... inside all this architectural chaos:





Forms & Shapes from the Endlessly Creative Minds of (Drunk) Architects:

This cottage is under construction, but already makes a statement: "Smells like a Russian Spirit", it says -




Cottage house that has a dream to be a castle one day... or rather, a nightmare:




This apartment building ended up under the bridge - imagine the living conditions there, noise, vibration, etc...




Ugly!!! Did they model it after a dump truck? -




This road police booth would take off and chase the offending car, just as any flying saucer:




Frankenstein would not live in this.... but Igor might:




In Ukrainian city Truskavetz you can have a beer inside a coffin-shaped bar, called "The Eternity". How appropriate -




The interior decoration is even more mind-boggling. Get your drink - maybe your last one! - and choose your coffin at the same time:




The structure under the balcony here looks like a miniature prison, or dungeon... What horrors are concealed inside? -




Wishful thinking: this sign says "Paradise". Very inviting entryway, isn't it? -




One more about balconies: this guy obviously despaired about his balcony thing, so he put a sign over it: "Balcony For Sale!" -




Any buyers? Not if it looks like this inside:




Is this building falling, or what? -




More support horror stories:




No need for support here:




Structural failure...




This does not look to be too stable:




And this is definitely NOT straight:




What is this? A one-room apartment for a house elf? -




Make more holes for the airconditioner! (improving air intake?)




No trains should enter here -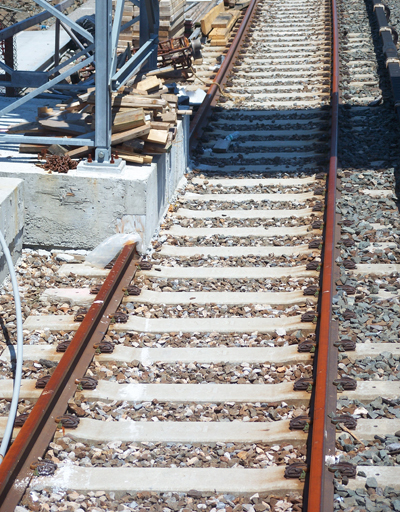 (image credit: archinect)

All cranes are doomed to fall sooner or later.... luckily no one was killed in this:




These apartments are overpriced. (well, we know these are temporary shacks for construction workers, but it's still funny) -




Stairs should lead somewhere, unless they don't -




Aww, teenie-weenie escalator! -




Hangover got in the way? Complete disconnect:




Washrooms never cease to amaze. It makes me thankful for the Toto toilets I have installed throughout my house: some hilarious hybrid of shower stall and toilet, found in Ukraine:




Gotta love this piping masterpiece:





Murals, Embellishments, etc.

This mural is a little bit creepy - all these people staring at you in the windows -




This girl clearly has an extra finger:




A quintessential street art - a classic framed painting hangs over the sewer piping. Must be there for the enjoyment of all the highly-cultured Ukrainian workers:




Steampunk horse sculpture, which is actually quite awesome:




Another interesting sculpture - a tree, plagued by... chairs:




A palace in the clouds... very inspiring:





These guys knows what they're doing

Local Spiderman struts his stuff:




The strength is there, but what about intelligence? (Do we have to ask...)




Image sources: dwg.ru, Novosti po Narodnomu, Idioteka, Exler, EnglishRussia, bsk, Karaul

CONTINUE TO NEXT PART! ->

Check out the rest of "Architectural Horrors" series! ->

Permanent Link...
...+StumbleUpon
...+Facebook
Category: Architecture,Funny Pics
RECENT ARTICLES:
"Dark Roasted Blend" - All Kinds of Weird and Wonderful Things, Discovered Daily!"
DRB is a top-ranked and respected source for the best in art, travel and fascinating technology, with a highly visual presentation. Our in-depth articles in many categories make DRB a highly visual online magazine, bringing you quality entertainment every time you open your "feed" reader or visit our site -
About DRB
Connect with us and become part of
DRB on Facebook
,
Twitter
,
Pinterest
,
Instagram
,
Google Plus
; make sure to subscribe to our
updates
.
YOUR COMMENTS:
:
READ OTHER RECENT ARTICLES:
CATEGORIES
:
Feel-Good!
|
airplanes
|
animals
|
architecture
|
art
|
auto
|
boats
|
books
|
cool ads
|
funny pics
|
famous
|
futurism
|
food
gadgets
|
health
|
history
|
humour
|
japan
|
internet
|
link latte
|
military
|
music
|
nature
|
photo
|
russia
|
steampunk
sci-fi & fantasy
|
signs
|
space
|
sports
|
technology
|
trains
|
travel
|
vintage
|
weird
|
abandoned