Link
Scroll down for today's pictures & links.

Unstoppable! Citroen 2CV

With some divine help and a prayer, this Catholic sister tests the limits of Citroen 2CV drivability (from "Le Gendarme et les Gendarmettes", 1982 with Louis de Funes - imdb)



url

Today's pictures & links:
Click to enlarge images.

He found some wood!

Somewhere...



(image credit: Alessandro Vannucci)

------------

iThink is coming to the store near you.

Paul Micarelli writes to us:

"With all the emerging technology that is leading the way to direct brain-machine interfaces, I got to thinking what an Apple computer might look like in the future. For my own amusement I created graphics for an Apple-branded neural implant that I dubbed the "iThink".




Click to enlarge:


(image credit: Paul Micarelli)

------------

Futuristic Kosmograd

We wrote about exceptional (and grandiose) architectural visions of Hugh Ferriss in this article...
Now let us point you to the Flickr set which further explores Ferriss sketches.




------------

Epic Rock Climbing



Traveling through the monstrous "Aegialis"- photo by Georgios Chaziris

This is part of the Photo.net's Editor Picks this month:
- Sports Action, Creative Digital Photos, Summer Photos

------------

Mixed fresh links for today:

Beautiful butterflies come out of ugly caterpillars - [photos]
Things to do with your hamster when you're bored - [funny]
Private & Artificial Islands - [cool luxury]
Awesome graffiti overview - [urban art]
Alphabet made from Halo game victims - [weird]
Light Switch Pong - [wow video]
Rube Goldberg Cocktail Machine - [wow video]
My Lucky Stars: Neat chase in a small car - [car video]

------------

Kris Kuksi's "Imminent Utopia"

We covered Kris Kuksi work in this article and interview. Here is his new creation, exploring the imagery of ideology and propaganda... Note the cosmonaut in the last image in the corner.
(click to enlarge)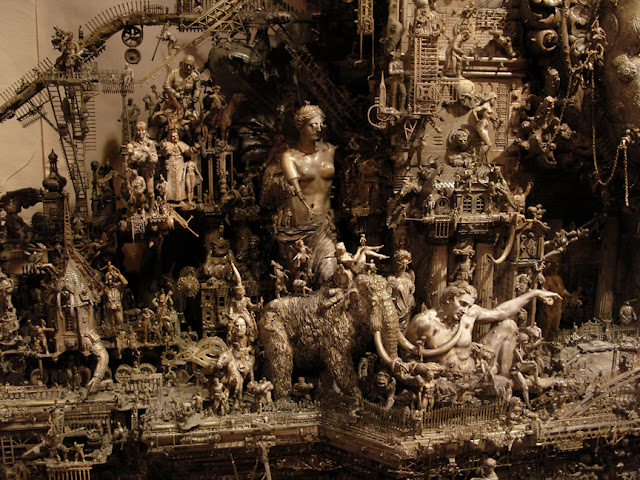 (images credit: Kris Kuksi)

It's also his largest sculpture to date - nearly 11 feet long and six feet in height. This work of art will be the major attraction at Kuksi solo exhibition in NYC in November at the Joshua Liner Gallery.

------------

Famous Works of Art Improved (if such a thing is possible)

Gizmodo published an intriguing Photoshop contest, mixing up classic paintings and modern technology. Here is the one we especially like (it almost seems like it was originally created this way) -



(image credit: Xtina)

I hope she's got good wi-fi.

See more here.



(image credit: Fiona Carswell)

------------

Coincidence or Design?




------------

Steampunk Jewelry

Cufflinks, rings and other accessories made from used clock parts - with a lot of taste and craftsmanship, by Ricky Wolbrom.
See more unique items in this highly desirable catalog.




------------

What is this lizard?




What a beauty... Update: It's a Thorny Devil!

------------

Deep Sea "BioShock" PC Mod

Cool case mod from the German casemodding championship:



(image credit: forums.2kgames)

Great addition to our "PC Case Mods" review, and another one.

------------

Stress



(original unknown)

READ THE PREVIOUS ISSUE

Permanent Link...
...+StumbleUpon
...+Facebook
Dark Roasted Blend's Photography Gear Picks:
RECENT ARTICLES:
"Dark Roasted Blend" - All Kinds of Weird and Wonderful Things, Discovered Daily!"
DRB is a top-ranked and respected source for the best in art, travel and fascinating technology, with a highly visual presentation. Our in-depth articles in many categories make DRB a highly visual online magazine, bringing you quality entertainment every time you open your "feed" reader or visit our site -
About DRB
Connect with us and become part of
DRB on Facebook
,
Twitter
,
Pinterest
,
Instagram
,
Google Plus
; make sure to subscribe to our
updates
.
YOUR COMMENTS:
:
READ OTHER RECENT ARTICLES:
CATEGORIES
:
Feel-Good!
|
airplanes
|
animals
|
architecture
|
art
|
auto
|
boats
|
books
|
cool ads
|
funny pics
|
famous
|
futurism
|
food
gadgets
|
health
|
history
|
humour
|
japan
|
internet
|
link latte
|
military
|
music
|
nature
|
photo
|
russia
|
steampunk
sci-fi & fantasy
|
signs
|
space
|
sports
|
technology
|
trains
|
travel
|
vintage
|
weird
|
abandoned