Link
Scroll down for today's pictures & links.

One Man Flute Choir

Great idea, performed well - plus the music itself is beautiful. (more on FluteMark site)


url

Don't dig the classical music much? Then listen to this inspired speech, done with passion!

Today's pictures & links:
Click to enlarge images.

The Mothership

Torre Agbar, Incredible tower in Barcelona, lavishly illuminated at night (in fact, one of the "Most Illuminated Buildings on Earth", read the full list here).



(images credit: Santiago Cer.)

------------

Absolutely love this side-car

The "flying" sidecar, made by Henrik Tóth from Hungary - more info. From an awesome collection, located here:




------------

Chanel Guillotine

For the sake of art only... with very ambiguous meaning. See more works by Tom Sachs here:




Kind of like this pistol made from a book -
(work by BookDust)




------------

More Curvy Architecture

As an addition to Antoni Gaudi's fairy tale curvy architectural style, we've received some tips about similar fanciful structures.

Again, in Catalonia, stands the most unusual church building, designed by Josep Maria Jujol i Gibert (who worked with Gaudi on many projects) :



(image credit: Georges Fotin)

Lluís Muncunill followed in the steps of Antoni Gaudi, creating a number of interesting buildings in Catalonia; here is Masia Freixa "Modernismo":



(image credit: Ramon Perez Terrassa)

Building by Hundertwasser in Altenrhein, Switzerland:



(image credit: Elvira)

See more here, - via

------------

Octopus and the Diver

Click to enlarge this beauty.



(image credit: Andrei Shpatak)

------------

Mixed fresh links for today:

Gangsters: They don't make'em like that any more - [interesting]
Cold War Underground City! - [abandoned]
Back to the Future DeLorean Car - [custom]
Village spit between two countries... too much - [amazing]
All the water and air on Earth - [wow pic]
Amazing Artificial Islands - [cool list]
Hurricane with a "bellybutton" - [weird nature]
One guy's meltdown at the hotel - [wow video]
Overpaid for iPhone? Vent your anger here - [fun video]
One Man Flute Choir - [wow video]

------------

Obviously Photoshopped!

A series of ingenious shots by Henry Hadlow and Ed Cornish:




------------

Boeing is committed to build a "SkyHook" airship

According to recent press release, The Boeing Company and Canadian SkyHook International Inc. announced an agreement to to develop a new commercial heavy-lift rotorcraft:




Good addition to our "Airship Dreams" article.

------------

Chess pieces from the automotive parts

Lovingly made by Armando Ramirez. More info and opportunity to buy:




------------

Views from the top of the world's tallest building

See our article about Burj Dubai, these are updated views, including the one in the fog (or rather on top of it) -



(image credit: subtire.com, click to enlarge)




(image credit: Adam Gimpert)

------------

Electron Microscope Image of a Fly Foot

This is why these pesky buggers are able to climb the walls and ceiling:
- via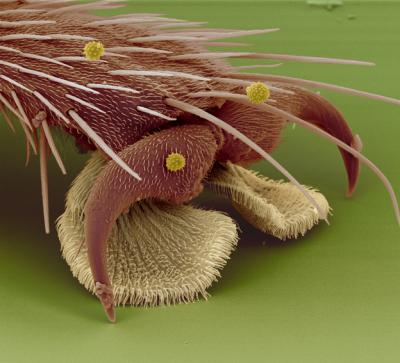 (image credit: Vicky Just)

------------

Put in mouth and pull trigger to speak

Working model - via




------------

Penguins make good pets



(original unknown - via)

READ THE PREVIOUS ISSUE

Permanent Link...
...+StumbleUpon
...+Facebook
Dark Roasted Blend's Photography Gear Picks:
RECENT ARTICLES:
"Dark Roasted Blend" - All Kinds of Weird and Wonderful Things, Discovered Daily!"
DRB is a top-ranked and respected source for the best in art, travel and fascinating technology, with a highly visual presentation. Our in-depth articles in many categories make DRB a highly visual online magazine, bringing you quality entertainment every time you open your "feed" reader or visit our site -
About DRB
Connect with us and become part of
DRB on Facebook
,
Twitter
,
Pinterest
,
Instagram
,
Google Plus
; make sure to subscribe to our
updates
.
YOUR COMMENTS:
:
READ OTHER RECENT ARTICLES:
CATEGORIES
:
Feel-Good!
|
airplanes
|
animals
|
architecture
|
art
|
auto
|
boats
|
books
|
cool ads
|
funny pics
|
famous
|
futurism
|
food
gadgets
|
health
|
history
|
humour
|
japan
|
internet
|
link latte
|
military
|
music
|
nature
|
photo
|
russia
|
steampunk
sci-fi & fantasy
|
signs
|
space
|
sports
|
technology
|
trains
|
travel
|
vintage
|
weird
|
abandoned