Link
Scroll down for today's pictures & links.

Mantis Shrimp Attacks

Some seriously wicked and aggressive shrimp: Mantis Shrimp. Watch how it attacks a crab in this video, and then head over to this page to watch the doom of deadly poisonous blue-ringed octopus...



url

Today's pictures & links:
Click to enlarge images.

This is your shopping mall. No, really.

Full-size ship converted to the shopping mall in Wampoa district, Hong Kong.
(more info)




------------

Urban Art with a Vengeance

You gotta absolutely love the creativity and style of this artist on DeviantArt. Apparently these creations are real and inflatable:




Very simple, and very effective.

------------

Extreme Surfing / Riding. Not Photoshop.

This is a setup for a promotional series of images, and you can read how photographer Dustin Humphrey made this all happen - click here. Scroll to see more photos, some nsfw.



(photos by Dustin Humphrey)

------------

Aerial Views of Russia

See more aerial photography (showing vast Russian landscapes and some abandoned churches) on this page.



(image credit: via Charli at leprosorium.ru)

------------

Mixed fresh links for today:

The Rise and Fall of an American Beer - [interesting]
Very, very unusual trees - [weird]
The Creepiest Tower - [urban art]
10 Amazing Batman Mods - [geek] - via
Urban Explorations: tips, tricks and guides - [abandoned]
Yet Another Neat Steampunk Mouse - [geek art]
How to make any key from an ice cream stick - [howto video]
Little Girl vs. The Claw - [fun video, loud music]
Crossing lions with tigers... good idea? - [wow video] - via

------------

Mad Intersections

Traffic nightmares - now a work of art: Scott Teplin has a new print "Criss Cross Crash" over at POV Editions:




Great addition to our "Incredible Intersections & Traffic Jams" series!

------------

Soviet Realism



(original unknown)

------------

Custom Spider Lighting

Can be found here.



(image credit: rockandroyal.com)

------------

Ingenuity

Very potent juice maker (on a shoestring budget) -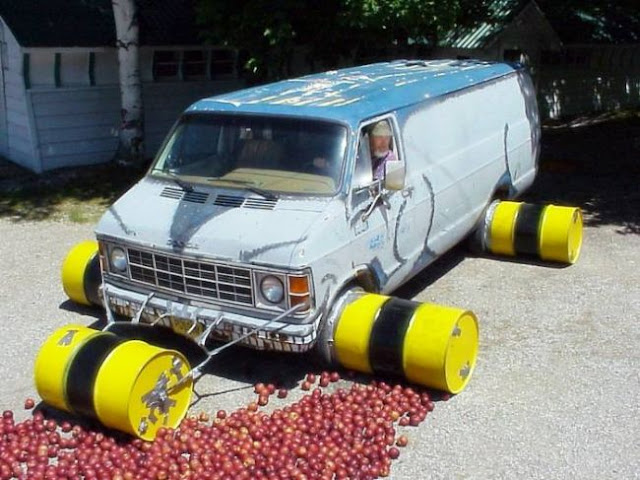 ------------

Weird Visuals

- possibly for use in advertisement. Originals unknown, any help?




------------

Paperbacks Recycling

I wonder how soft it is... but come to think of it, I feel too much respect for books to rest easy in this chair.




------------

I can't believe this girl actually took a lamb, painted it pink and walks it out for an exercise... but this is what this picture shows:




Good way to show off your pet fishes:




READ THE PREVIOUS ISSUE

Permanent Link...
...+StumbleUpon
...+Facebook
Dark Roasted Blend's Photography Gear Picks:
RECENT ARTICLES:
"Dark Roasted Blend" - All Kinds of Weird and Wonderful Things, Discovered Daily!"
DRB is a top-ranked and respected source for the best in art, travel and fascinating technology, with a highly visual presentation. Our in-depth articles in many categories make DRB a highly visual online magazine, bringing you quality entertainment every time you open your "feed" reader or visit our site -
About DRB
Connect with us and become part of
DRB on Facebook
,
Twitter
,
Pinterest
,
Instagram
,
Google Plus
; make sure to subscribe to our
updates
.
YOUR COMMENTS:
:
READ OTHER RECENT ARTICLES:
CATEGORIES
:
Feel-Good!
|
airplanes
|
animals
|
architecture
|
art
|
auto
|
boats
|
books
|
cool ads
|
funny pics
|
famous
|
futurism
|
food
gadgets
|
health
|
history
|
humour
|
japan
|
internet
|
link latte
|
military
|
music
|
nature
|
photo
|
russia
|
steampunk
sci-fi & fantasy
|
signs
|
space
|
sports
|
technology
|
trains
|
travel
|
vintage
|
weird
|
abandoned