Link
Scroll down for today's pictures & links.

Love Your Neighbour!

Or else... Norman McLaren (1952) shows us what can happen:
(maybe the best soap opera ever made)



url

Today's pictures & links:
Click to enlarge images.

Awesome Medical Animation

From Hybrid comes this unbelievably vivid animation of journey inside the human body
(sort of like Fantastic Voyage for the new millennium)




See the whole high-resolution video here.
- via

------------

In the skies



(original unknown)

------------

Make Music, not War... or both?

Musical Instruments combined with weapons.... Photoshop contest on FreakingNews:




See more here.
- via

------------

Futuristic Motorcycle

We've seen many similar concepts, but never fail to be excited about this "Akira" shape (Designed by Enzyme Design)




- via

------------

Mixed fresh links for today:

John Cleese... advertises... computers - [cool ads]
Abandoned & Little-Known Airfields - [full list and pics]
More Amazing Light Graffiti - [urban art]
Hitler's Berlin - Then And Now - [history] [architecture]
Nature's Bizarre Mating Techniques - [animals]
100 Ways to Draw Manga Eyes - [fun video]
A subway car filled with identical twins - [fun video]
You can rob a store with that?? - [fun video]
Creepy Googling: Love Triangle, Moon - [fun videos]

------------

New Species!!!

Takeshi Yamada's unique taxidermy creations - more info




See more creatures on his page.

------------

Alternative to Satellite Dishes?

Hide the ugly dish-shape among the bricks of your building:

Squish will customize a dish for you. A good addition to our gallery of wacky satellite dish designs




------------

A "divine" moment



(original unknown)

Another take on a ring halo:




------------

Robotic Contraptions

We wrote about Nemo Gould's whimsical robotic creations before. Here is an update:




His work will be exhibited in two venues soon: "Fantastic Contraption" Show opens July 19 (which is an incredible event in itself) -




"Second Hand Made" happens July 12:




------------

Hackers?




------------

World's Ugliest Mechanism

Can you find an uglier piece of machinery?? Send the photo to us.




------------

Stuck in the wrong job

Stop complaining about your job... New examples of this great ad campaign:




This is the worst job, period: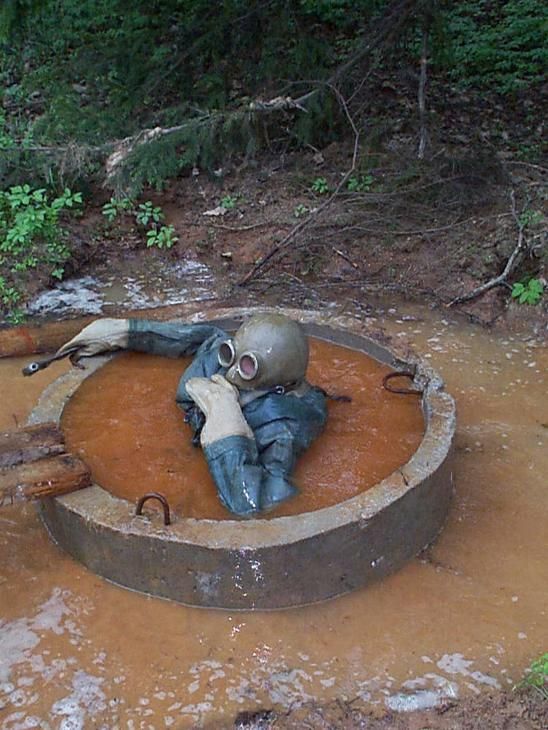 ...who knows, maybe he would not be able to come out -




or something else will come out, entirely:




READ THE PREVIOUS ISSUE

Permanent Link...
...+StumbleUpon
...+Facebook
Dark Roasted Blend's Photography Gear Picks:
RECENT ARTICLES:
"Dark Roasted Blend" - All Kinds of Weird and Wonderful Things, Discovered Daily!"
DRB is a top-ranked and respected source for the best in art, travel and fascinating technology, with a highly visual presentation. Our in-depth articles in many categories make DRB a highly visual online magazine, bringing you quality entertainment every time you open your "feed" reader or visit our site -
About DRB
Connect with us and become part of
DRB on Facebook
,
Twitter
,
Pinterest
,
Instagram
,
Google Plus
; make sure to subscribe to our
updates
.
YOUR COMMENTS:
:
READ OTHER RECENT ARTICLES:
CATEGORIES
:
Feel-Good!
|
airplanes
|
animals
|
architecture
|
art
|
auto
|
boats
|
books
|
cool ads
|
funny pics
|
famous
|
futurism
|
food
gadgets
|
health
|
history
|
humour
|
japan
|
internet
|
link latte
|
military
|
music
|
nature
|
photo
|
russia
|
steampunk
sci-fi & fantasy
|
signs
|
space
|
sports
|
technology
|
trains
|
travel
|
vintage
|
weird
|
abandoned